ATTN: These requirements apply to all students who declared a GWSS minor starting Fall 2020.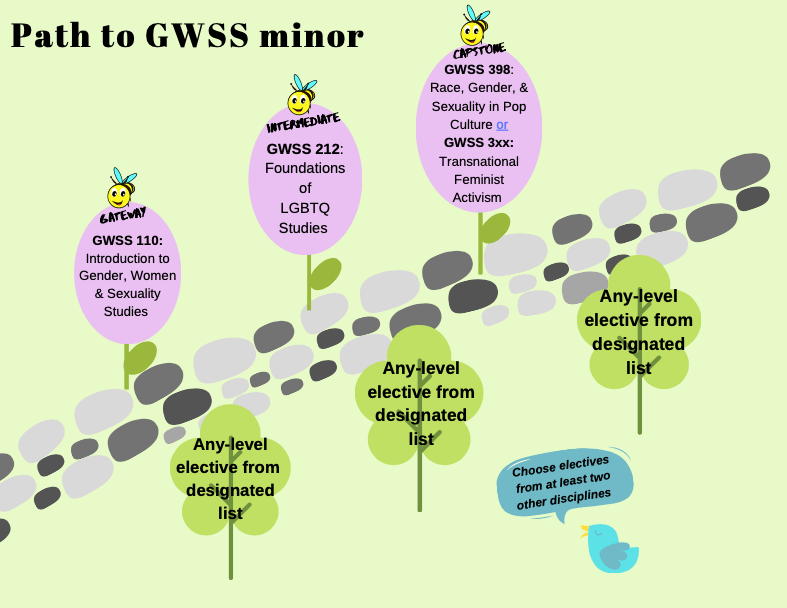 Requirements for the Gender, Women's & Sexuality Studies Minor
Six courses (36 credits) will be required (three courses from GWSS and three courses from the GWSS & WGST Elective Additional Courses List.
One gateway course, GWSS 110 Introduction to Gender, Women's & Sexuality Studies
One intermediate course, GWSS 212, Foundations of LGBTQ Studies
One capstone seminar, GWSS 398 GWSS Capstone Topics (a range of seminar topics can be taught by faculty under this number, depending on their expertise and interest, such as Transnational Feminist Activism; Race, Gender & Sexuality in Popular Culture)
Three courses (18 credits) from the GWSS & WGST Elective/Additional Courses List. These three courses must come from two different disciplines. Please note: A variety of courses are by visitors or offered only occasionally and may be considered. Contact the director for consideration of other courses to satisfy this requirement.
OCS Programs: You may count up to two six credit courses taken on either Carleton or non-Carleton OCS programs toward the requirements of the GWSS major or minor. OCS program courses cannot be substituted for core GWSS courses on campus and will only count towards GWSS electives. Two courses from Carleton's Women's & Gender Studies in Europe program can count as two GWSS elective courses. Students will need to get all OCS program courses approved by the director of GWSS.
GWSS & WGST Elective/Additional Courses List