Furry Friends Invading Our Personal Work Spaces– COVID-19 Pet Contest
Thank you to everyone who shared photos of their furry co-workers in the Pet Photo Contest. These photos brought joy and smiles to many. The winning photo was submitted by Kim Barnes, "I'm keeping my eye on you, Mom…" cat.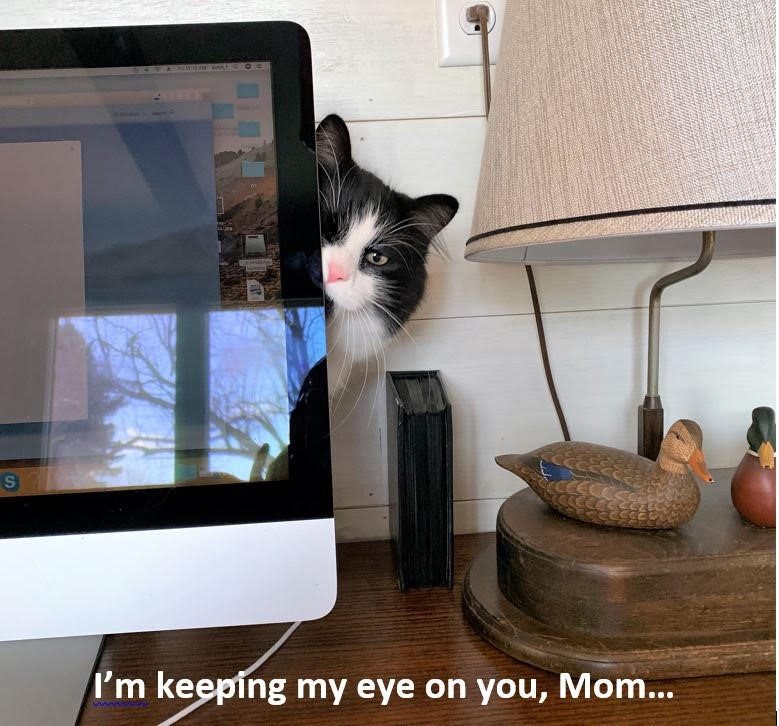 Custodial Services and SHAC!
Custodial Services is working hard at providing 7-days-a-week disinfecting and deep cleaning in campus buildings. They are working with Residential Life on a plan to move the student belongings that have been left behind, as well as thinking ahead to what fall classrooms and meeting rooms will look like if we have to continue to do social distancing in the future.
In the midst of COVID-19, SHAC has remained up-to-date on emerging best practices re: COVID-19 by monitoring science-based information from ACHA, MDH, CDC, and WHO to inform best practice for SHAC and the various planning committees on which they serve. They have flipped their care model to remote telehealth sessions, which includes ensuring privacy and confidentially issues of these new processes and the laws regarding interstate licensing and practice. SHAC has also continued to offer care to all students via telehealth for medical, counseling and psychiatry services during spring break and spring term. 24/7/365 telephone counseling remains available for students.
Thank you Custodial and SHAC Staff!
Carleton Community
The Faculty/Staff Wellness Team acknowledges the entire Carleton community for making this a great term! The President has led us, inspired us, kept us informed, and assures us that we will continue to learn and grow together. His actions, words, and video affirm we are more than a physical space and supports and encourages us to thrive! Thrive is exactly what Student Activities and ITS have done! Therefore, the Faculty/Staff Wellness Team Shout Outs this week go to them!
The Student Activities Office developed online programming and engagement opportunities for Carleton students by creating ways to keep everyone entertained and connected. They inform students about the long list of things to do and see virtually, they host weekly Tuesday Themed Trivia, Thursday Dance-Off Instagram Series, Journal Prompts, and much more!
ITS for all the behind the scenes work as well as continued efforts from their support teams, such as PEPS helping with Zoom, Panopto, Google Hangouts Meet, etc. The dedication from the entire IT staff for the technical support for remote working for faculty and staff, as well as the support for on-line learning for our students, is very much appreciated.
ITS Billiards Tournament GREAT VIDEO!
Congrats to everyone who took a break and joined in on the Summer Staff Picnic on June 18. Fun was had by all. It's good for us all to take a break.
Summer Liberal Arts Institute Snowshoe Adventures!
The Summer Liberal Arts Institute Staff (Matt Klooster, Amanda Williams, Joel Baumann, Beth Vivant, Erin Arntson) for taking their employee wellness to the Arb on Feb. 28th. Their team checked out snowshoes and ventured off trail in the Arb over the noon time followed by lunch in the LDC. No stories of any wipe outs or face plants that we know of!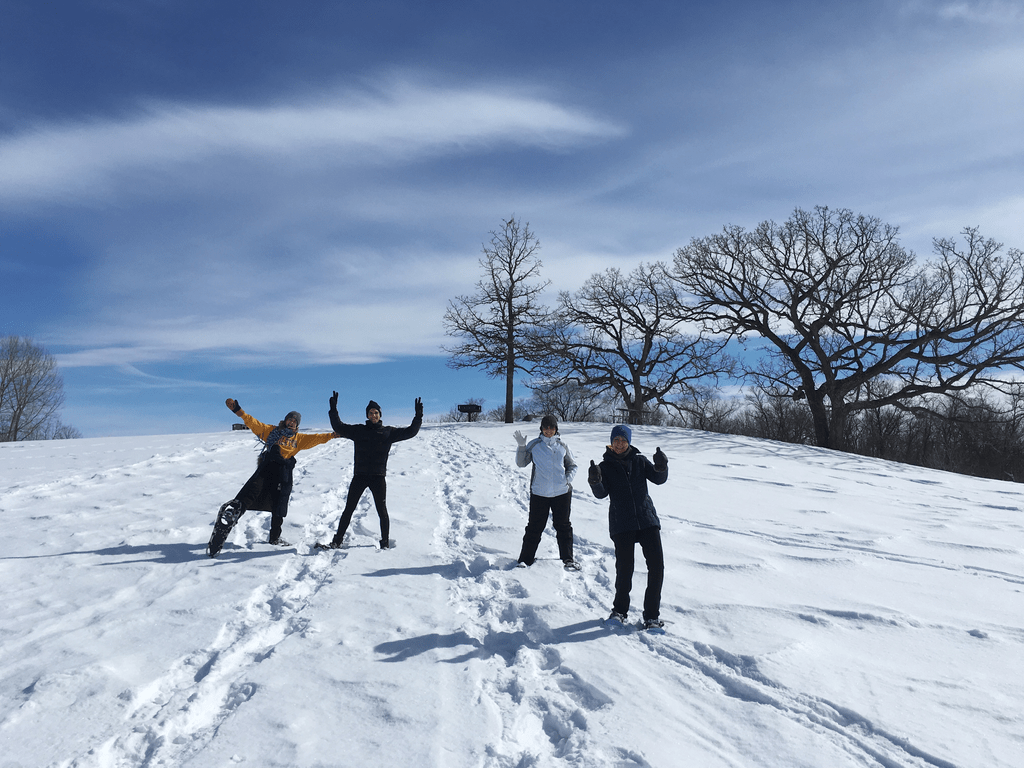 Bon Appetit
Bon Appetit – Sayles Hill staff, Shana, Kelly, Sammi, Traci, Roxianna and Phoebe for all the work they have done to make the Healthy Choice the Easy Choice. If you haven't been to Sayles Hill Café lately you should go check it out. They have made room in their front display case for some of the healthier snacks such as bananas, apples, salads and fruit and yogurt parfaits. No worries if you have a sweet tooth the cookies and baked goods are still available as well. The Wellness Team applauds you for your focus on Wellness!!!