As he prepares to step down this summer, President Steven Poskanzer reflects on the past 11 years—and reveals a long-standing desire to join Lenny D and play lacrosse.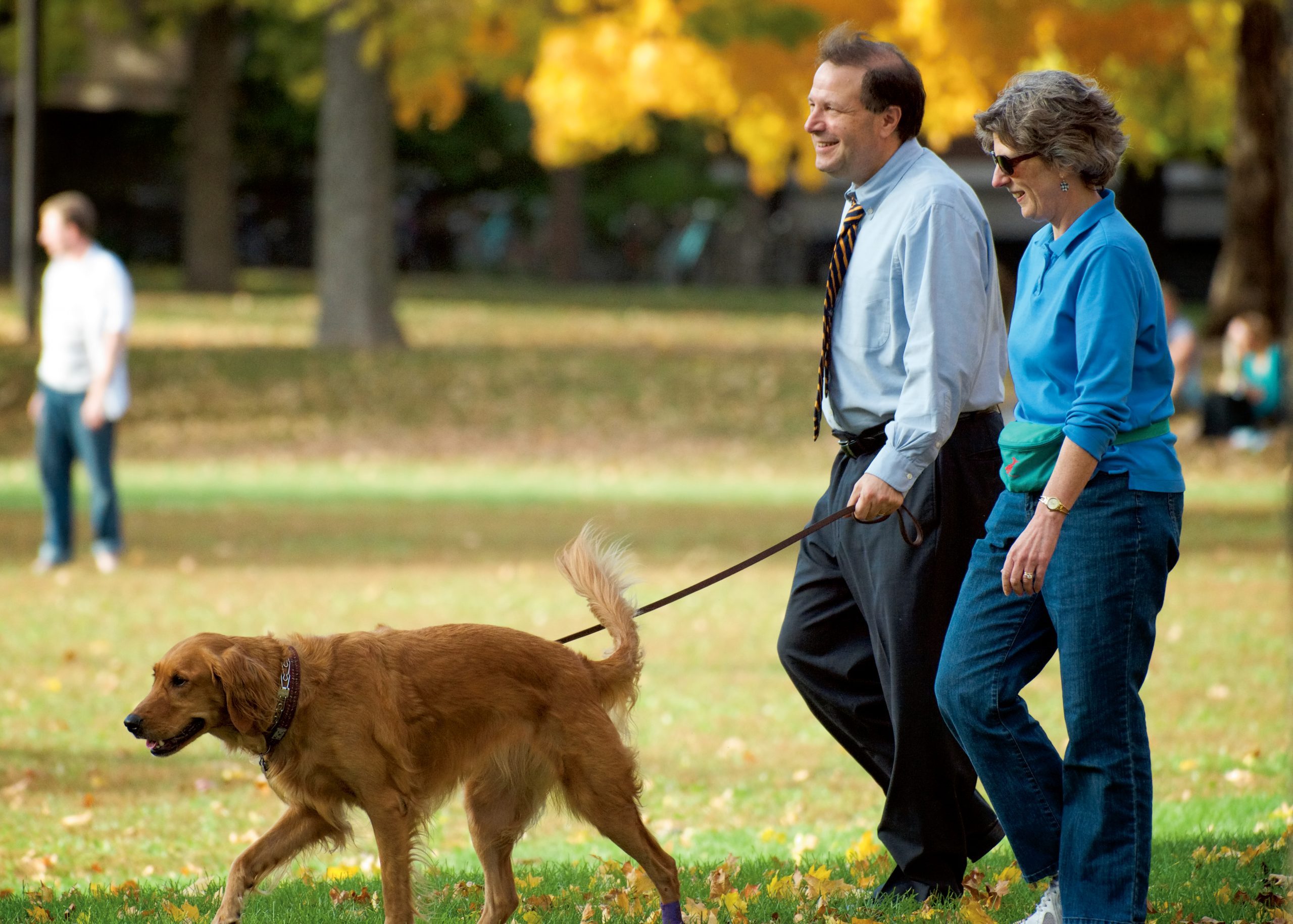 How do you describe Carleton students?
Carleton students are admirable, curious, kind, smart, and decent. I have taught and worked at a lot of different schools, and the students who choose to come here—and embrace the culture and spirit and all that Carleton has to offer academically and cocurricularly—are very special.
One thing I've enjoyed most about this job is the silly stuff students ask me to do: fun things that break down barriers that could exist between a president and the student body. For example, I have played broomball with students who have kept in touch for years after they've left Carleton. I've held office hours where students came in to play with my pets: Hector the cat and Zola the dog. And the students have included me in some of their Carleton traditions. During my first week, students extended a convoluted, voice-disguised offer for me to go out to an obscure place in the Arb where they loaned Schiller to me for a week! I have loved those fun things, and I will remember them all. They're indicative of the spirit of Carleton and of students who don't take themselves too seriously.
I would also say that my favorite event is a garden party Jane and I host the night before graduation for seniors and their families. Graduation is my favorite time of year, because it's when you see all the work that these wonderful students have done come to fruition in a real way. It's my chance to meet and talk with parents about their sons and daughters. To me, that connection to families embodies the best of Carleton. When kids graduate, especially first-generation kids, it's the whole family's graduation from college.
What was it like to be president and a Carleton parent at the same time?
It gave me an entirely different perspective. I had a stronger sense of the rhythm of the term and what that meant for students. I got to see the joys and struggles of finding a major, going through comps, and figuring out what to do after graduation. I also enjoyed getting to know my daughter's friends—not just as a president, but as a dad. It had the potential to be a bad TV sitcom, and it turned out to be an amazing way to see my daughter flourish and have an incredible college experience. The most meaningful moment for me was seeing my daughter walk across the stage at Commencement and handing her a diploma. That will stay with me for the rest of my life.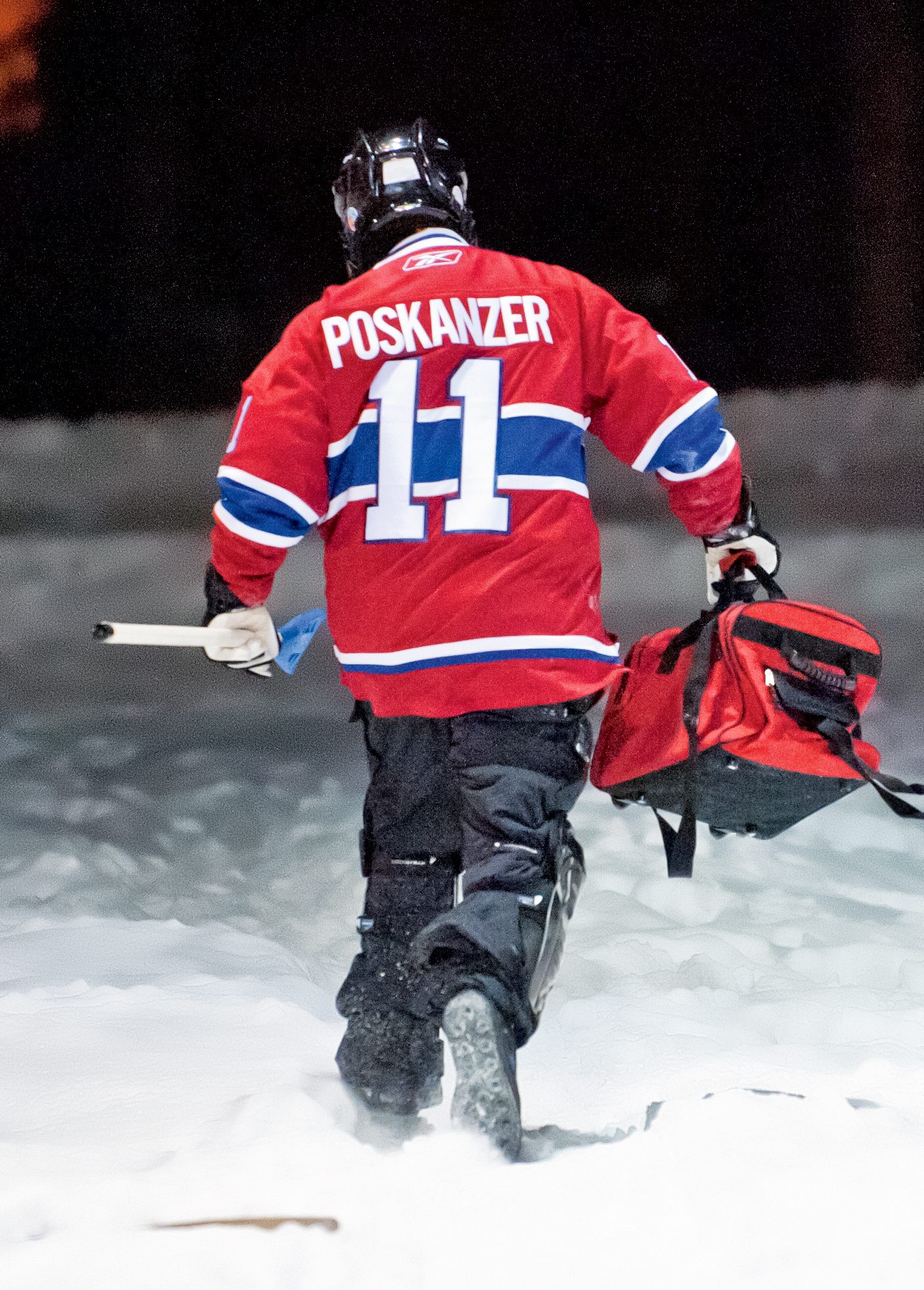 If you were a current Carleton student, what activities would you join?
I would want to be in Lenny D [comedy troupe]. I don't know whether I would be quick enough or funny enough to make it, but I've done a few cameo appearances. I would play club lacrosse and participate in an off-campus studies program, ideally in Africa. I didn't have that opportunity when I was an undergraduate, and off-campus studies is something Carleton does really well.
Do you have a favorite memory with alumni?
Many of my favorite memories are individual conversations I've had with alumni. We often bring back prominent alumni to speak at Opening Convocation and, occasionally, Jane and I would host a quiet breakfast for them at Nutting House on the day of the event. I got to talk with Rush Holt '70, Jimmy Kolker '70, and Jonathan Capehart '89—amazing individuals who are among the shining examples of what Carleton alumni do in the world — and we became friends through those visits.
I have had wonderful conversations that began just with me getting to know someone. I like to ask alumni to share their Carleton stories with me — how they came to this place; what they relished or struggled with; which professors, staff members, or classmates influenced them; and what — with the benefit of hindsight — has proven most valuable to them. These stories about what Carleton has meant to them and how it has shaped their lives are powerful and inspirational to me.
One of my all-time favorite memories is being asked to officiate at the wedding of two former Carleton students. I had never done that before. It touched my heart to be asked, and I did my best to help make a beautiful and meaningful ceremony.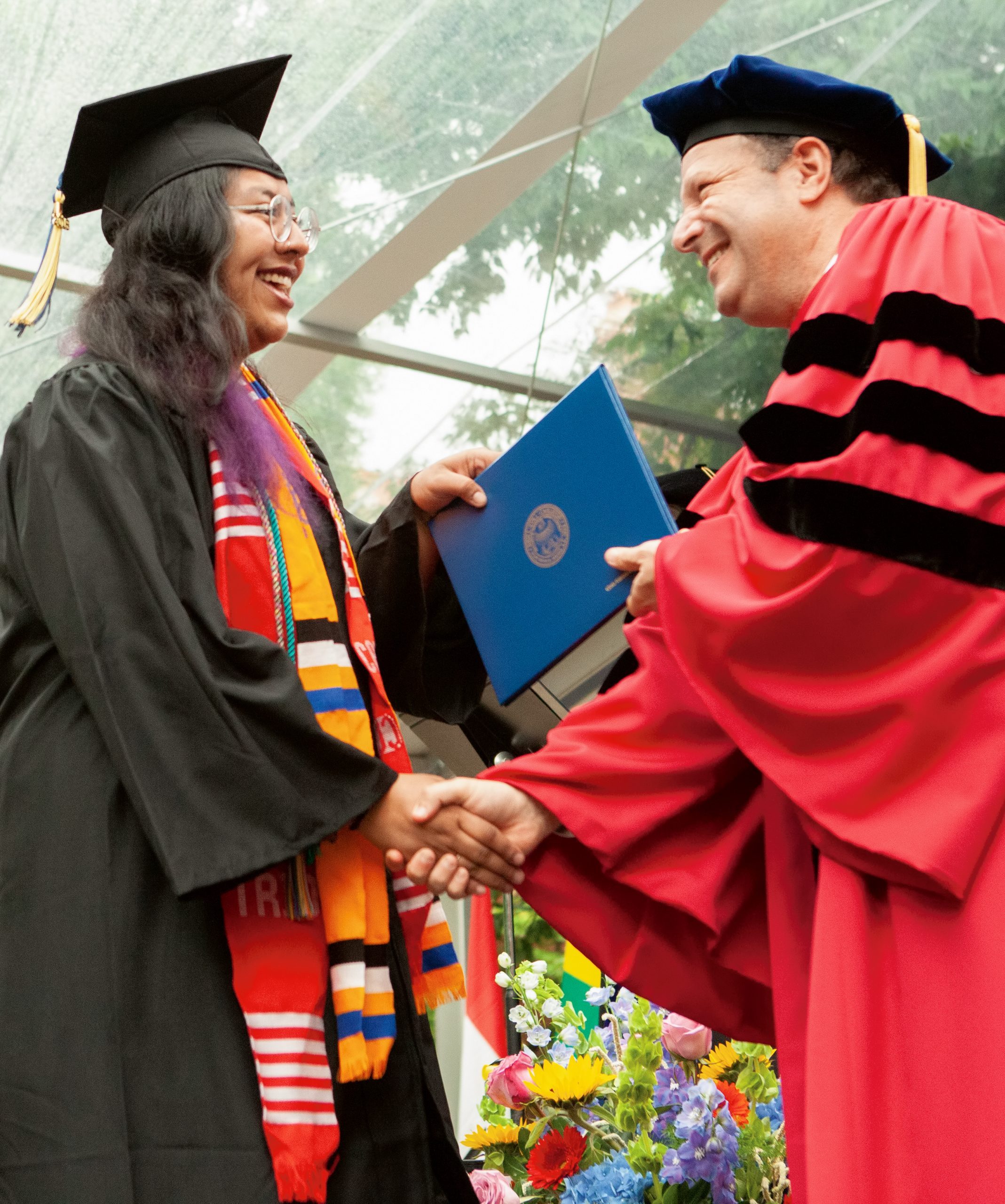 What classes will you teach at Carleton as a member of the political science faculty?
My area of academic specialty is higher education law. I've taught and will continue to teach a course on academic freedom, tenure, student rights and discipline, and, more generally, how colleges and universities pursue academic goals in a complex legal and policy environment that's sometimes driven by very different values. I will also assume responsibility for teaching the department's long-standing set of courses on constitutional law. And I'm hoping to put together a new course focused on courts and the judiciary — an important area that would complement classes on the legislative and executive branches of the United States government.
What accomplishments have been most meaningful to you?
As a community, we developed and implemented a long-term strategic plan for Carleton in 2012. I'm proud of the progress we have made in accomplishing our top priorities: preparing students more robustly for their postgraduation careers and lives; increasing the racial, geographic, and socioeconomic diversity of the student body; increasing the amount of financial aid we provide to low- and middle-income students; building the new science complex, which will help preserve Carleton's historic and distinctive strength in educating future generations of scientists and physicians; hiring gifted faculty members and making vital and wise decisions about reappointment, tenure, and promotion; and making significant progress toward carbon neutrality, where we are almost a decade ahead of our projections. The success of the Every Carl for Carleton campaign has also been truly humbling. Because of the generosity of our community, we've raised $424 million and counting, making this by far the largest fundraising effort ever at Carleton.
I feel a deep and pressing responsibility to do everything I can to leave the college stronger than I found it, something I believe each of my predecessors succeeded in doing. I've given all I have to try to accomplish that.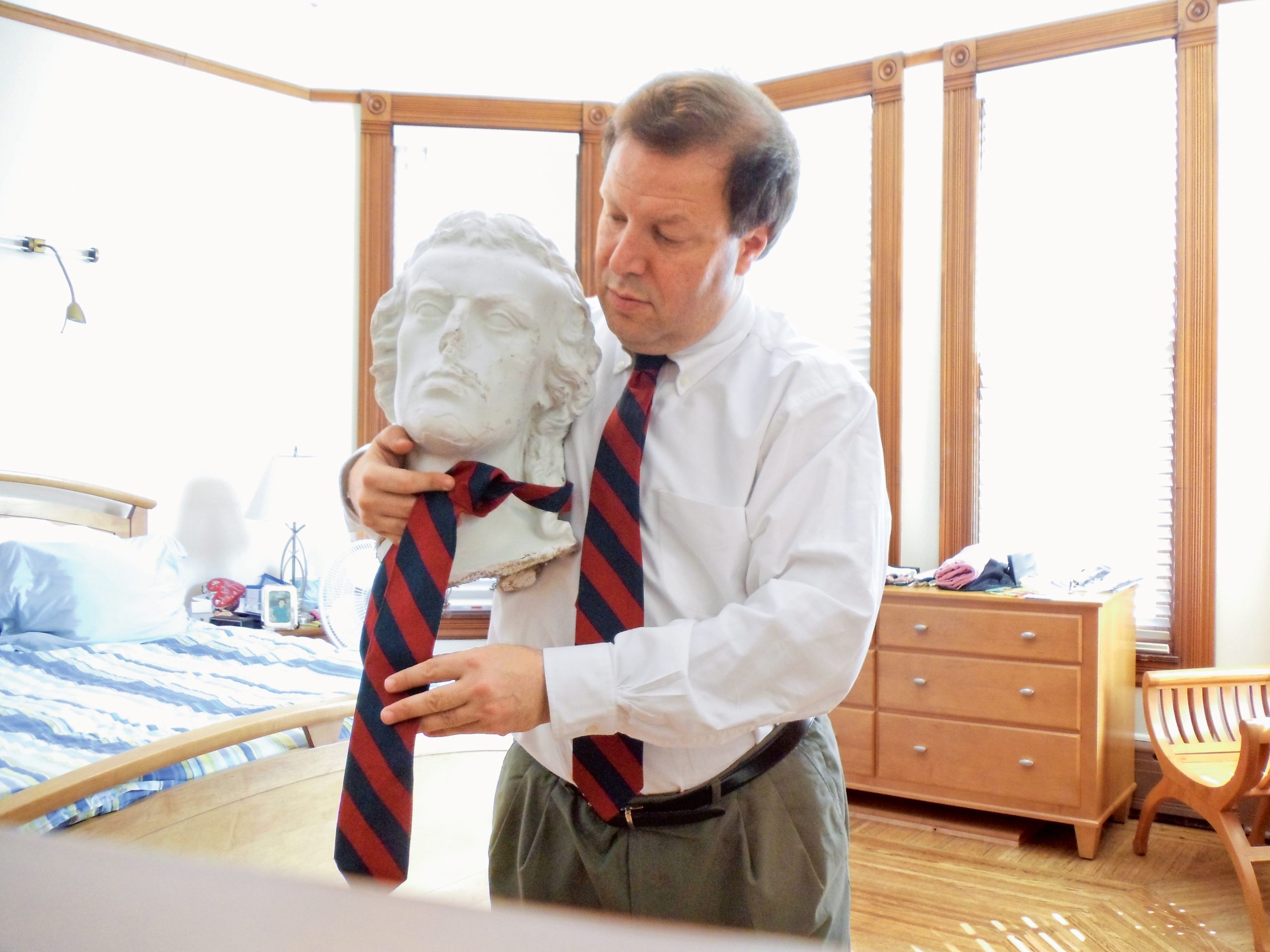 You have led the college through a global pandemic, and also during a time of heightened demand for racial equity. What have been the greatest challenges?
The pandemic and the pressing demand for justice and equity are closely interconnected because the impact of the virus has fallen disproportionately on already marginalized populations. I think the biggest challenge this past year has been trying to sustain people's faith and hope. So many folks are scared of what the future holds, and cynicism runs rampant. During these wrenching moments, when fears and frustration mount because serious and long-standing problems must be addressed, it is both harder and yet more necessary than ever to bolster the goodwill, trust, and spirit of collegiality toward peers and colleagues who are also trying to make the college healthy and successful in all respects.
How do you describe Carleton to people you meet?
I've actually answered this question a lot over the years, because I'm irresistibly drawn to groups of prospective students who are touring the campus and this is usually the focus of my remarks once I've hijacked the group! I always say that in American higher education, Carleton has a unique blend of academic excellence combined with a culture of unpretentiousness, humor, kindness, and decency. I've never encountered this mix anywhere else, and this combination makes Carleton truly and endearingly special.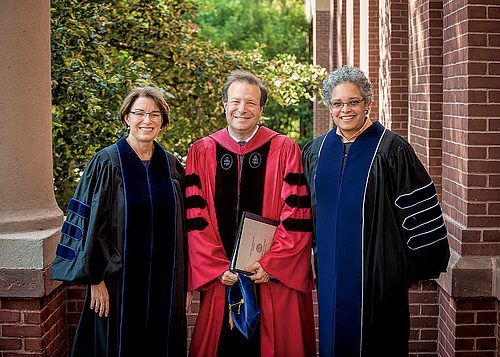 If you could go back 11 years and offer yourself advice on your first day as president, what would it be?
I would tell myself to always remember that Carleton's success and its future ultimately rest upon its human scale and the close personal connections forged here. Direct one-on-one interactions are critical and can be defining. That minute-long conversation you have as president with a student (or a parent or a faculty or staff peer) stays with them for a long time. You always want to be open to those exchanges, and you want to be fully present when they occur, because they are really important.
What do you enjoy most about Northfield?
I love how Northfield combines both the small-town ambiance of my Central New York upbringing with the sophistication and the progressive intellectual spirit that results from having two colleges here. Jane and I also admire Northfield's sense of civic, can-do togetherness!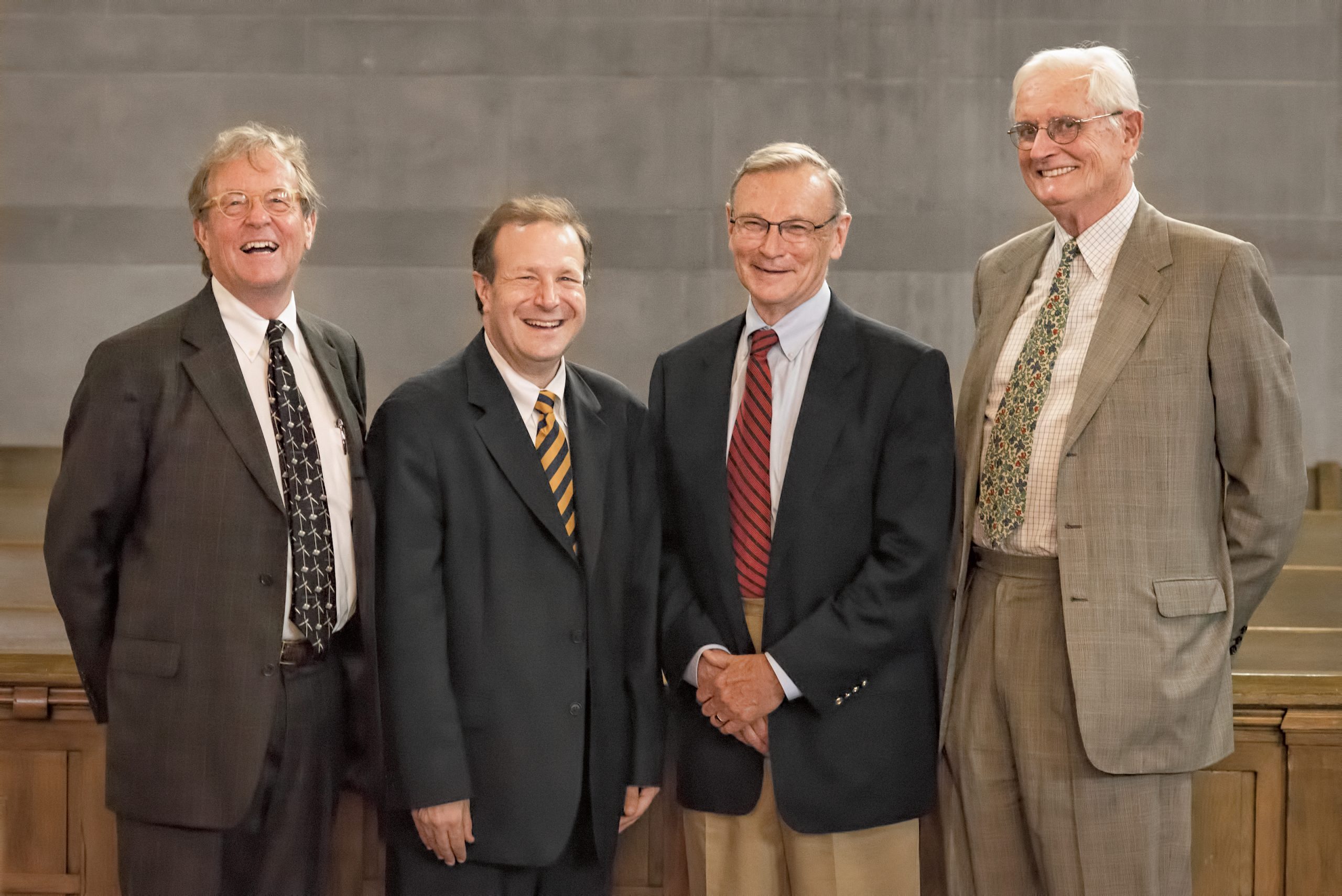 Do you have a favorite spot on campus?
I can think of three immediately. First, I relish every moment I get to spend in the Nutting House library. I've never lived in a house with a library before, and to have all our books within reach in this warm, cozy place is a special joy. Second, there is a bridge next to Evans Hall where Jane and I would walk our golden retriever. One time she saw a beaver family in Lyman Lakes below her, and for the next five years she looked for those beavers every time we crossed that bridge. My dog is gone now, but I always think of her and the tranquil beauty of Carleton in that spot. Last, there is a gorgeous stretch of prairie in the Lower Arb where Nancy Braker [Class of '81 and director of the Cowling Arboretum] took me early in my time here. At the right times of year, the land just opens up into a breathtaking panorama of beautiful grasses. I imagine it's what this section of Minnesota looked like in the early 1800s. Standing there quietly, seeing the beauty and majesty of the land with the massive sky above, touches my soul and reminds me of the openness and endless vista of possibility that both Minnesota — and education — can present.
What advice would you offer the new president?
I'm assuming, of course, that they start with a deep affection and respect for Carleton. Once you have that, I think authenticity and honesty are the two most important requirements to be happy here. Always remember that you can't be personally successful unless the college is successful. This is a community that expects — rightly — a genuinely forthright and caring person as president, and I believe I've been that. That doesn't mean you can always make everybody happy in this job, but you can at least be direct and fair and honest about what you do and why you do it, and people at Carleton value that.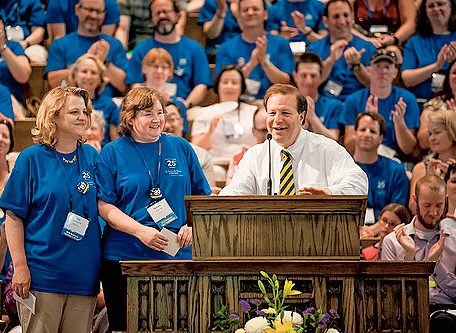 What are you looking forward to most in your postpresidency plans?
I'm eager and excited to spend more time teaching students. My dad, who was a professor of public health, used to joke that the highest title at a college or university was not president but professor. So I regard this as a promotion! But in all seriousness, I've never walked out of any administrative meeting that is as joyful or as fulfilling to me as a class that has gone really well. Conversely, I've never walked out of any administrative meeting that feels as bad as leaving a class where I've missed my mark as a teacher.
Also, I think I'm ready to lay down the weight of having responsibility for an entire institution. That's been ever-present for 11 years here, and for 9 years before that in my previous presidency. Decades of never entirely resting at night, always worried about how the college is faring, and thinking about what else I could be doing to make it succeed. This is a happy burden, mind you, but it's also a heavy one. I'm at a point in my life where I'm ready to hand that over to a talented successor.
Any concluding remarks?
This is the best job I've ever had and the hardest job I've ever had, in a place where my family and I have been the happiest. I am profoundly grateful to Carleton. This community embraced me and gave me the opportunity to do everything I could to steward this remarkable college. That has been the greatest privilege of my life.
---
Learn more about the search for Carleton's next president.