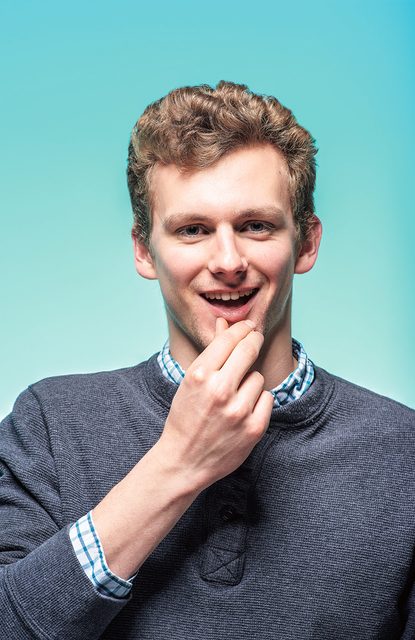 A creator at heart, Stephen Grinich '16 (McMinnville, Ore.) would have been content to tinker with web apps on his own time. It's what computer science majors do for fun. But thanks to Carleton's emphasis on collaboration and interdisciplinary learning—and the technology needs of staff and faculty members—Grinich has become an in-demand app man on campus.
"It's especially gratifying that I can make people's work easier," says Grinich.
In his sophomore year, Grinich found a natural fit in computer science professor Jeff Ondich's "Mobile Application Development" course. Grinich's group addressed a real need in the dean's office by creating a mobile guide for New Student Week. The app combines a calendar of events with an interactive campus map, a student adviser database, and a "Speak Carleton" dictionary of common terms and acronyms. Over the past two years, roughly 1,000 new Carls have downloaded the app.
Grinich's next opportunity came from psychology professor Ken Abrams, who had some very specific research needs. Abrams and his research team of seven students were interested in studying the effects of alcohol on cardioception—a person's ability to perceive his or her heart rate—and whether alcohol influences the likelihood of having a panic attack.
The research required up to six participants to gather in a room, wear heart rate monitors linked to an iPad, drink varying amounts of alcohol, and engage in light exercise. Abrams needed an app that could "lock in" a person's heart rate, accurately record individual data during multiple trials, and, ideally, download the data to a Dropbox folder.
"My research team was dissatisfied with the app we had been using, so we wrote on a whiteboard what our ideal app would be," says Abrams, who knew of Grinich from his work in Ondich's class.
Grinich was up to the challenge, though he felt some pressure. "There can't be any bugs," he says. "The research part is too important."
He completed the first iteration last year before departing on a study-abroad trip. Ondich's mobile app students picked up the slack during Grinich's absence, allowing him to apply the final touches through summer and winter breaks, ultimately positioning the app for research readiness this year.
It was the perfect collaboration. Abrams needed a highly specific app for his research; Grinich wanted practical experience. "This expands what's possible. I can start with a list of ideas and hand it off to a team in [Ondich's] course. Or I can let a student like Stephen run with it," says Abrams, who notes that Grinich saved him the thousands of dollars he estimates would be required to create a customized app.
With graduation looming, Grinich's app development sits proudly at the top of his résumé. Now he's leading a group comps project to develop an app for Northfield residents that aggregates local resources for personal caregivers of Alzheimer's patients.
"It's fun to put the puzzle pieces together and build an app, but in the end, I always remember that apps are used by people," says Grinich. "That's the important part."
Photo by Hai Ngo '12