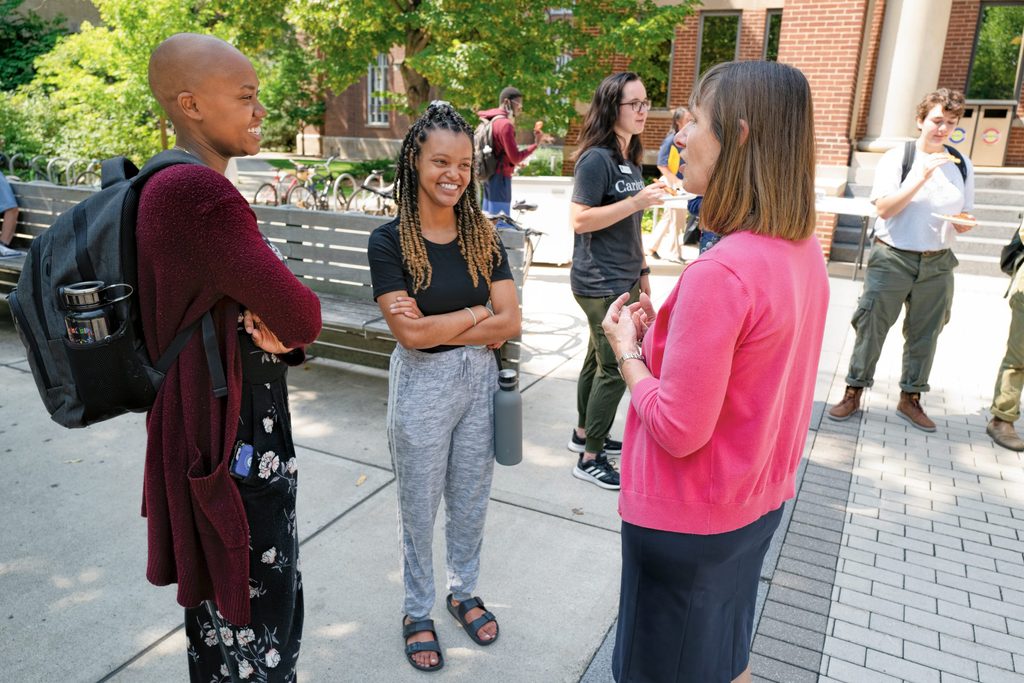 I arrived in Northfield at the beginning of August, along with my husband, Steve, our three zebra finches, and so many boxes of books that the movers kept asking hopefully, "Is this the last book carton going to the second floor?"
After getting settled into Nutting House, I worked on getting settled into the Carleton community, and spent my first weeks and months meeting with faculty, staff, and students to talk about their experiences of Carleton.
Having "met" a lot of people over Zoom during the presidential search process, it was interesting to encounter them again on campus and find that they were different in three dimensions. People seemed familiar and yet not familiar at the same time.
In many ways this was a metaphor for what our entire community was experiencing as we came together after a year of necessary distancing. We were colleagues, friends, teachers, and students who all seemed both deeply familiar and at the same time new to each other.
For me, this was a moment of rare opportunity. Rather than feeling like an outsider, I suspected that I was taking my place among a group of people who were all feeling a bit new, and very eager to make connections. It made sense, in this context, to consider the ways in which the introductory events designed to connect me with the Carleton community could also help the community reconnect with itself.
Our opening convocation, for example, was devoted to the theme of communal gratitude, with attendees sharing tributes to the great work done by their peers and coworkers. My October inauguration was intentionally designed around community-building activities, including outdoor performances, a street fair, and a "StoryCorps" project in which community members were invited to share reflections on favorite books.
It did not take long to begin to see and appreciate the unique strengths of the many different branches of the Carleton community. After my appointment was announced, alumni on Twitter were among my first points of contact. It was wonderful to get a window into the alumni community by seeing their varied interests, including, in many cases, a fierce commitment to seeing their alma mater live up to its ideals as an academic institution and an inclusive community. When I had a Zoom discussion with a group of alumni volunteers back in August, I was struck by their uncanny resemblance to current Carleton students in their focus, preparation, and eagerness. They had a lot of good questions!
The faculty members I have gotten to know are brilliant, engaging, and utterly dedicated to their students, whom they push, question, support, and applaud over their four years and beyond. Many are deeply rooted in Northfield; others are wonderfully connected to other vibrant local communities. They are accomplished scholars and artists who work as hard at improving their own teaching as they do at improving student work. In never being complacent or completely satisfied, they embody the true spirit of Carleton.
Carleton staff has worked tirelessly to keep our community thriving during a challenging time. Essential partners in the residential learning experience, they provide a wide range of critical support services and guidance. Many have been here for decades, and all take pride in getting to know the students personally, whether they work in a college office, in the dining hall, or on the grounds crew.
As for Carleton students, it seems impossible to generalize about them, because they are each unique. I love the contradictions they embody: intense but fun-loving, individualistic but community-minded, outdoorsy but fond of curling up on a cozy couch in the library. In my early conversations with students, I have been struck by how effortlessly they move from talking about details related to food or living quarters to talking about the difficult concepts they are grappling with in their coursework. The life of the mind is never hidden at Carleton — it always takes center stage. Conversations that might seem nerdy elsewhere are everyday chatter here, but without pretension or posturing.
These constituent groups, along with parents and other friends of the college, form a dynamic community that brings tremendous energy to the shared mission of making an amazing institution even stronger. I could not be more honored and excited to be part of this special place, and I look forward to our work together in the years to come.