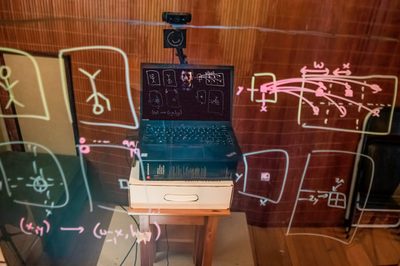 When concerns about the spread of COVID-19 catapulted David Liben-Nowell and his students from the classroom last spring, the computer science professor was equal parts disappointed and concerned. He'd joined the Carleton faculty because of the college's emphasis on classroom interaction, and sharing a PowerPoint presentation on Zoom didn't square with his idea of a satisfying or successful academic experience. ("I believe in eye contact," he says.) So Liben-Nowell cobbled together a home studio that allowed him to mimic his classroom approach, which involves writing out complex formulas at the front of the room and then letting his students' reactions guide the class's trajectory.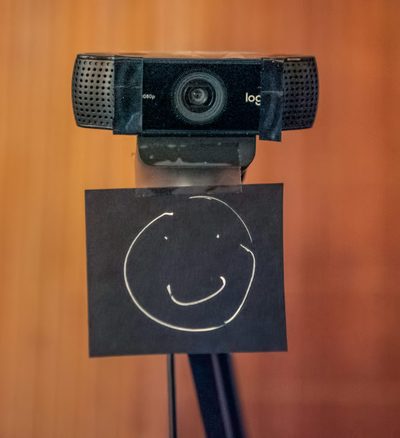 Here's the setup.
Plexiglas Partition (A) 
Makes complex equations perfectly clear, right? Liben-Nowell ordered the 36 x 72 x 1/8 sheet (which rests on an easel) online. "I probably should've got one notch thicker, but the price goes up as the thickness goes up," he says. "Surprisingly, I'd never purchased Plexiglas in my life.I didn't have a clue."
Studio Lights (not pictured) 
The box of light-duty photographer's lights contained four lamps, but Liben-Nowell could only squeeze two into the tiny space. "I really had a hard time getting enough light on me without getting glare off the Plexiglas." Pink gel, anyone?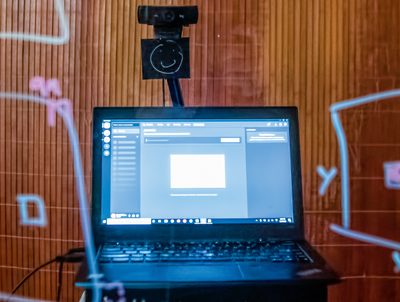 Backdrop and Blackout Curtains (not pictured) 
Add a curtain rod, and you've got a perfect use for an old sheet and a worn-out rug. Liben-Nowell opted to forgo a greenscreen.
Erasers (not pictured) 
A pile of old T-shirts will do the job. One swipe and you're Zoom-ready again.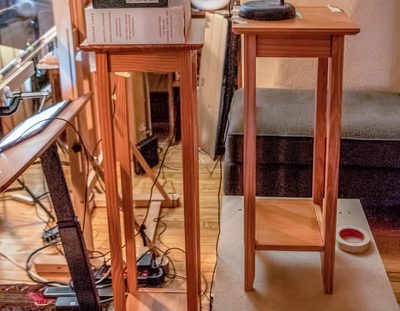 Post-It with Smiley Face (B) 
Don't forget to grin — even in a pandemic.
Laptop & Software (C)
Jiggered to reverse images, so Liben-Nowell's scribblings are readable from the opposite side. "For awhile, I tried to convince students that I could write backwards." Liben-Nowell says.
Table from IKEA (D)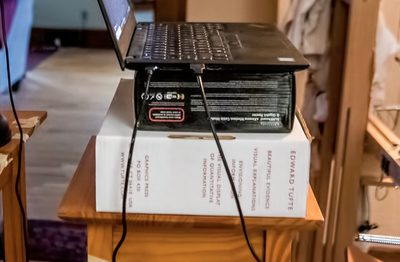 Not nearly tall enough, but as solid as it was affordable. The "heirloom" was acquired years ago when Liben-Nowell, still in grad school and budget-conscious, found it discarded on a curb.
Support System (E)
Boxed set of tomes written by Yale computer science professor Edward Tufte and an old router box to elevate the computer screen. "Basically, it's a Jenga tower to get things to the right height," says Liben-Nowell.