The architectural design of Carleton's new state-of-the-art science facility inspires creativity, encourages cross-disciplinary collaboration, and aims to attract more students to the STEM community.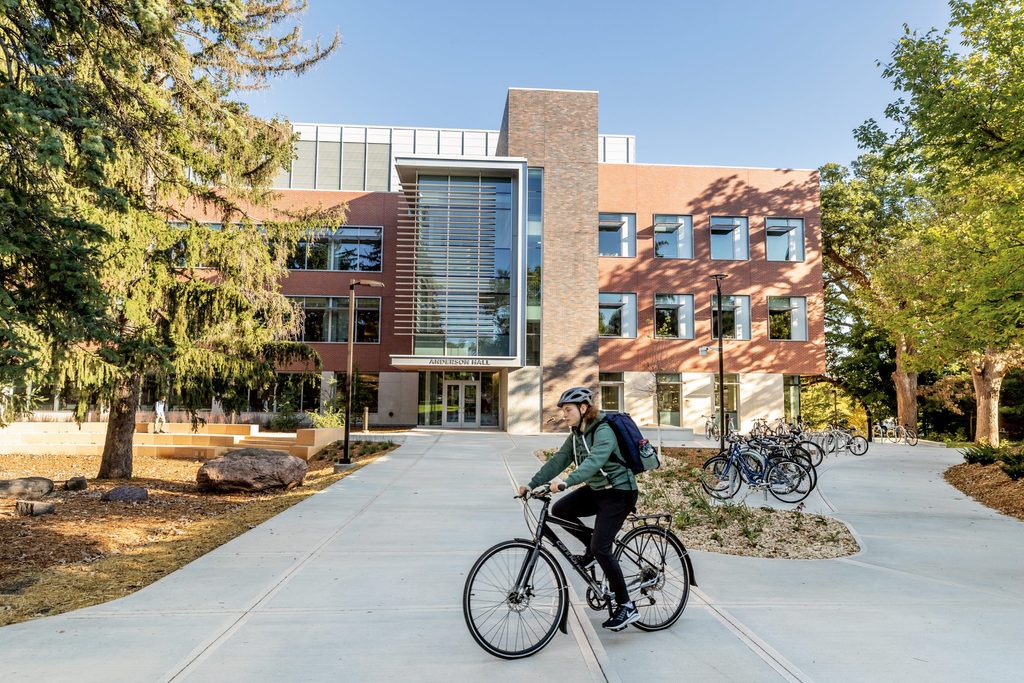 Silicon Valley has been alternately celebrated and skewered for the amount of money and attention companies lavish on corporate headquarters, which are no longer housed in traditional office buildings but are built on majestic, well-manicured campuses complete with fitness centers, gourmet food courts, and even overnight accommodations.
At first blush the phenomenon might seem like little more than an aesthetic quirk fueled by ego-driven excess. But the underlying design concepts that invigorate these edifices — open office floor plans, generous communal areas, flexible meeting spaces, and natural light — reflect a growing realization that people are more likely to be motivated if their workplace is designed to foster cross-disciplinary communication, which breeds cooperation and leads to invention.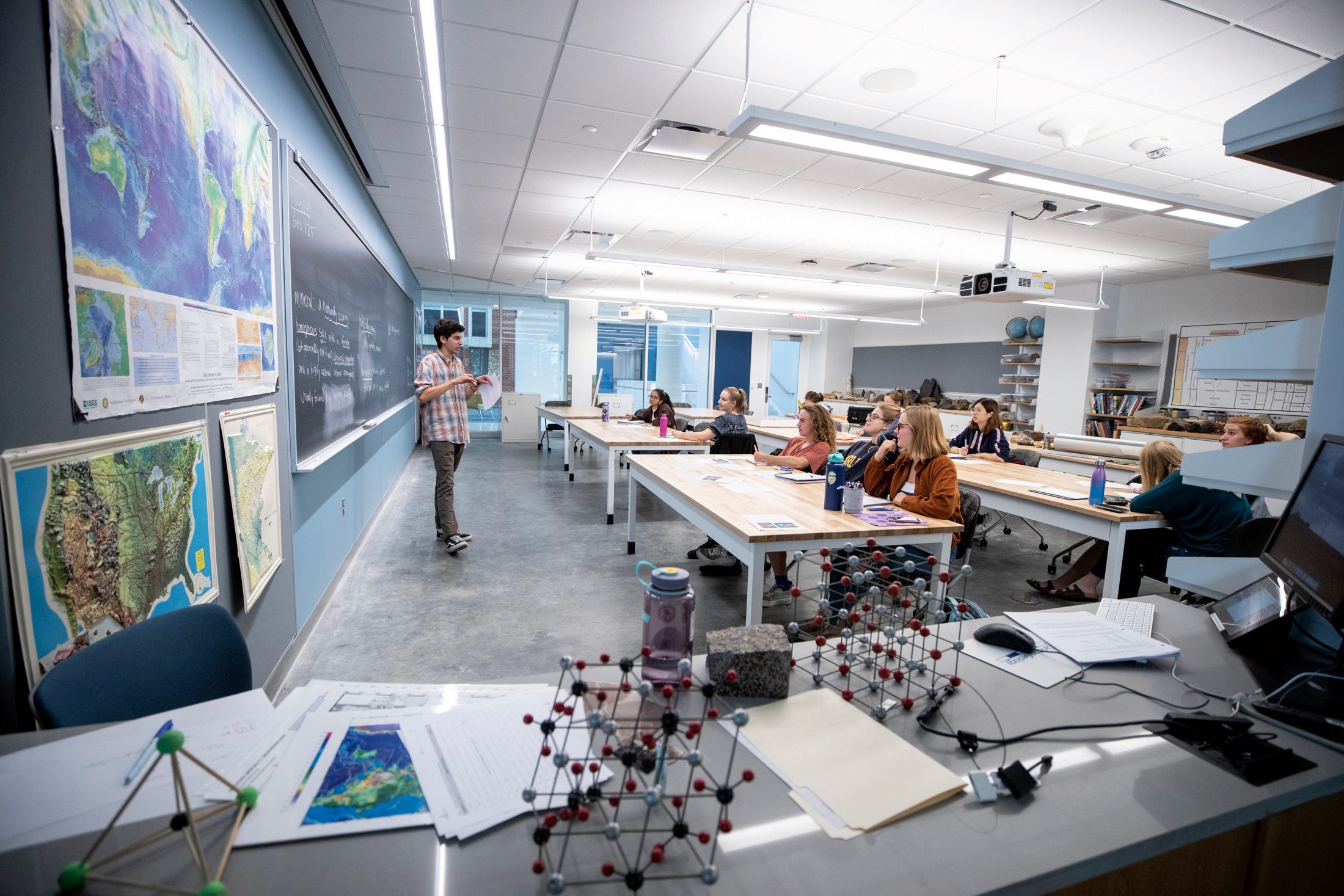 "There's no question that collaboration is the new norm and will only become more important in professions that involve the sciences," says Jennifer Wolff, professor of biology at Carleton. "No one person can be an expert on everything, so anybody who wants to approach a problem is going to need to tap into people and resources that are outside their own comfort zone."
In 2013, inspired by these tectonic shifts outside of academe and aware that the United States continues to have one of the world's smallest ratios of students earning degrees in science, technology, engineering, and mathematics (a competitive liability at home and abroad), Wolff and other members of what came to be called Carleton's Science Planning Group began discussing what they hoped would result from the construction of a new integrated science center. Existing research culled over the past decade from schools that have recently invested in new STEM facilities — including Hamilton College, College of the Holy Cross, and Trinity University — informed their process and eventually led to a partnership with EYP, an architecture and design firm that specializes in structural solutions for large government, health care, and higher education institutions.
---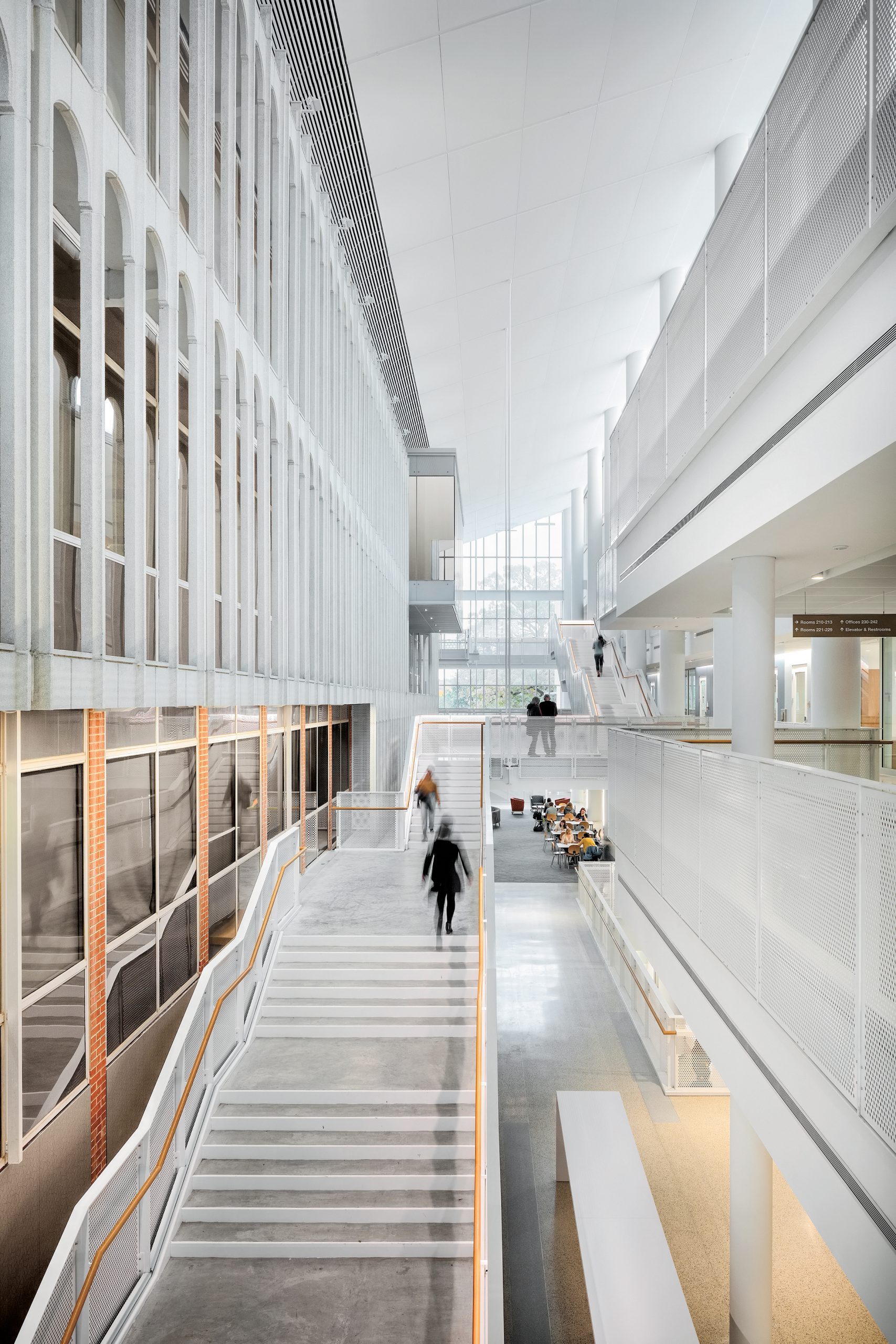 "You don't discover new things by only looking at the things in front of you. You discover new things by looking at all your options, mixing things up, and seeing the connections that exist between subjects like geology and biology or chemistry and art."
---
The data show, among other things, that when students think about their discipline (biology, for example) through the lens of another (such as physics or engineering), they are more likely to retain and apply what they have learned. What's more, if STEM students in particular feel as though they belong in a building or in a department or among a group of interrelated departments, they are more likely to gravitate toward and persist in a chosen field. (The three buildings that made up Carleton's science courtyard — Mudd, Olin, and Hulings — were older and disconnected.) Consequently, the planning cohort reached consensus on two guiding principles: any new development should facilitate frequent exchanges, both formal and informal, between students and faculty members from different STEM departments; and it should include common hang-out spaces where anyone can study and socialize.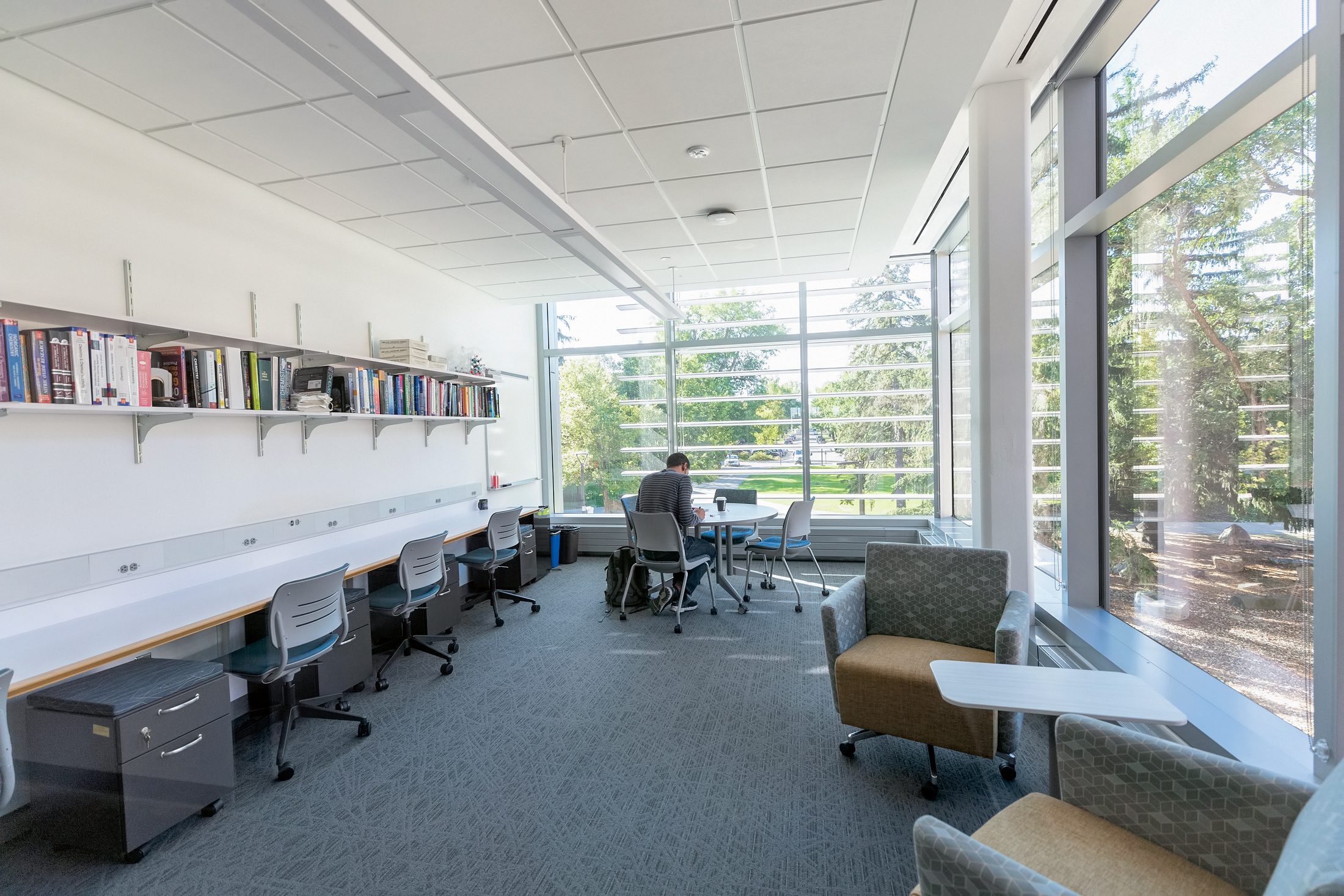 "You don't discover new things by only looking at the things in front of you," Wolff explains. "You discover new things by looking at all your options, mixing things up, and seeing the connections that exist between subjects like geology and biology or chemistry and art. And if you make a space where that's part of the culture, then our graduates will go out into the world equipped to form essential connections outside their chosen field."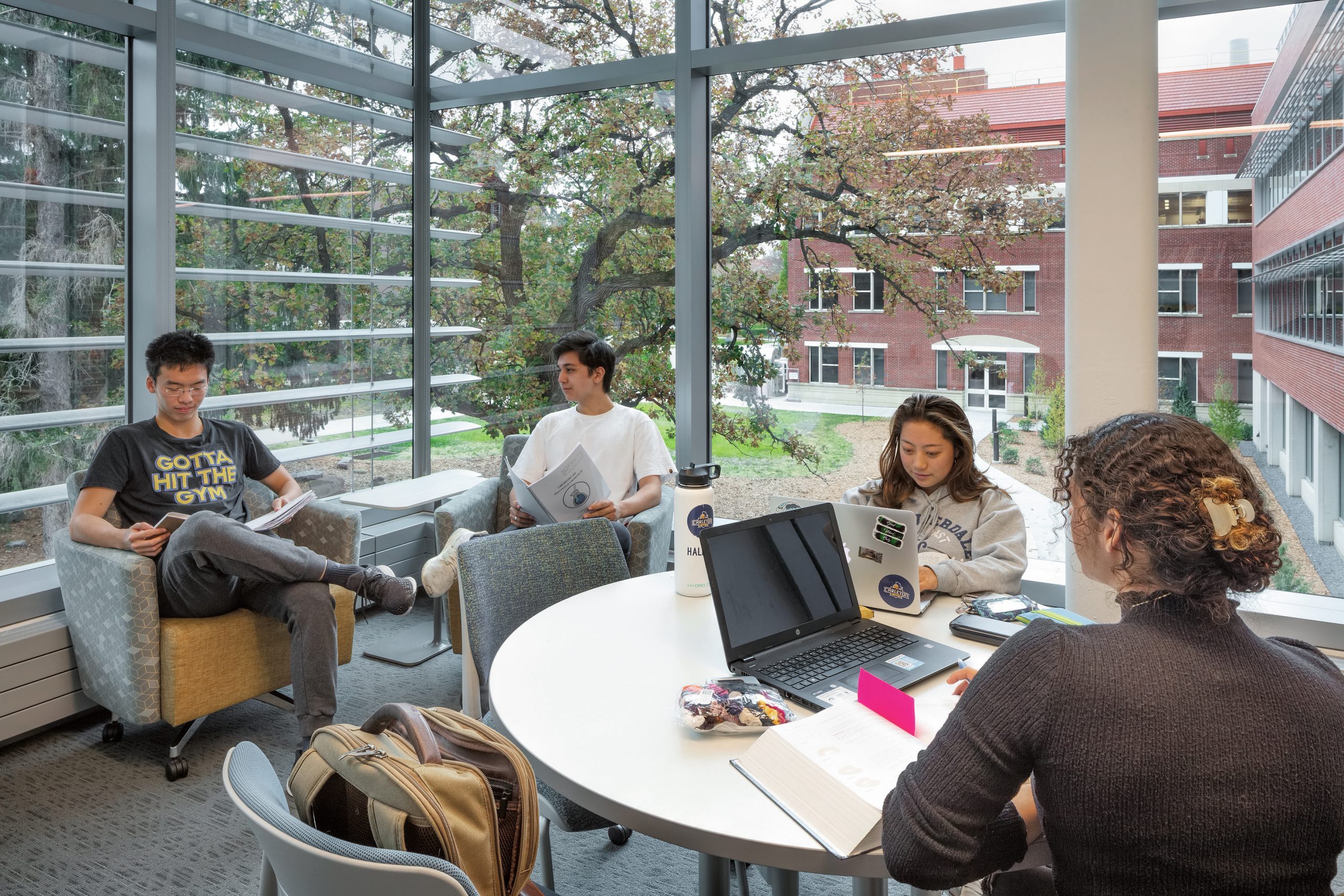 As the blueprints evolved, a more specific set of architectural goals emerged. They are outlined in an EYP white paper titled "How Colleges & Universities Invigorate Campuses Through a New Genre of STEM Buildings": a number of strategically placed "soft spaces," such as small study lounges and meeting spaces, to spur informal learning, teamwork, and chance encounters for both students and faculty members; well-equipped, technologically advanced laboratories for hands-on learning; and flexible lecture spaces that allow professors to quickly reconfigure seating, create work groups on the fly, and fluidly interact rather than just lecture from the front of the room.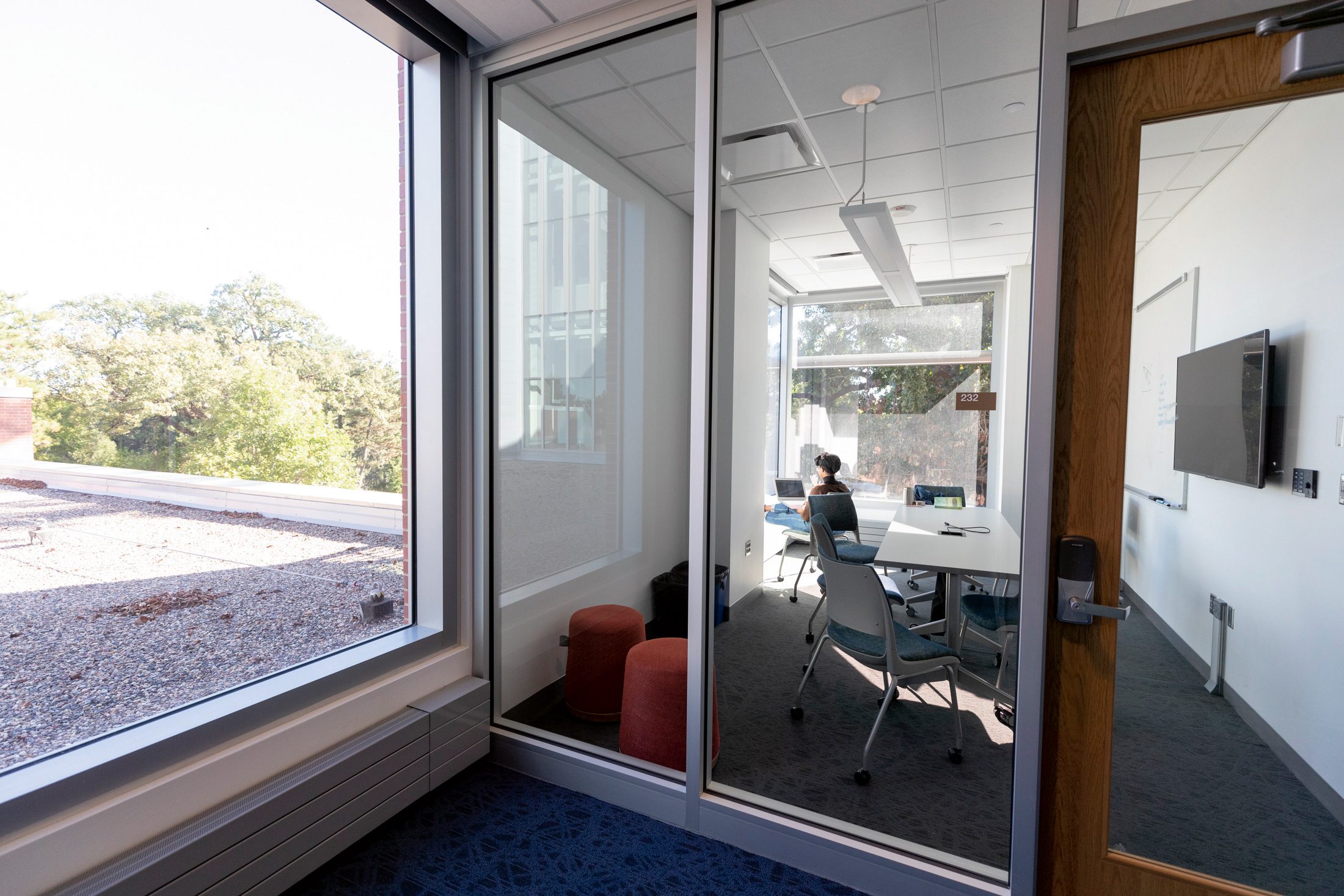 Finally, and perhaps most importantly, the entire structure should put "science on display" via glass walls between classrooms, offices, and lab spaces, eliminating what Gretchen Hofmeister '85, associate dean of the college and chemistry professor, calls "the fortress-like" feel of older campus buildings. "I love the fact that you might see someone that you know casually working on something in a lab and be compelled to say, 'That was interesting. What are you doing?' That opens up all sort of opportunities," she says. "Students and teachers don't always know what to even be curious about unless they see it."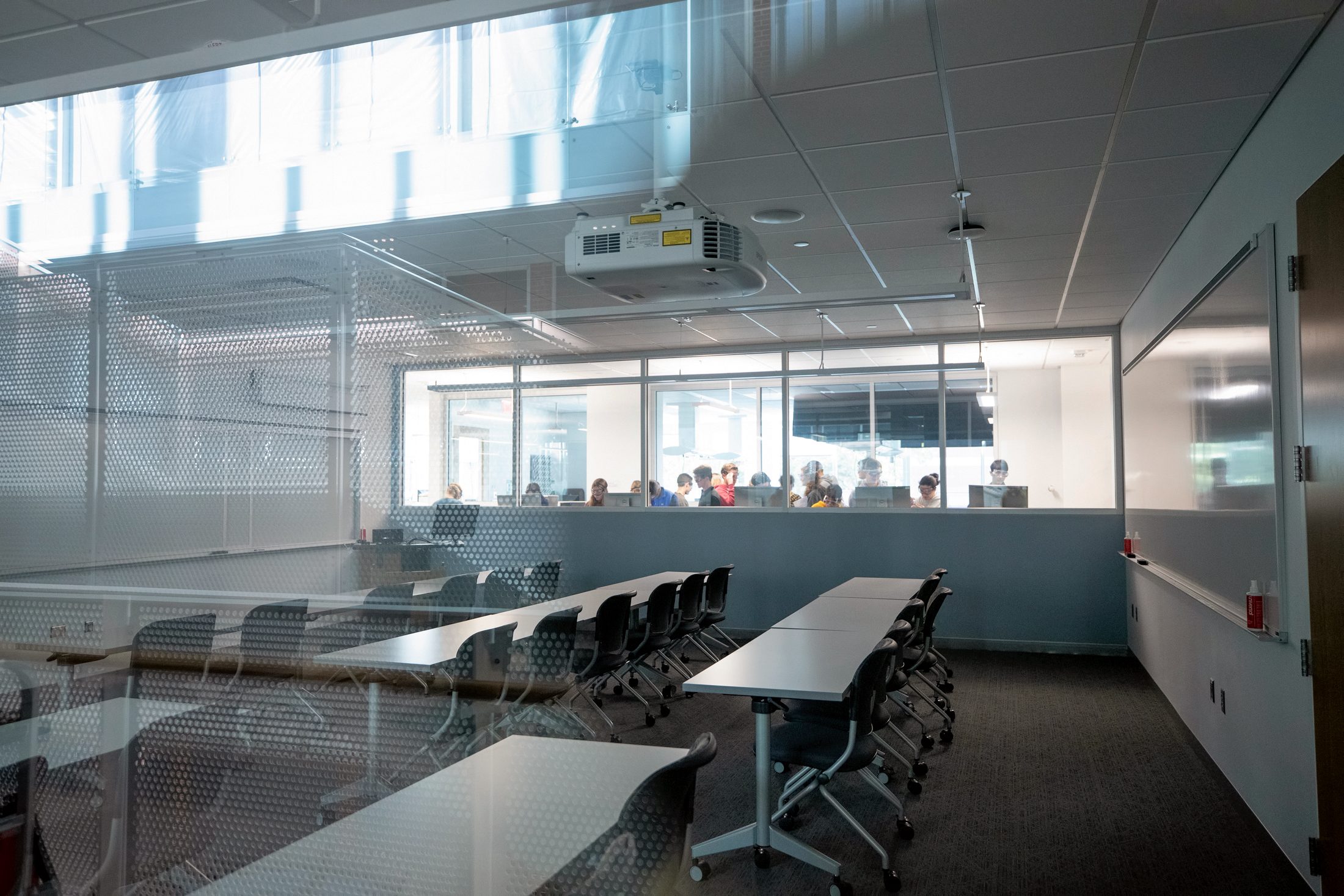 The team began to imagine a building characterized by "clusters," where departments could share common meeting areas populated by whiteboards, worktables, and computer stations. "Having a visual flow between spaces helps students see that what happens in the classroom is not separate from what happens in the lab. Everything that is being discovered is being discovered through some research, whether that's in the field or in a laboratory," Wolff says. "It's also a great way to show that we're not just over here reading about what other people do and memorizing. We're doing things. We're being creative. We're trying to find things that no one has ever seen before."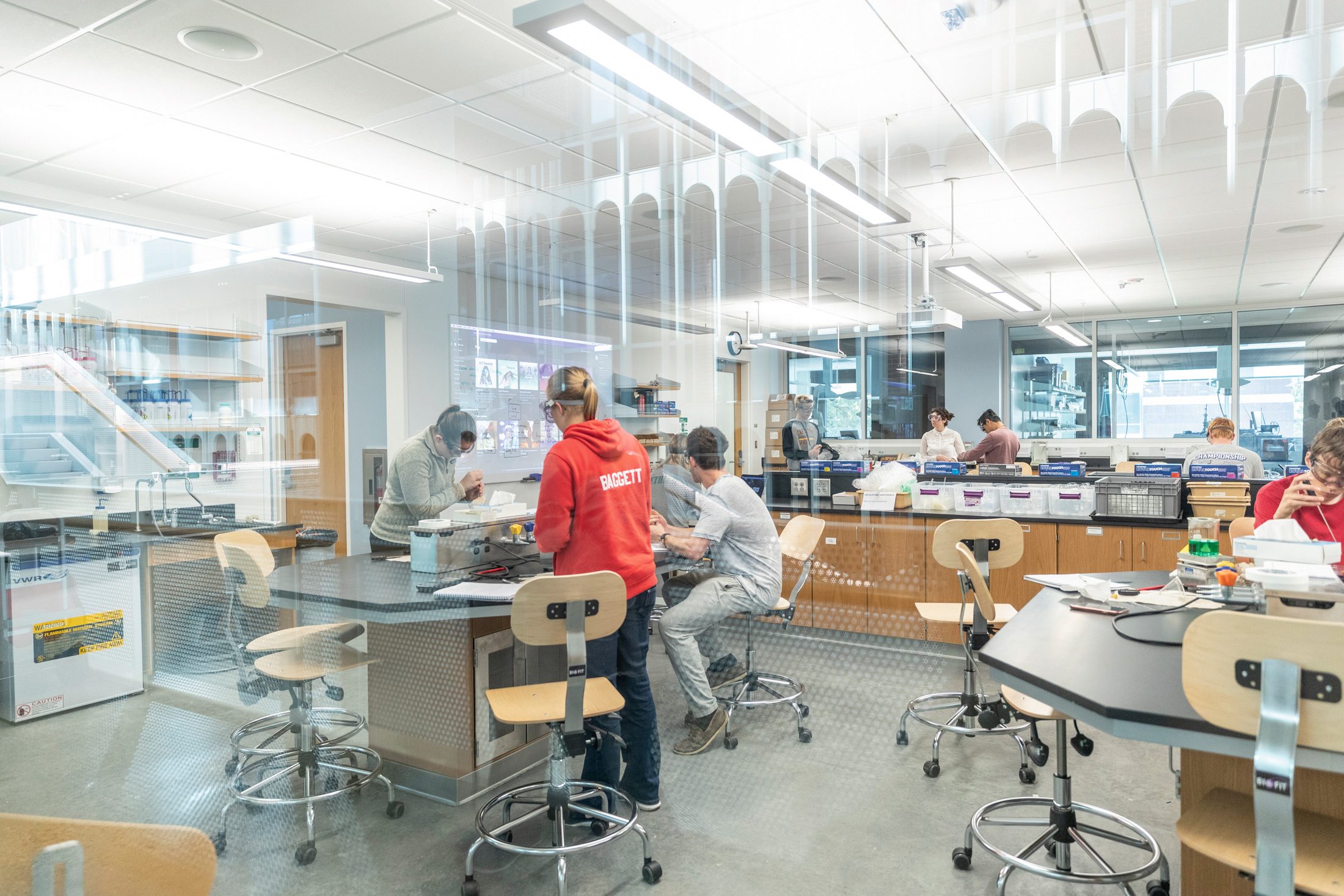 In 2017 Mudd was removed, Hulings and Olin were slated for renovation, and construction began on a new structure that would turn the remaining buildings into a single 114,000-square-foot integrated science center. The $75 million Evelyn M. Anderson Hall, named to honor pioneering scientist Evelyn Anderson Haymaker '21, had its soft opening this past fall. (The official christening will take place at the beginning of fall term 2020). And as of this winter, the thoroughly modern, naturally lit complex is already buzzing with activity, as both students and faculty members are coming to appreciate its innovative composition and inviting aesthetic.
"So far, I'm excited about the new labs," says Anna Conley '20, a chemistry major from Yakima, Washington. "A lot of the work I'd done before was in the basement of Olin. It was great work, but the space was dark and isolated. The new labs are much more inviting and it's inspiring to see other people working in different areas on their projects.
"I also like all the open spaces, especially the atrium. I think others really like that as well. I find myself passing by people and stopping to talk and share ideas."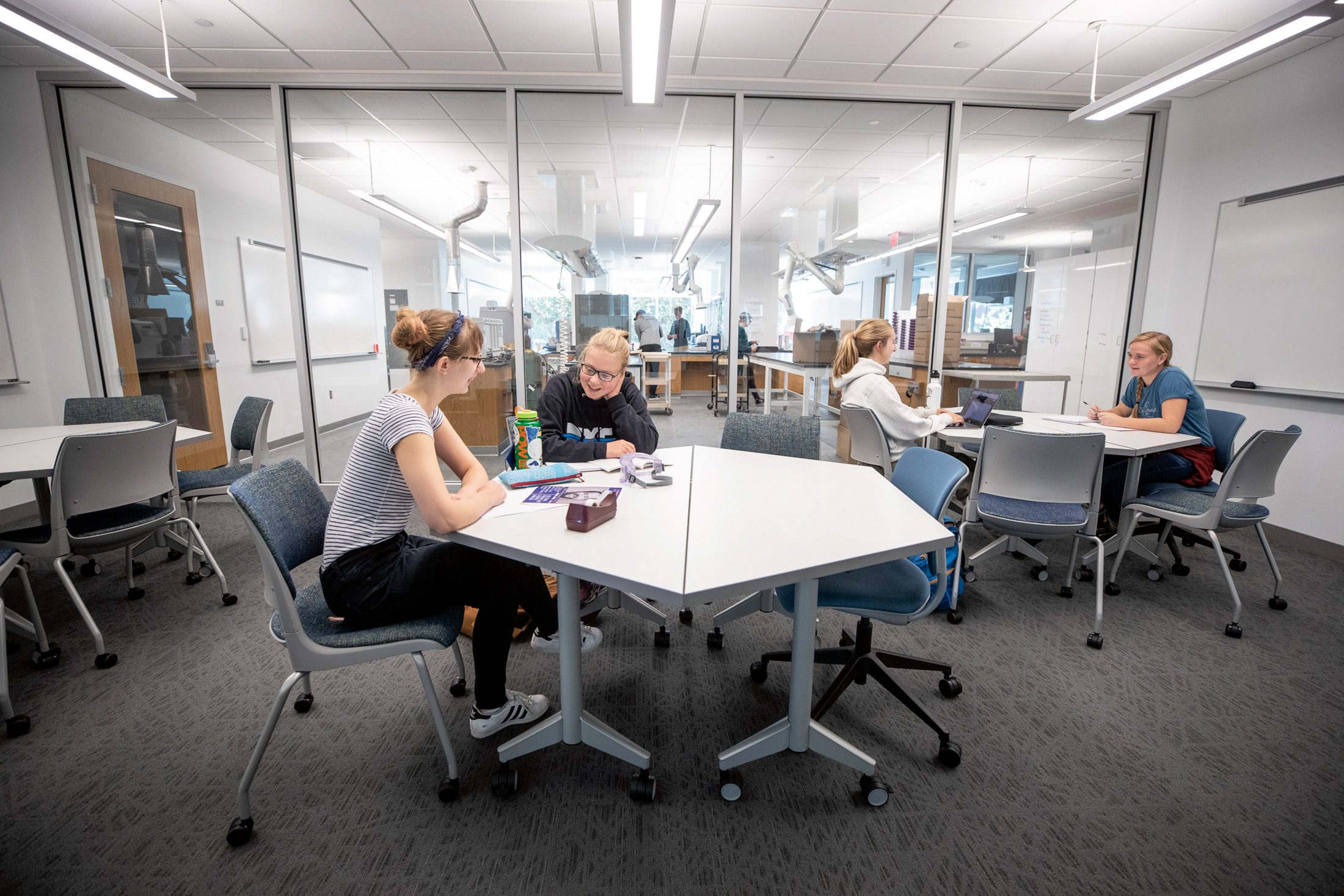 Charles Kirby, a senior principal at EYP, specializes in academic planning and design. He believes all the buildings he's helped conceptualize tell a story— and Anderson's begins with its most striking feature, the Robert B. Daugherty '43 Atrium. (Daugherty, a philanthropist and entrepreneur, founded the agricultural products leader Valmont Industries.) "Because Carleton is located in Minnesota, where it's colder much of the year, we wanted to create a warm, inviting alternative to the winter," says Kirby. "Our aim was to expose people to a light, bright, vibrant environment — like nature itself."
The desire for large windows and lots of natural light was also based on recognition that biophilic design — which incorporates elements of the natural world into built environments — yields tangible results. In an online article posted by EYP, there's a host of compelling statistics from academic institutions they've worked with showing that exposure to nature, even through a window, improves mood, decreases stress, and increases productivity. One study found that simply expanding students' access to daylight can accelerate the speed of learning by up to 26 percent, improve attendance by 3.5 days a year, and raise test scores by up to 14 percent.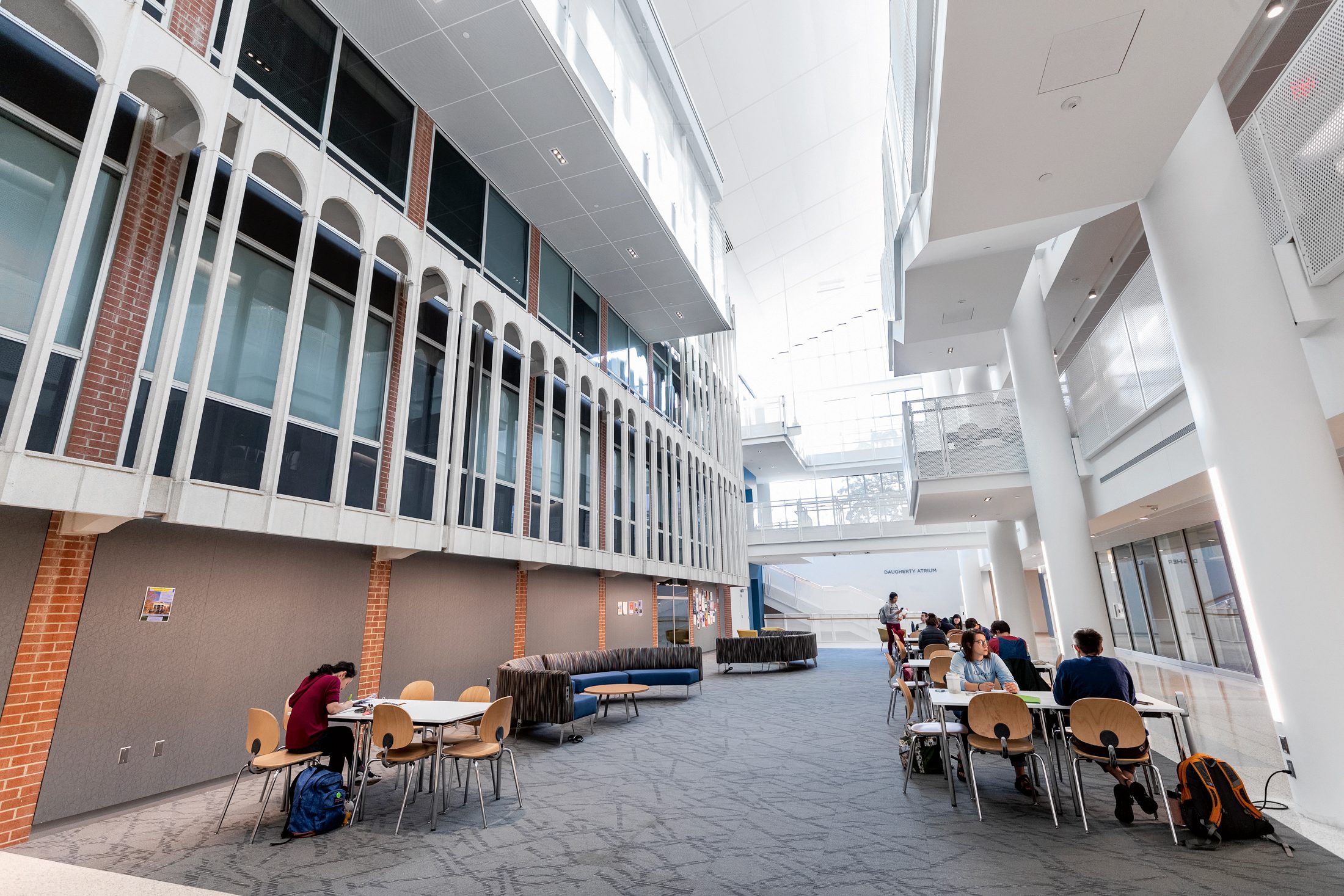 "Because Carleton is located in Minnesota, where it's colder much of the year, we wanted to create a warm, inviting alternative to the winter. Our aim was to expose people to a light, bright, vibrant environment— like nature itself."
---
Equipped with a well-stocked coffee and snack bar (Schulze Café), worktables, and clusters of comfortable seating, the three-story, modernist atrium — which is accessible from all three floors via a cascading open-air staircase — is meant to be a thoroughfare between the east and west sides of campus. It's also a gathering space for all Carleton staff, students, and faculty members that can showcase scienti c study and encourage everyone to think about the ways STEM can intersect with the liberal arts. (At Trinity University in San Antonio, the recently opened Center for the Sciences and Innovation is attracting students from all over campus, encouraging impromptu interactions between science and non-science majors, and increasing interest in STEM studies among incoming students by an astounding 50 percent.)
A state-of-the-art facility also sends a powerful message to prospective Carls, Kirby says: "Students are coming from nicer and nicer high school facilities and are expecting more. All that glass not only reveals the soul of the building, it also speaks to the soul of the school, where teaching comes first and interactions between students and the faculty are prized."
"In a rigorous academic environment like ours, it's hard to make time to really relax and think about how it all comes together. But that time is valuable," Wolfe concludes. "I think we all have our best ideas when we're relaxed, when we can just run into someone and talk about how things are going with their research and in their classes. Anderson Hall is going to make that possible in ways that we've never really had before."
---