Multidisciplinary artist and friendly provocateur 2Fik faces off with the Carleton community.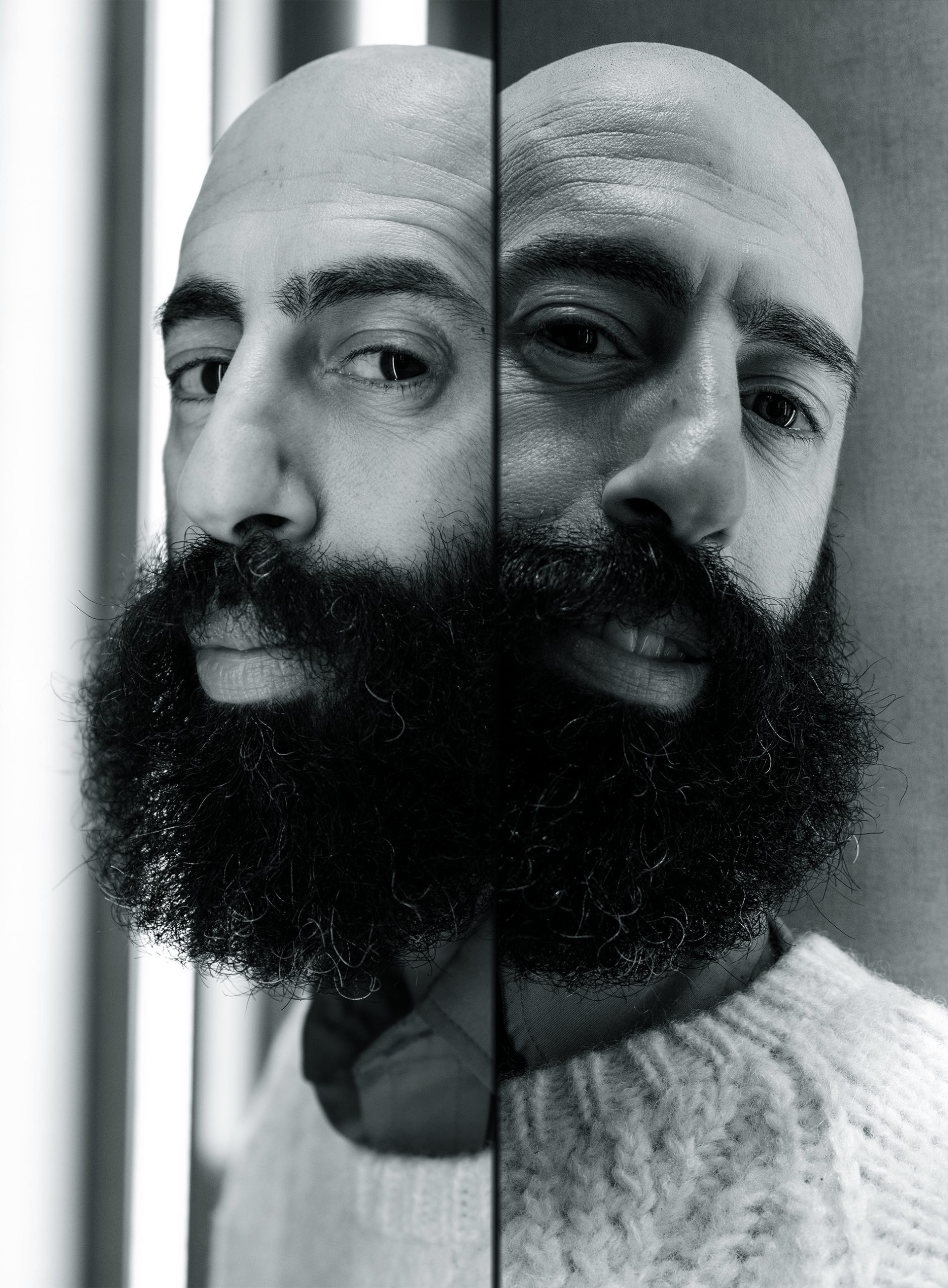 Loneliness and depression are a recipe for misery. They can also be a catalyst for creativity.
Fifteen years ago, at age 25, Montreal-based multidisciplinary artist 2Fik found himself facing down a challenging set of circumstances. He was unemployed, his boyfriend had just walked out, and he was stuck in a cramped apartment as the temperatures were plummeting in snowy Quebec.
Looking for a way to escape the loneliness and navigate what felt like a quarter-life crisis, 2Fik turned to his imagination and started to invent characters. Women and men, bearded and clean shaven, gay and straight, cisgender and nonbinary, they all had traits taken from his own personality.
Slowly, he brought each personality to life by choosing a costume, adopting a set of distinct mannerisms, and taking self-portraits around his apartment. After a while, the creator decided it would be fun to gather all his creations together for a group portrait. So, with the help of Photoshop, 2Fik layered the individual self-portraits on top of one another to make it appear as though all his alter egos were just hanging out together.
In time, 2Fik (pronounced "two feek," which phonetically matches the artist's given first name, Toufik) created detailed backstories for his diverse entourage. Today, there are 14 characters in all, each connected to one another in some way. For example, two are married to each other and a third is the husband's mistress. They've since moved beyond his apartment walls and now perform and travel to cities, towns, and campuses the world over, where they interact with unsuspecting citizens in unexpected settings.
"One student asked me how I navigate my nonbinary identity, but I'm not nonbinary. The young generation has difficulty imagining art that is not autobiographical."
Although he performs globally, 2Fik is no stranger to Carleton. Last fall marked his fourth visit to campus. Sponsored by Stephanie Cox, lecturer in French, he and his fictional entourage were artists-in-residence for the academic term.
Cox heard about 2Fik from a friend in Montreal and first invited him as a visitor to the French department in 2017. A native French speaker who grew up in France and Morocco and lived in a French-speaking Canadian province, he made a fitting guest lecturer, but 2Fik had more than language skills to offer Carleton students.
Because his art explores themes of gender, ethnicity, identity, religion, privilege, and social and cultural norms, other departments began to seek him out. During his second stay at Carleton in 2018, he visited 26 classes in 11 subjects in three weeks. And, before he left, Carleton had bought two paintings from 2Fik's Museum Series, Le dernier bain d'Abdel and La grande intendante, both reinterpretations of classical paintings.
Cox's wish to bring 2Fik to campus for a longer stay was realized, in part, through funding from the Class of '57 Visitor Scholars for Interdisciplinary Studies; Public Works, a Mellon grant that connects diverse organizations and communities through the arts and humanities beyond campus; Carleton's Center for Community and Civic Engagement; and the Humanities Center.
2Fik's presence at Carleton has proven especially relevant over the past few years, as students and faculty members grapple with ways to adjust to a society that the nonpartisan Pew Research Center says is more divided than it's been since the Civil War. First-year students have the option to take a seminar on civil discourse, and there is a noticeable desire on campus to encourage challenging, productive conversations about sensitive cultural and social issues.
2Fik's residency was designed to support and encourage these sorts of initiatives on campus and throughout the larger community. On any given day last fall, he could be found performing in character on campus or in town, delivering artist talks such as "Dating Apps: The Art of Self Curating and Performance," leading discussions for "Feminism & Men: A Book Club" at Northfield's Content Bookstore (first selection: Roxanne Gay's Bad Feminist), staffing an "Ask Me Anything" booth at the Riverwalk Market Fair, lecturing in classrooms across disciplines, and leading workshops such as "Bring Your Own Heels," available to anyone of any gender who wants to learn the art of walking in high heels.
No matter the venue or the character, 2Fik's goal is to make accessible what might have been mysterious. "It is not about my ego or my perception of the world," he says. "It's about how the audience connects, understands, and feels the artwork."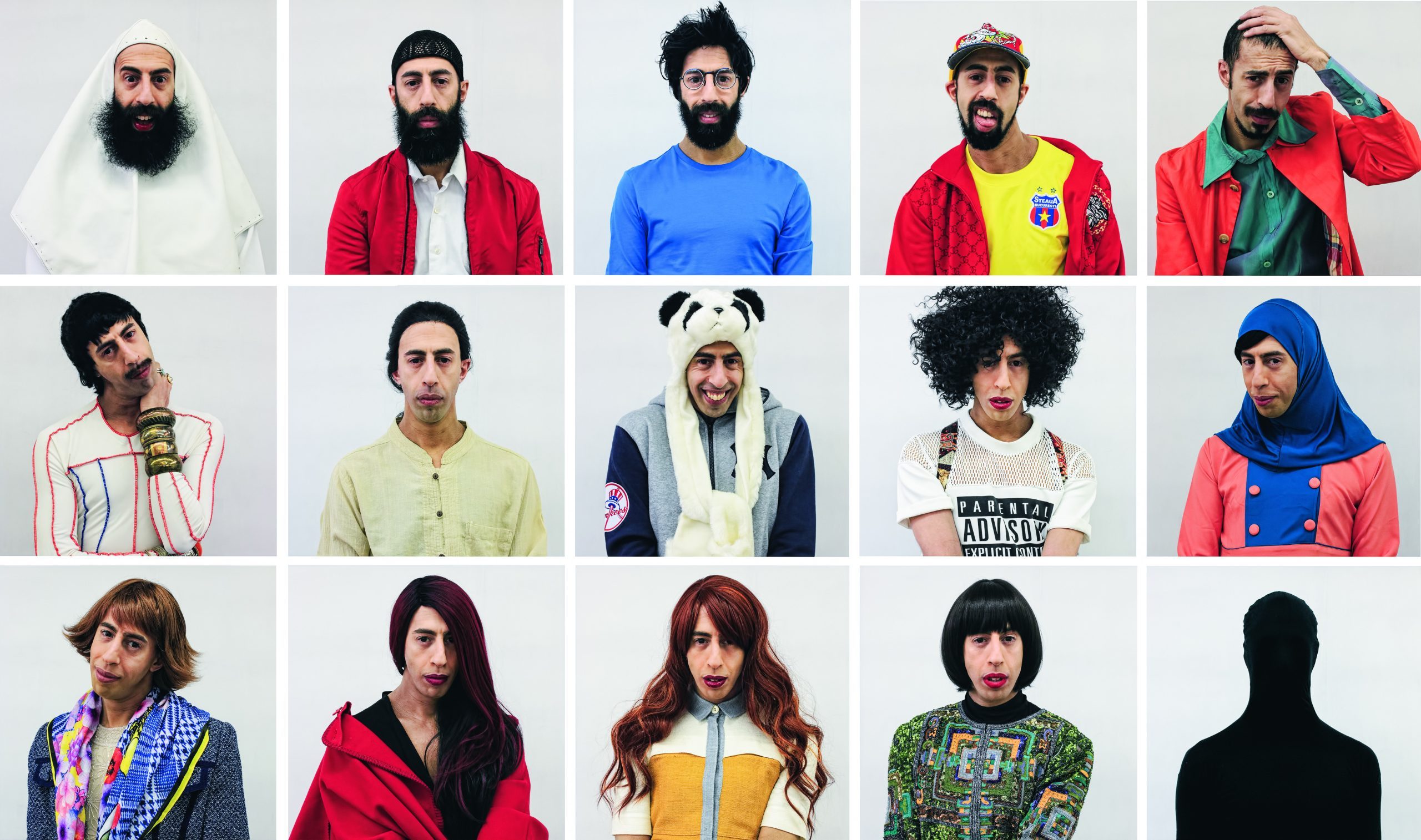 2Fik's 14 characters perform around the world, stage group photo shoots in iconic locations, and interact with unsuspecting citizens in unexpected places.
One of 2Fik's most frequently portrayed characters, Ludmilla Mary, is known for her "big beard, her veil, and a huge personality," he says. She appeared in Northfield's Jesse James Day parade in September and at the Riverwalk Market Fair in October, weaving her way through crowds in high heels, very little clothing, and full hijab.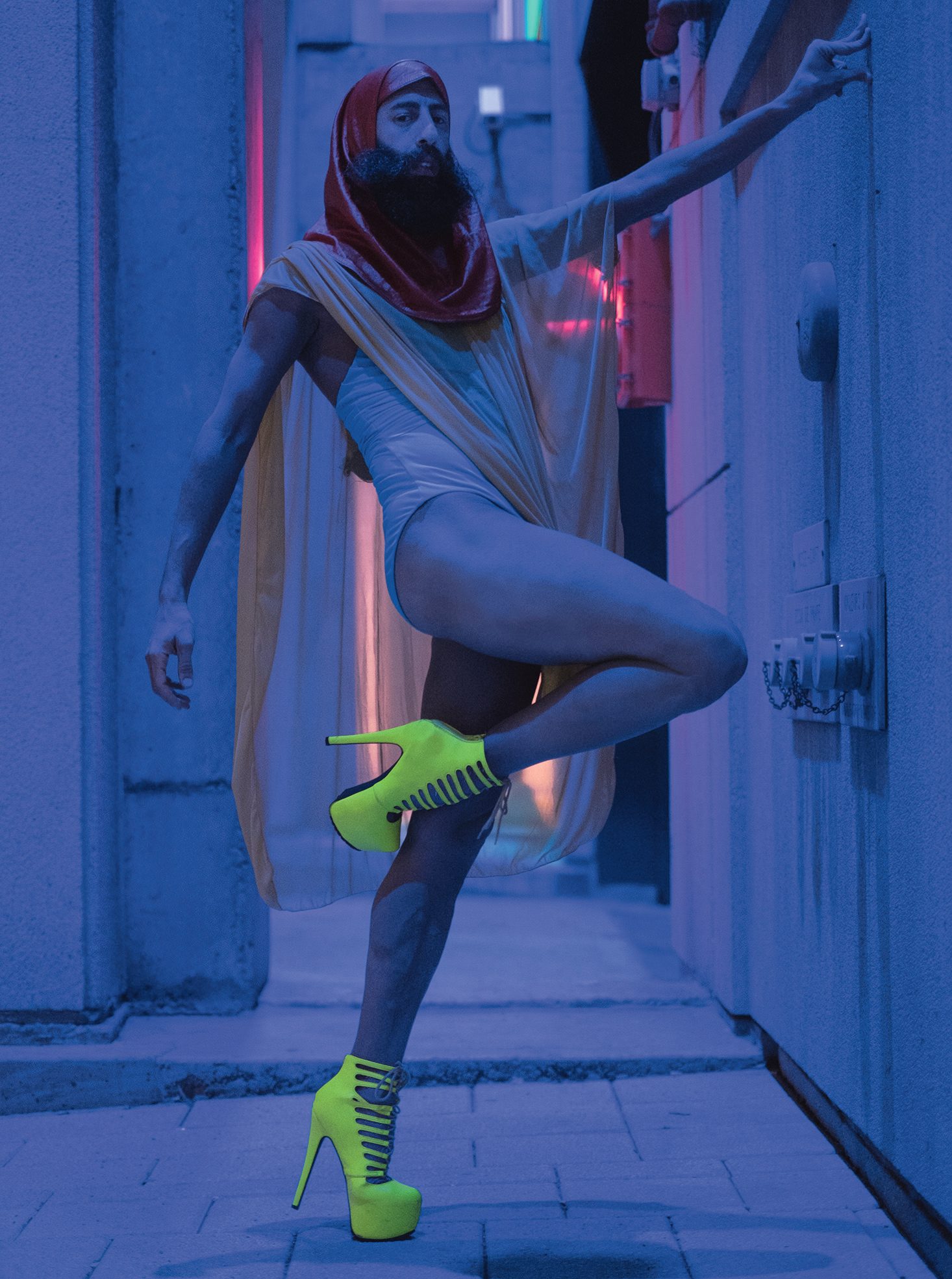 Ludmilla Mary has performed at Carleton before, doing a high-fashion runway strut through throngs of students, and her reception here has been different than in other places. "In Croatia, people reacted to her. In Montreal and San Francisco, people laughed. In Northfield and at Carleton, however, people were poker faced. They pretended not to see me," says 2Fik, who thrives on adjusting to his audience's reaction in the moment and hopes they will do the same. "If you like it or don't like it, let's talk about it."
"I recorded his live performance in Northfield," says Mary Zhang '22 (Shenzhen, China). "I definitely think his performance is thought-provoking and illuminating, but some people in the audience may have simply thought he is weird, and so they ignored him. Personally, I became more open-minded and accepting about people with different ideas, beliefs, and cultures."
It takes great patience and energy to portray characters people might find confusing, but 2Fik believes everyone's reaction is valuable. "You must be humble enough to face people who don't like it, but who are curious about what you do," he says. "Everyone's opinion is equal," he adds, especially in an era when negativity has gone viral and an increasing number of people are left to wonder if they have the right to be themselves.
"I am Egyptian and, as an Arab, I believe 2Fik overcame a lot of [the] insecurities that people have where I came from," says Eslam Badawy Mostafa, an Arab-language associate at Carleton. "What he does, and how he is in person, [have] taught me so much. It taught me how we should always accept who we are and not care about how other people will react. His confidence and the way he carries himself are very special."
Sometimes 2Fik faces skepticism, even from otherwise open-minded students. In their rush to be inclusive, he observes, many young people who pride themselves on being "woke" have trouble reconciling with his identity as a cisgender gay man, especially given the characters he plays. "One student asked me how I navigate my nonbinary identity, but I'm not nonbinary," he says. "The young generation has difficulty imagining art that is not autobiographical."
2Fik sees social media as one reason students struggle to untangle his identity as an artist from his identities in his art. "Social media has transformed us into brands with histories and habits," he says. "But I'm not using my art to talk about myself. My artwork is the result of a
thinking and conceptualization that go beyond myself and my comfort zone."
---