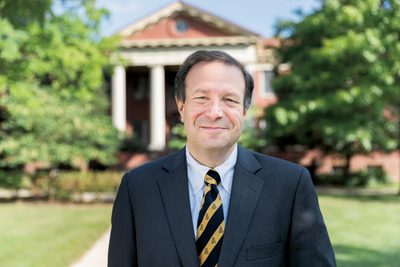 Picture a young chemistry student in goggles and a lab coat.
Working assiduously alongside faculty mentors in our new interdisciplinary science building, Evelyn M. Anderson Hall, she is a part of a multiyear research project using both chemical synthesis and computational analysis to understand how metals can be coaxed into transforming carbon dioxide, the most prevalent greenhouse gas, into a sustainable fuel. Ultimately, the scholarship promises to furnish insights into how abundant metals might be used to make sustainable energy.
This student's experience is typical — as I write this, the early results of her project are being prepared for publication — and represents an integral part of the Carleton experience. In just the past year, student-faculty research projects have included coauthored fieldwork papers and peer-reviewed journal publications, video editing, documentary filmmaking, retrieving and analyzing data, creating visual artwork for an exhibition, and translating historical documents.
All of this reflects a central tenet of Carleton's strategic plan, which calls for more intentional and sustained connections between the curriculum and the lives our students will lead after graduation. This includes senior comprehensive research papers and group work, of course, but we are also emphasizing expanded formal research opportunities that, like those described above, highlight the college's teaching excellence, curricular innovation, creativity, and rigor. The emphasis on personalized faculty-student collaboration is also designed to help prepare students for fulfilling careers in their chosen professions, which is an ongoing priority.
Students may team up on research projects with faculty members during winter and summer breaks, and some departments offer courses that provide collaborative opportunities during each term as well. When the work is taking place in the eld, abroad, or on another campus, funding is often required for travel and living expenses—and we are committed to supporting and increasing these collaborations.
We know that working closely with a professor can transform a student's life trajectory. In fact, even a single shared research project with a faculty mentor can spur a young person's abiding interest in a particular discipline and pave the way to fellowship awards and acceptance into leading graduate programs. For example, a linguistics major from the Class of 2020 recently conducted fieldwork among native Dakotah speakers in Lake Traverse Reservation and now plans to continue her studies in graduate school. Another student recently collaborated with a history professor to translate the medieval writings of a 12th-century monk and, as a result of their careful and exciting work together, is now helping to develop a proposal for a coauthored book.
Students regularly aver that research with faculty members has prepared them for senior comps, to work as part of a team, to communicate effectively, to undertake long-term projects requiring focus and perseverance, and to interact directly with other leading professionals and top scholars. And not just any proposed research project will do. Faculty members who wish to engage students as partners in their research or creative projects must commit to mentoring students carefully in a serious, collaborative way. This not only involves regular, substantive faculty-student contact, it also requires that students be given the tools and guidance to make original contributions to their faculty mentors' research or creative projects.
What's more, students are urged to employ emerging techniques and methodologies appropriate to a given discipline, and their projects must include both a re ective and a synthetic component. Finally, the faculty-student partnership should yield a tangible product that can be presented to the community, to the public, or to others in the eld for review. For example, in 2018 a Latin American studies major and a history professor created a database of English- and Spanish-language transcriptions of 20th-century court cases in Bolivia that involved issues of race and gender. The results helped create a map of neighborhoods where political disputes appeared to be common.
Students' intellectual curiosity drives their engagement in essential research across a variety of disciplines. And the skills Carleton students are learning in the process are not extras or icing on the academic cake. They are a hallmark of liberal arts education — crucial for success in graduate school, and for careers in areas such as health care, law, education, public policy, and community service.