The TRIO/SSS program provides the following for our participants:
A caring on-campus community;
Supplemental advising and academic support;
Personal advising and resource exploration and connections; and
Extracurricular learning and leadership activities.
If you are a prospective Carleton TRIO student, learn more about how to join.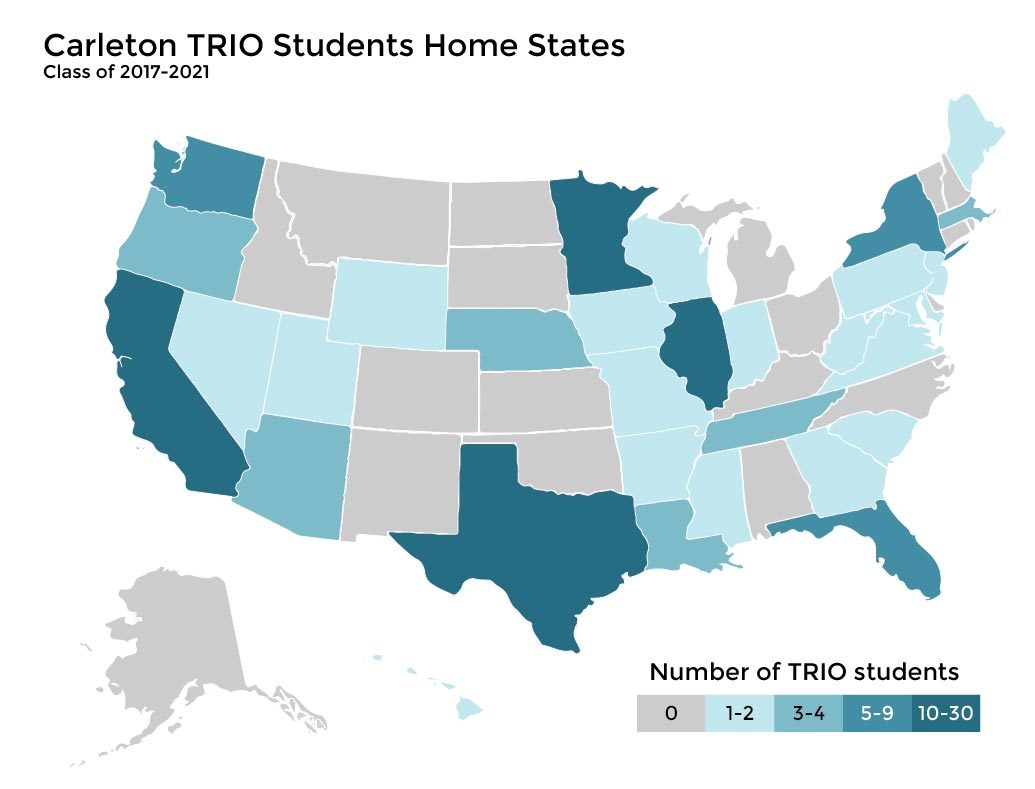 Participants must be Carleton College students who are U.S. citizens, permanent residents, or refugees pursuing their first bachelor's degree. They must also meet at least one of the following criteria:
Be low-income as determined by federal guidelines for family unit size
Be a first-generation college student (neither parent has a baccalaureate degree)
Have a documented disability
Eligible participants admitted to the TRIO program receive the following:
One-on-one advising with TRIO staff
Peer mentoring during their first year
Textbook assistance
Opportunities to attend retreats, workshops, and other cultural events
Eligible participants admitted to the TRIO program commit to:
Regularly attend meetings with TRIO staff
Attend TRIO-sponsored events
Participate in academic and professional development programming
Individual Advising
TRIO assigns every student an advisor. Students meet with this advisor one-on-one for their entire time in the program. The advisor is invested in your well-being and success and can assist with academic, personal, and career matters.
Financial Aid Advising
TRIO provides programming to help our students develop skills necessary for financial independence. From workshops on understanding financial aid, to tips for setting up bank accounts and credit cards, we're invested in your financial well-being.
Cultural Events
TRIO is committed to developing the cultural life of our students. Whether we're visiting the theater or hosting a picnic to showcase students' home dishes, we're eager to learn about students' cultures and expose them to new experiences.
TRIO offers resources to help students adjust to, and thrive in, Carleton's rigorous academic environment. Students receive assistance to select classes and majors, develop a four-year path to graduation, hone time management and organization skills, and refine learning strategies. Support in quantitative reasoning is available to help students excel in data-rich courses.