In the 2017-18 academic year, CEDI was tasked to assist in monitoring and communicating actions taken to address issues raised in a 2017 report that concluded that bathroom accessibility and labeling did not meet the needs of transgender, gender non-binary and gender-nonconforming individuals, as well as individuals with physical disabilities. CEDI initiated a Bathroom Action Committee, and the College committed a $250,000 budget to identify and implement opportunities to improve inclusivity and accessibility.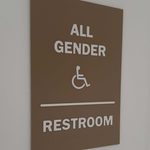 Since its inception, the Bathroom Action Committee has led a number of bathroom inclusivity and accessibility improvements. Some of the most notable include a review of all restrooms on campus to evaluate compliance with the Americans with Disabilities Act (ADA), completing changes to ensure restrooms are ADA compliant and correcting inaccurate signage.
As the committee began its work in 2018, a number of building codes were revised, and additional work went into reporting new needs to bring older campus buildings up to code. The team completed an inventory and analysis of all 400-plus restrooms on campus and identified where single-user restrooms could be converted to all-gender restrooms while maintaining compliance with strict building codes for the number of bathroom stalls required per building.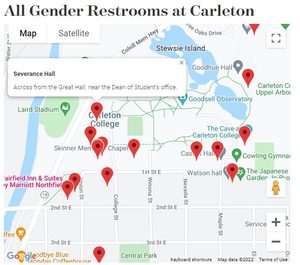 In 2019, the College converted 11 single-user restrooms to all-gender restrooms. The next phase was to complete minor ADA-compliance renovations needed to make 52 single-stall restrooms all-gender restrooms. The team then focused on more substantial renovations needed to provide additional all-gender restrooms to Leighton's first floor and the lower level of Hulings Hall. In total, the College was able to gain 66 all-gender restrooms across campus.
The committee helped create an interactive restroom map that shows the location of ADA-accessible and all-gender bathrooms on campus and will carry that effort forward as part of the SEAMS project. The committee is now working on way-finding to all-gender restrooms in public-facing spaces and identifying additional places that might be renovated to further increase accessible and inclusive restrooms on campus.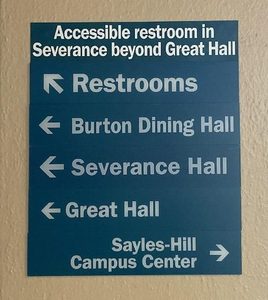 After a long hiatus due to the pandemic, the committee met again in March 2022. Meeting minutes and reports with additional details on the group's findings and progress can be found on the CEDI Reports web page under Inclusive Bathroom Reports. And, while all-gender restrooms are intentionally considered in all new construction, the team will convene again this spring to continue its work making improvements. Questions from the campus community are invited via email to professor Marty Baylor, who is spearheading this important initiative.