Mar
5
Olivia Patinkin '23 Comps: DRY LAND
Sun, March 5, 2023 • 2:00pm - 3:30pm (1h 30m) • Black Box Theater - Weitz 172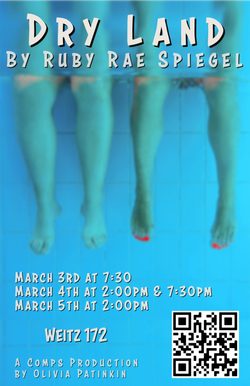 Olivia Patinkin '23 presents her Comps Project, a production of DRY LAND written by Ruby Rae Spiegel and directed by Elaina Boyle '24.
Content warnings: Use of strong/offensive language, depictions of abortion and violence (blood), and mention of disordered eating, self-harm, and suicide.
Two high school swimmers, Amy and Ester, find sanctuary in their locker room as they navigate the difficulties of growing up a girl –– not least of which is the abortion that Amy desperately needs. DRY LAND, as pertinent now as it was when it was published in 2015, is a play about friendship, abortion, and resiliency.