May
23
Auditions for Fall Term Theater Production of Indecent
Mon, May 23, 2022 • 6:00pm - 10:00pm (4h) • Weitz Theater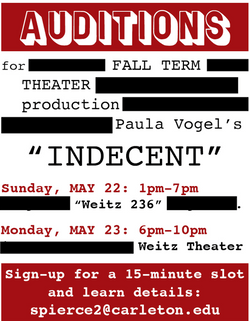 All Carleton students are welcome to audition for the Fall Term Theater production of Paula Vogel's Indecent, directed by Carleton Alum Lee H. Conrads!
For the first round of auditions, you will be asked to read a scene from the play and sing 32-bars of a song. Please don't panic! The song can truly be any song - you won't get bonus points for Sondheim or lose points for Twinkle, Twinkle, Little Star.  Pick something that you know well and can sing confidently. We are looking for confidence and expression rather than virtuosic execution. There will be an accompanist if you wish to bring sheet music (please mark your section clearly), but you may also sing without accompaniment.
We will provide the sides you are assigned as well as a PDF of the play when you sign up for your audition time. Please be prepared to read both characters in the scene, regardless of gender. The main thing we are looking for in this first round of auditions is your ability to deliver lines clearly, engage with your scene partner, and make some choices about character.
Contact Sally Bell Pierce (spierce2@) to sign up for an audition time and to learn more.