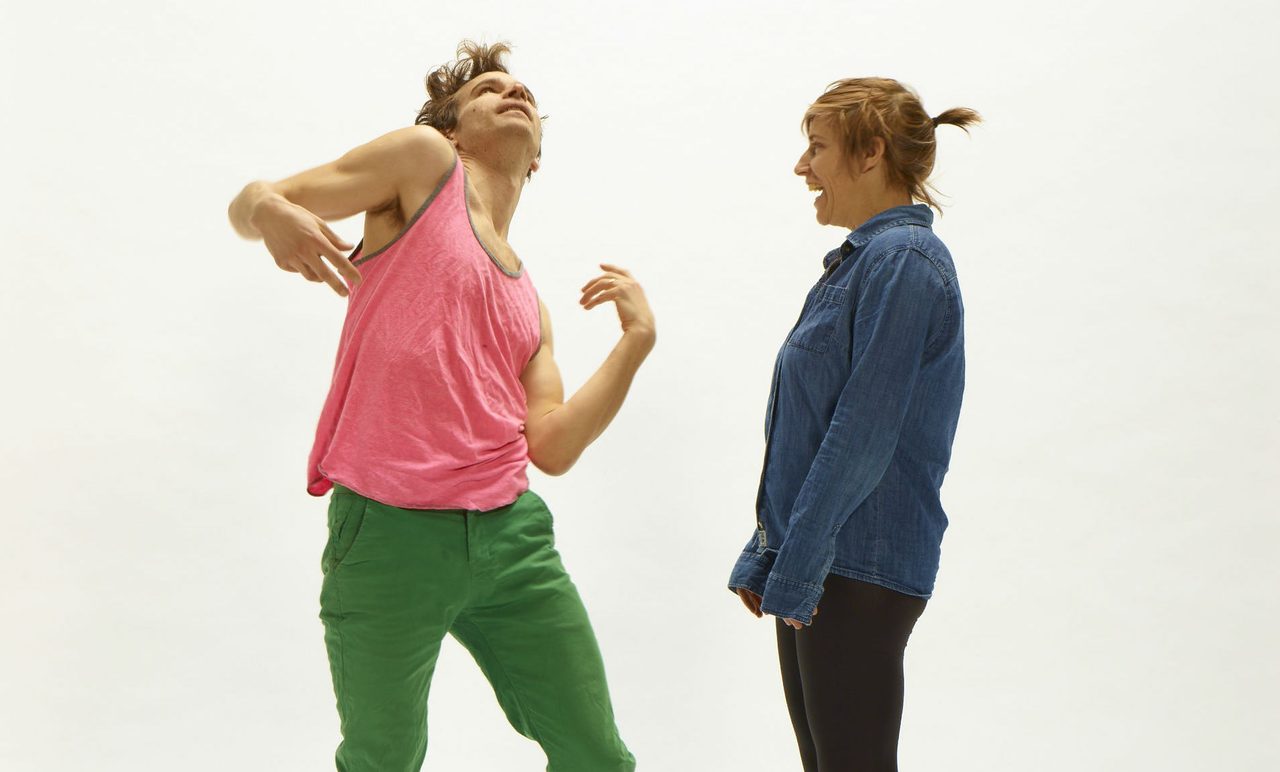 The mission of BodyCartography Project is to engage with the vital materiality of the body. Members create dance in urban, domestic, wild and social landscapes. Their work is rooted in contemporary dance, somatic technique, education, socially engaged practice and public art. They are deeply invested in the power of live performance to facilitate a re-enhancement of embodiment, relationship and presence.
As part of their Carleton residency, Minneapolis-based choreographers Olive Bieringa and Otto Ramstad, who work together as BodyCartography, are teaching the Winter Dance 205 course during Winter Term 2017. In addition, they are bringing their performance installation felt room to the Perlman Teaching Museum Jan. 13 – Feb. 23. felt room is a dance designed to be felt more than seen, engaging performers and audiences in a practice of vibrant potentiality.
Olive Bieringa studied at the European Dance Development Center in the Netherlands and completed her MFA in Performance and New Media from Long Island University in Brooklyn, NY. She founded the BodyCartography Project and founded and curates Vital Matters Dance Festival, SEEDS festival for Earthdance, MA and Public Art St. Paul's City Art Collaboratory. As the BodyCartography Project she works with Otto Ramstad creating performances, installations, films, and curatorial projects in urban, domestic, wild, and social landscapes. Over their seventeen-year collaboration projects have been presented across the world supported by institutions such as the Walker Art Center, Minneapolis; American Realness, Performance Space 122, NYC; TBA/Portland Institute of Contemporary Arts; Cheshire Dance, UK; Anti-Festival, Finland; and Stromereien Festival, Zurich, receiving awards and funding internationally. They have created commissions and workshops for the Lyon Opera Ballet amongst others.
Otto Ramstad holds a BA in Dance, Improvisation, and the Moving Image, from Goddard College and is a Certified Teacher of Body-Mind Centering(r). He has been featured in the work of DD Dorvillier, Miguel Gutierrez, Shelton Mann, Karen Nelson, Lisa Schmitt, Scott Wells, and Kitt Johnson. Ramstad's solo work has been performed in Denmark, Finland, England, Paris, New Zealand, Italy, NYC, around the USA. He is a recipient of Foundation for Contemporary Art Fellowship 2015, McKnight Foundation Fellowship 2010, an Archibald Bush Fellowship Artist 2006, twice a DanceWeb Scholarship recipient at Impulstanz, and was nominated for a Rolex Protégé Award in 2007.