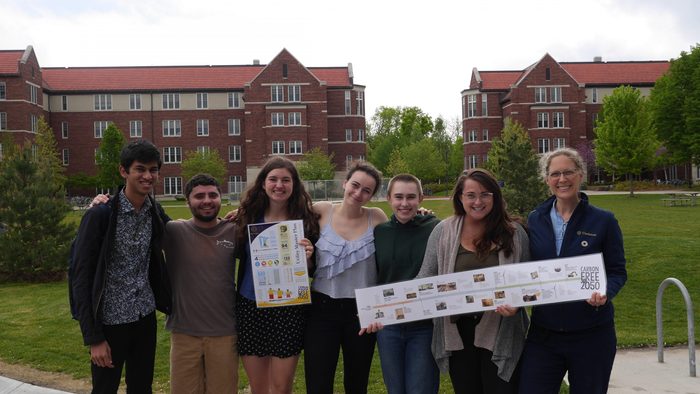 People
Policies
Utility Master Plan
Our recently completed Utility Master Plan advanced our 2011 Climate Action Plan which is the guiding document supporting our goal of making Carleton's campus carbon free by the year 2050. Our new utility system will utilize four forms of renewable energy – wind, solar photovoltaic, solar thermal, and geothermal – and is flexible enough to take advantage of future advancements in renewable energy technologies. Carleton has a cutting edge geothermal system and two wind turbines. We have reduced 68% of our scope one and two emissions
For more information about the Utility Master Plan, explore this website.
Climate Action plan
Carleton's Climate Action Plan (CAP) was approved by the Board of Trustees in 2011. The CAP set a goal of becoming a carbon-free campus by the year 2050. The Sustainability Working Group os now working on plans to exceed this goal.
Circulation Plan
A committee of faculty, staff, and students worked hard over the 2019-2020 academic year to develop a draft plan for campus circulation (traffic flow for bikes, cars, and pedestrians, parking and deliveries, and accessibility). View the entire plan.
Black Lives Matter Statement
Over the past few years, the Sustainability Office has been working on environmental justice issues. New planning underway by the sustainability working group offers opportunities to accelerate how we address justice through operations and education.