Although Carleton's campus lies in the land of 10,000 lakes, water conservation remains a key priority from both a sustainability and economic standpoint.
Carleton's Water Supply System:
Carleton's tap water is local, generates no greenhouse gases from transportation, and is highly monitored here on campus. As stated in Carleton College's Environmental Statement of Principles, "we will strive to be a model of stewardship for the environment by incorporating ideals of sustainability into the operations of the College and the daily life of individuals." Supporting the accessibility of our campus' sustainable water system is directly aligned with this mentality.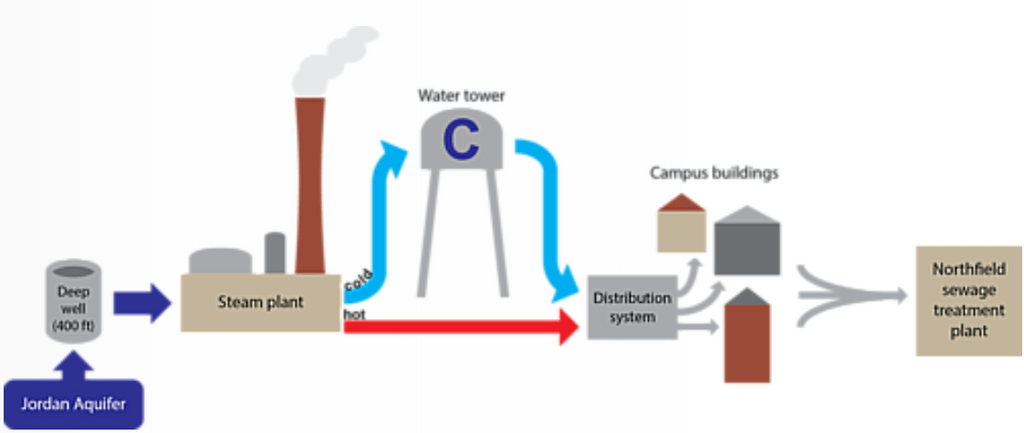 Water Bottle Refilling Stations:
Students pushed for water bottle refilling stations across campus, we now have a goal of at least one in every campus building. See this map for locations. Thanks for doing your part to support our local water and reduce plastic waste!
Water Initiatives
Take Back the Tap
Take Back the Tap aims to reduce and eliminated plain bottled water across campus. As a student organization in 2013, this group helped Reunion go bottled-water free in partnership with the class of '83, jumpstarted the water refilling stations across campus, and increased the use of carafes and water stations at outdoor events. The group is now a part of the student organization, Environmental Carls Organized (ECO).
Low-Flow Installations
The facilities and maintenance department have Construction Design Standards in place for all projects to adhere to. All projects are required to have low-flow toilets, showerheads, and faucets in all buildings to reduce water use.
Landscaping & Water Use
The Grounds team uses targeted irrigation to maintain turf in high traffic areas using non-potable water. Landscaping is used to minimize erosion and runoff as well as planting low-maintenance native plants to reduce the need for watering.