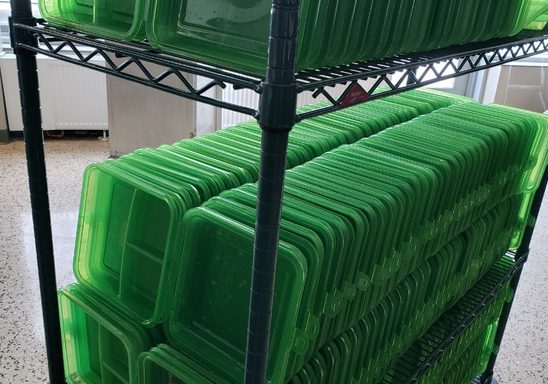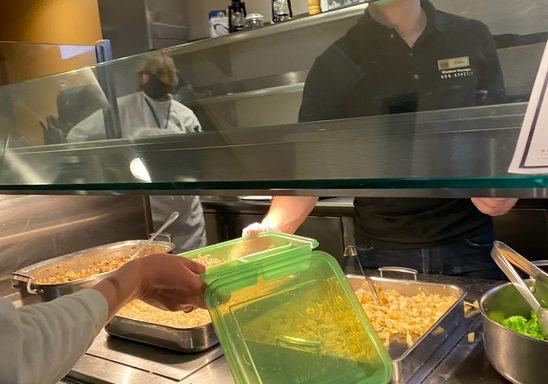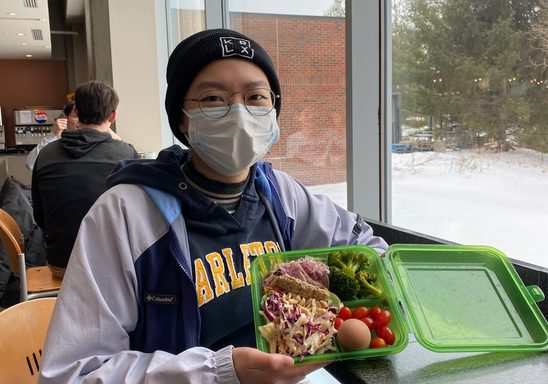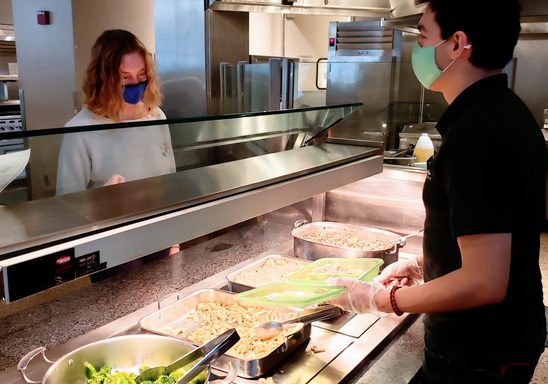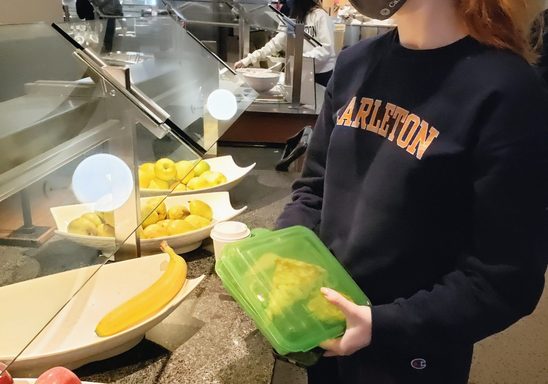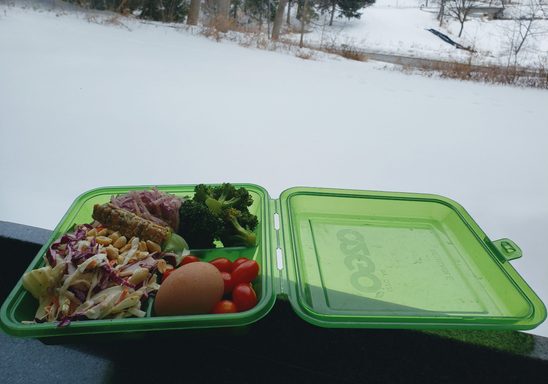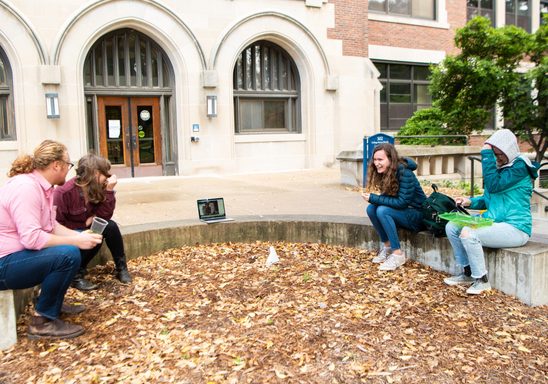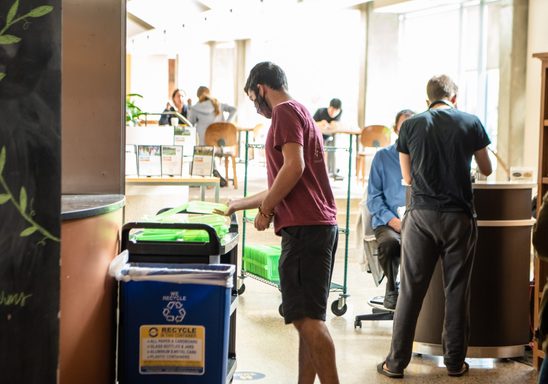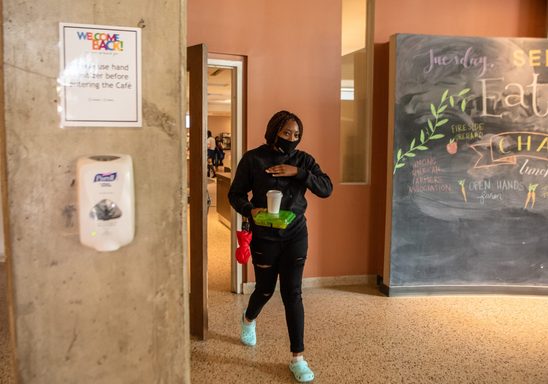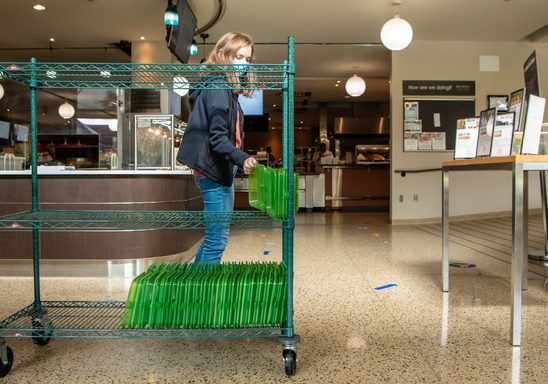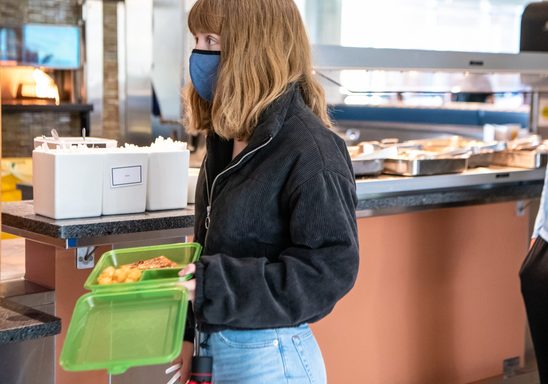 The Green2Go program now requires the USEFULL app to check out reusable containers. Please visit the Dining Services website for detailed information.
How it Works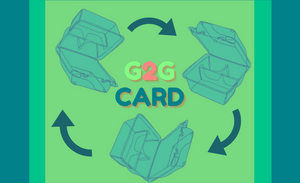 At the beginning of the term, each student living on campus will receive a Green2Go (G2G) exchange card.
These cards can be redeemed for a clean and sanitized reusable container, like the one above, and can be used at Sayles Cafe, Burton Dining, and LDC Dining.
Simply exchange the used container (with no leftover food, please compost!) for either
another clean container or
a G2G card to hold onto until the next meal period.
Please review the Frequently Asked Question section below or email questions to green2go.group@carleton.edu.
Frequently Asked Questions
Do I return the container every time after I am done eating?
Yes, please return the container as soon as you are able to so we can get it washed for the next person to use. You will need to exchange a container for a G2G card to carry until the next meal period. You will not be able to get another container without either a G2G card or a used container to exchange.
Where do I return the Green2Go container?
You can return your container back to Sayles Café, Burton, or LDC during open hours. Make sure to notify staff so that you will get a G2G card from the cashier when you return the container, and exchange it when you are placing a Green2Go order.
What if I can't return the Green2Go container on the same day I use it?
While we hope you can return the container as soon as you are finished for it to be washed and used again, we understand you are busy! Please bring it back to Sayles before your next meal to get a clean container or for a G2G card.
What if the Green2Go container breaks or gets lost?
If the Green2Go container breaks, please alert dining hall staff when you return the container. If you lose your Green2Go, we will need to ask that you pay $5 in order to be re-entered into the program to cover the cost of materials. You can pay this fee at the cashier station at Sayles.
Can I borrow the Green2Go container to or from a friend?
No, you may not borrow or lend the Green2Go container. This container is only to be used by the individual that receives their container must return the same one when finished with their meal.
Where do they get washed? Do I have to wash the Green2Go container?
The containers will be washed just like the other dishes used in Sayles, Burton, and LDC. We ask that you please compost of any uneaten food in a compost bin and rinse your container with water, if possible. Your used container can go in the Green2Go bin located in the Sayles Café, Burton, or LDC. Make sure to notify the staff to get your G2G card.
Is this Green2Go program free?
Yes! If you have any suggestions or comments, please email us at green2go.group@carleton.edu.
How will the distribution and return process work so I don't have to wait in line longer than normal?
When you are returning your container, simply deposit your container in the bin labeled "Green2Go" and notify the staff member to receive your G2G exchange card or a clean G2G container.
Do I have to return my Green2Go container before securing another container?
Yes, in order to secure another container your Green2Go must be returned for either a G2G card or clean container.
Can I clean out my own Green2Go container and reuse it instead of getting another one from Sayles staff?
No, it must be sanitized in the commercial dishwashers before being used again per the Minnesota Department of Health guidelines.
Is there a discount on my meal for using the Green2Go container?
No, if you would like a discount for using reusables, we encourage you to bring your own mug for Bon Appetite's Mug Club for discounts on coffee and tea.
Can I decorate my Green2Go container?
No, they are property of the College for everyone to use. Please do not decorate or personalize your container as it will be used over and over again by many other G2G program users.
How is this program being funded?
The pilot run over spring term 2020 came from funds allocated by the Carleton Student Association's Student Project Committee. For fall term 2020, funding came from the COVID-19 account. The ongoing program is supported by the Sustainability Office, Campus Services, and Bon Appetit. The program paid for itself off in just a few short weeks instead of compostable to-go containers being used, and reducing overall campus waste!
What can I use the Green2Go container for?
The containers can be used for any items behind the counter that staff prepares for you. The containers are NOT to be used for the grab and go pre-packed items from Sayles nor soups as the containers are not 100% leak-proof.
What are the containers made out of?
Green2Go containers are BPA Free, NSF, and FDA approved, microwave-safe/dishwasher safe, and can get upwards of 300 uses per one container.
Can I use a disposable, compostable to-go container in Sayles, Burton, or LDC?
No, we will be transitioning away from disposable, compostable to-go containers. This will ensure that the program has enough participants using the Green2Go containers.