Purchasing or procurement is the fifth focus area of the 2011 climate action plan. Procurement is an extremely important part of "closing the loop" and reducing waste, CO2, & energy across campus.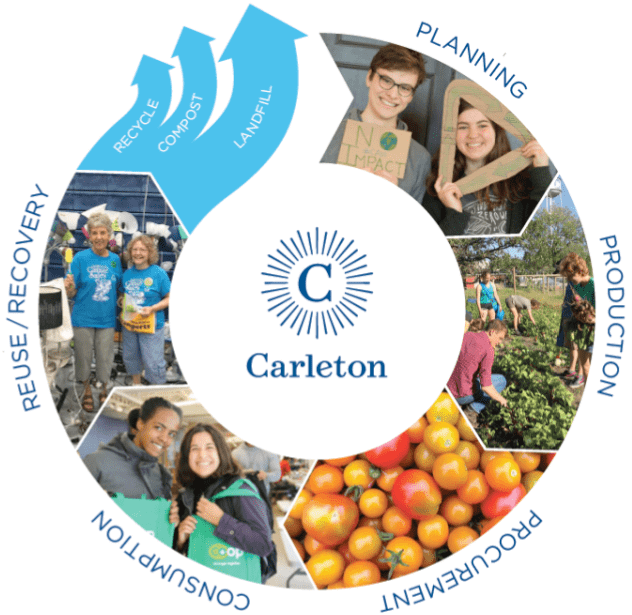 Although procurement is not quantified in Carleton's carbon reduction portfolio, there are various ways to incorporate sustainability into the way purchasing dollars are spent. Whenever possible, Carleton selects third-party vendors that are environmentally conscious.
Further research can be done to find providers who take a "cradle-to-cradle" approach to manufacturing, making them responsible not only for creation of goods but for recycling or composting them upon disposal. Procurement is an area of further exploration and one that could incorporate a high degree of student research and participation
Sustainable Food
Carleton, in partnership with Bon Appétit, uses the Real Food Calculator to track our institutional food purchases. We define "real food" as having at least one of the following distinctions: local and community based, fair, ecologically sound, and/or humane. Calculated annually, Carleton uses 22–26% of its dollars to purchase real food.
Office Supplies
Before buying new, faculty and staff are encouraged to utilize the Office Supply Swap located in the Sustainability Office in the Facilities building. Binders, bookends, folders, and file organization supplies… we have it all! Bring in your unneeded (but reusable) office supplies, and take anything you're able to reuse.
Appliances & Maintenance
The Facilities department purchases EnergyStar certified and other certified products for its projects. Carleton requires contractors to adhere to many construction design standards for projects to reduce energy, maintenance needs, and to ensure the College's values are upheld.
Electronics & Computers
Carleton currently purchases computer products from Dell, Apple and Lenovo on an annual basis. Carleton seeks to purchase computer products that are EnergyStar or EPEAT certified, or both. Carleton works to recycle all of its computer products through Dynamic Lifecycle Innovations.
Cleaning & Custodial Products
Carleton's Custodial Department aims to reduce the environmental impacts of cleaning products, disposable custodial paper products, and trash bags. The purchase a cleaning product line that honors the environment, personal health and wellness, and helps maintain a natural ecological balance. These items account for over 85% of the total cleaning supply purchases annually.
Fleet Vehicles
Carleton's Campus Services Office seeks to purchase environmentally-friendly fleet vehicles that can be maintained locally. Over the past few years, the campus vehicle fleet has been reduced from twenty-one vehicles to thirteen without compromising availability of the service. Carleton contracts with a local Northfield company to maintain the entire campus fleet, reducing transportation emissions to the Twin Cities.
Campus Surplus
Per the disposal policy for the College, we try to reuse items on campus as much as possible. When an item is no longer needed by the College, we use GovDeals as an online auction site to sell any unwanted surplus. The funds from these sales goes to waste reduction efforts across campus.