Protecting our ecosystem and creating an aesthetic campus are always a priority of the College. Our grounds department works diligently to ensure sustainable practices are upheld year-round. Our Arboretum is a favorite place for students to learn, explore, and relax in nature.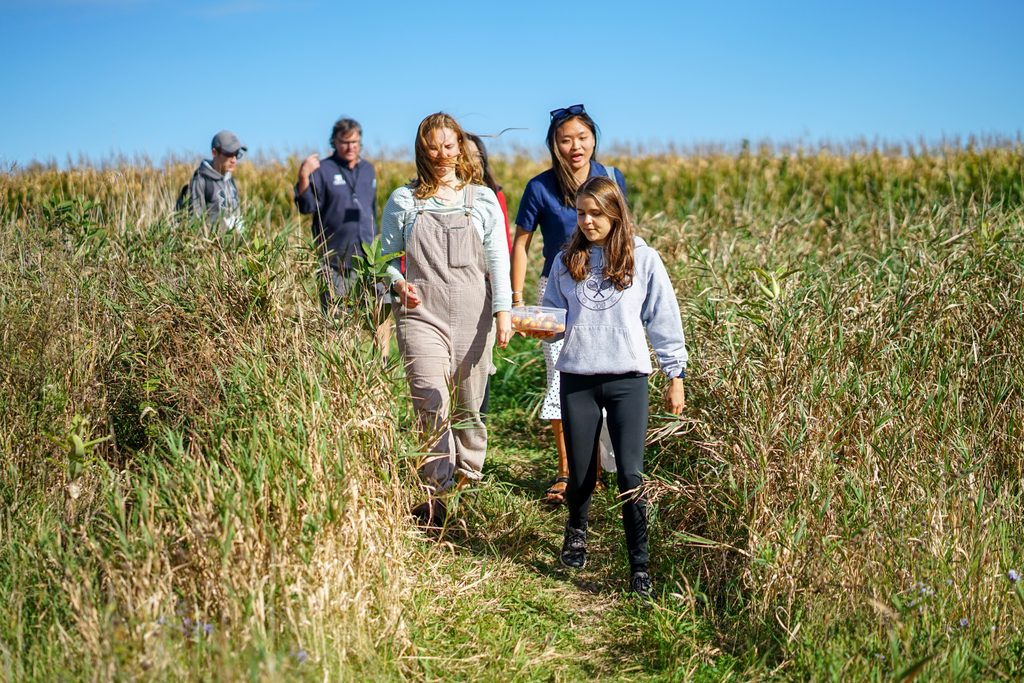 Student Organic Farm
The Carleton Farm, a student-run 1.5 acres organic farm, strives to grow food in sustainable and experimental ways. It boasts drip irrigation and a hoop house, among other innovations. The produce is sold to our campus dining halls and the profits pay summer farm interns. The project is in partnership with the Center for Community and Civic Engagement.
Cowling Arboretum
The "Arb" consists of approximately 800 acres (360 hectares) of land adjacent to the College and was created under the leadership of President Donald J. Cowling and Professor Harvey E. Stork in the 1920s. Check out the Arb website, where you can learn about upcoming events, current projects, and more. The Arb acts as a carbon sink, sequestering over 700 tons of CO2 from the atmosphere each year.
Agricultural Land
Grasslands sequester more carbon than agricultural land, while forests sequester six to seven times more carbon than crops. While a portion of the arboretum will remain in agricultural use for the near future, eventually the majority of that area will be converted to native forest or grassland cover and will contribute to Carleton's goal of carbon neutrality. New plantings would be selected primarily from a list of Rice, Dakota, and Goodhue county plant species originally native to the region and arranged in associations typically found in the native plant communities of the area.
Disposal of Waste Wood
Much of Carleton's arboretum waste wood formerly was burned in piles, but it is now disposed of in more environmentally-friendly ways. Many large trees are removed as part of Carleton's restoration programs, to route a trail, or for safety reasons. These trees typically contain valuable lumber are now provided to the art department as part of the sculpture program. Wood that is not suitable for lumber is processed into firewood for campus fire rings or provided to local residents to use in home wood burning stoves or fireplaces. A large portion of Carleton's waste wood (slash from large trees and brush from invasive species removal) is diverted to energy production through a partnership with the St. Paul Energy District. The wood is chipped on site by a procurement contractor and shipped via semi-truck to St. Paul. Currently the arboretum produces 12 semi-truck loads of chipped wood annually.
Herbicides
Many plant species cannot easily be controlled without using chemical herbicides. While large amounts of labor could be utilized for some of these control efforts, the arboretum budget would not allow this strategy. Herbicides are chosen for their minimal impact to the environment and are applied through techniques that minimize collateral impacts, targeting the problem species as closely as possible. This is an area for further development to create an integrated pest management plan (IPM).
Landscaping Best Practices
Many of Carleton's landscaping practices are sustainable and continue to evolve with campus development and improvement projects. Permeable paving has been installed at new parking and plaza areas, and the College is always working to improve stormwater management. In 2011, the grounds department also restricted the use of leaf blowers to eliminate noise and dust and to reduce gasoline consumption. Recycled sand is used to reduce the amount of salt needed to protect sidewalks from getting to icy in the winter months.