Carleton is proud to have a diverse and resilient energy system newly constructed for the 21st century through the Utility Master Plan. In 2022, when the system is completed, the new geothermal and heat pump system will account for 70% of the College's heating and cooling needs year-round.
Visit the Utility Master Plan website for project updates and to learn more.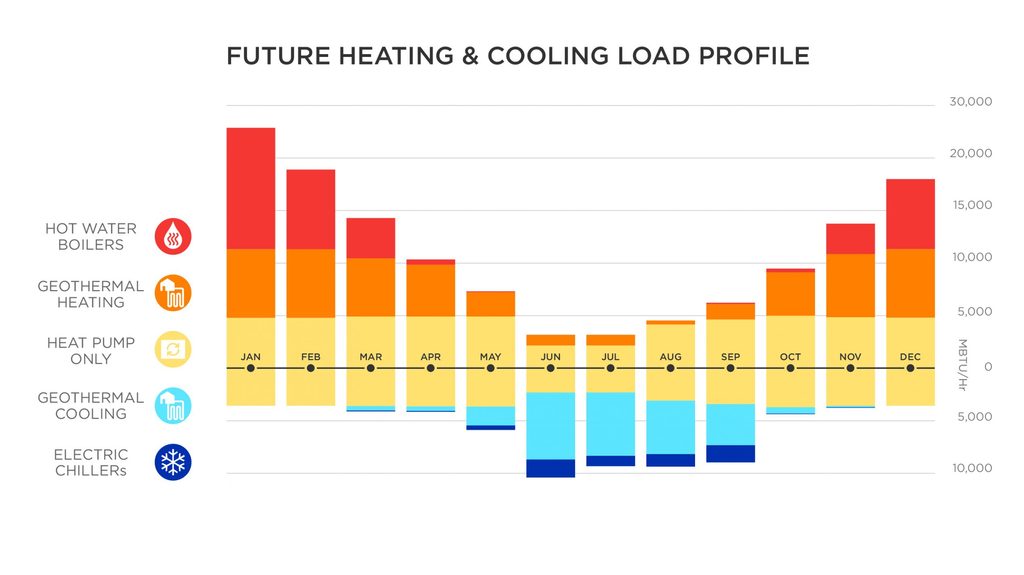 Utility Master Plan
The last time Carleton College made a major shift in its campus utilities was over 100 years ago with construction of the central plant in 1910. Before that, each individual building was heated by a coal furnace or fireplaces. Now the college is embarking on its utility plan for the next 100 years.
Our two wind turbines (installed in 2004 and 2011) have been a big help to our sustainability efforts, but we need to do more to reduce carbon emissions. Our Utility Master Plan furthers the concepts outlined in our 2011 Climate Action Plan which is the guiding document supporting our goal of making Carleton's campus carbon free by the year 2050. Our new utility system will utilize four forms of renewable energy – wind, solar photovoltaic, solar thermal, and geothermal – and is flexible enough to take advantage of future advancements in renewable energy technologies.
When all phases of the Utility Master Plan are complete, Carleton's plant emissions will be reduced by over 35 percent.
For more information about the Utility Master Plan, explore this website and watch this webinar from Martha Larson, the project manager for the UMP.
Energy Audits by Building
From 2018-2020, Carleton completed its largest energy audit project to date by partnering with Xcel Energy to conduct a campus-wide ASHRAE Level 1 assessment of thirty-three campus buildings.
The audits resulted in 240 recommendations, 14 project "bundles" by type (the majority of these are lighting projects). The estimated capital cost of $2.9 million would result in 2.2 million kWh savings, 246,000 fewer therms, and $280,000 per year in estimated utility savings. After incorporating $450,000 in Xcel rebates, the total project portfolio would have an average simple payback of eight years.
Carleton's Conservation Energy Manager and the Maintenance staff review the recommended projects and prioritize those that have a particularly short payback and/or are coupled with maintenance needs each year. Carleton's Energy Club has also been involved in measuring potential savings due to occupancy sensors in stairwells and bathrooms.

Wind Turbines 1 & 2
Carleton installed its first, 1.65-MW wind turbine in 2004 – and was the first higher-ed institution in the country to do so! The electricity that it produces is sold back to our energy provider Xcel Energy, rather than connecting it directly to our campus grid, but this indirect energy production is equivalent to approximately one-third of Carleton's total energy usage.
Carleton built its second wind turbine in 2011, thanks to a generous grant in 2008 from environmentally-minded alumni Richard and Laurie Kracum (both '76) that the Star Tribune nicknamed a "400-foot-tall anniversary gift." After a three-year process of gaining approval from the Northfield City Council, searching for a location that was compatible with zoning regulations, and finding a company to build the turbine itself, the turbine was fully assembled in September 2011, and unveiled to the public on October 21, 2011. The turbine is expected to produce 4,000 – 5,000 MWh of electricity per year, serving more than 25% of the campus electric load.
Wind Turbine Data
Campus Energy Metering & Data Management
In winter 2013, Carleton launched its first web-based energy and water data management system, the Lucid Building Dashboard. This system includes both a public dashboard where anyone can view and compare campus energy and water data and an administrative site where Facilities and Sustainability Office staff can run more detailed reports and management tools. Most of the meters in this system draw 15-minute interval data from Carleton's centralized Energy Management System (EMS) which also controls heating, cooling and ventilation in campus buildings. Other meter readings are entered manually on a monthly basis.
Visit the Data Hub for access to all of the College's sustainability data.
Solar Photovoltaic & Solar Thermal
A 10.6 kW solar photovoltaic (PV) panel array was installed on the Cassat-James roof as part of this residence hall construction project in 2009. Electricity production averages 10 MWh per year.
A solar thermal panel array was installed on the Cassat-James roof as part of this residence hall construction project in 2009. The array provides solar-heated water to the buildings' primary domestic hot water tank which is supplemented by a hot water tank tied to the new geothermal system with a heat exchanger.
Geothermal Energy
As part of the Utility Master Plan, Carleton installed three geothermal bore fields in the Bald Spot, Mini Bald Spot, and Bell Field. These bore fields are connected to campus and the new East Energy Station below Anderson Hall. Construction is scheduled to be completed campus-wide in 2022, but the east half of campus is already utilizing the system for its heating and cooling needs!