This past summer, I had the opportunity to receive a professional development leave from Carleton to take a six-week graduate course at the University of Oslo in Oslo, Norway. The course, titled, "Energy Planning and Sustainable Development" was held at the University's Center for Development and the Environment at the Blindern Campus in Oslo from June 20th through August 1st. Topics covered included energy policy and planning, energy efficiency, conservation and renewables, energy trends, emerging technologies, climate change, sustainable production and consumption, international environmental agreements and conventions, as well as eco-design, sustainable buildings and communities, and the sustainable development paradigm. Instructors from Norway, Denmark, the United kingdom, the US, and South Africa provided an international perspective on energy use and global climate change, and the impacts on (and from) underdeveloped countries (such as African), developing countries (India, China, etc.) and developed countries (like the US and Western Europe). The class attendees (students) also enhanced these perspectives, as the twenty of us were from eighteen different countries.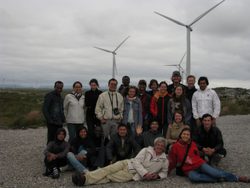 One of the highlights of the class was the week-long field trip to various energy, industrial, and sustainability sites around the southern half of Norway. We visited an "Energy Farm" where all energy consumed on the farm was produced on the farm via biomass, solar and biofuels; a 290 MW hydro-electric power plant; Europe's largest aluminum plant producing over 600,000 tons of aluminum per year (uses all electricity to do this and therefore is sited next to the relatively inexpensive hydro power plants); a large "teaching" organic farm; a new natural gas terminal which supplies 20% of the UK's natural gas via 1200 km pipeline; Norway's largest wind farm (150 MW); the City of Trondheim to discuss it's sustainable transportation and energy programs/policies; Norway's largest bio-gas plant; and a large public school system which has collaborated/contracted with a local farmer co-op to provide biomass to it's newly renovated heating system. At the same time, this field trip allowed us to see a bit of the Norwegian countryside away from Oslo. Twenty-five hours of class (plus evening homework) over five days a week left little time to explore outside of the City. It's been quite a few years since I've had to do homework at night and attend classes for much of the day.
Accommodations at the University were rather sparse, as we lived in one of the dormitory complexes and ate meals at the cafeteria. Showers and sinks were shared with the room next door and toilets were down the hall. I shared with two gentlemen from Palestine (Hamed and Mustafa) who were at the University studying Special Needs Education and Community Health, respectively. The Norwegian diet is basic; meat or fish, boiled potatoes or rice, steamed carrots-broccoli-cauliflower or cucumbers, bread, juice and coffee. On occasion, a dessert like Jello or canned fruit with whipped cream. Nothing fancy…and, they make every use of leftovers (called "Norwegian Hash", or "Fish Au-gratin", etc.). Nothing wasted there.
The other students in my graduate class ranged in age from 24 to 35, and had backgrounds in law, engineering, architecture, forestry, economics, ecology, etc. I was the token "old guy", but had the most overall professional experience of the group. Countries represented were Armenia, Azerbaijan, Bangladesh, Bhutan, Dominican Republic, Ethiopia, Hungary, Indonesia, Kenya, Lithuania, Mozambique, Nicaragua, Russia, Ukraine, US, Venezuela, Vietnam, and Zambia; truly, an international group. The rest of the 530 students at the University for these Summer Sessions represented 93 countries and ranged in age from 17 to 73. Most were there for Norwegian language classes, but the graduate classes were all taught in English. I probably met more people from around the world than actual Norwegians, and have never heard so many dialects of English spoken at one time. You really had to use your listening capabilities.
With regard to energy, Norway is extremely well positioned for the future. Ninety-nine percent of its electricity comes from hydro-electric power, and almost all heat is from electricity, natural gas and biofuels (wood). Norway has massive reserves of oil and natural gas off its western coast and is the third largest exporter of oil/gas in the world. With its long western coast facing the Atlantic Ocean it also benefits from it's location with regard to renewable energy. Prevailing westerly winds provide a large potential for wind and wave power, and the geology of the fjords provides just the right conditions for potential tidal power. They are also well positioned to take advantage of their significant forest products industry to leverage increased use of biomass. Even if global warming cannot be stopped, Norway would benefit from the warmer climate with an increase of precipitation which would enhance its hydro-electric capabilities. They plan to be carbon-neutral as a country by 2030.
The learning experience I had was exceptional, and is something I will never forget. I plan to develop a Powerpoint presentation about the session and plan to present it to the Carleton Community during Fall Term. I invite anyone who is interested to come, listen and ask questions. More details on that will follow soon. In the meantime, if you have any questions about the class, please feel free to contact me.