Carleton's Divestment
In February 2023 the Board of Trustees voted to reduce exposure to fossil fuel investments in the college's endowment by immediately eliminating all direct holdings of fossil fuel companies, and resolving to make no new investments in private funds that focus exclusively on oil and gas extraction.
Carleton is leading a Just Energy Transition
During the summer of 2021, Carleton became the first campus in Minnesota and one of a handful of a few dozen nationally to install a district energy geothermal system with this system, our emissions are now down 59% from our baseline reporting year in fiscal year 2008.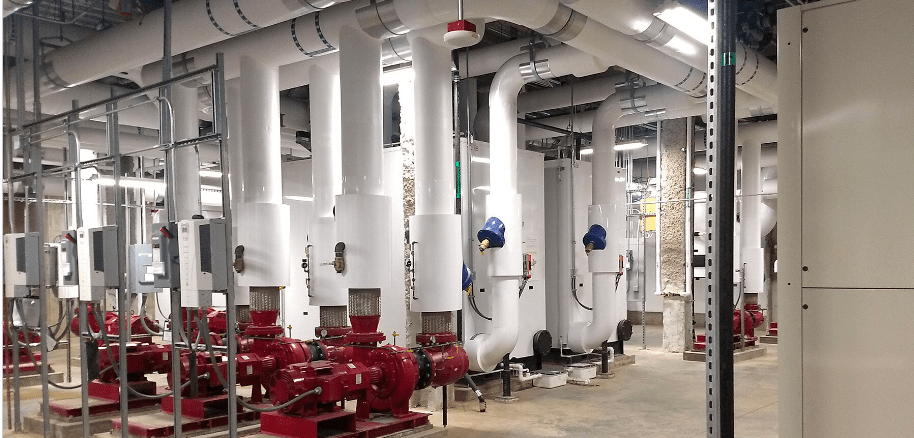 Greenhouse Gas Emissions are down 59% from our baseline reporting year thanks to two commercial-scale wind turbines, the geothermal system and the "greening" of Xcel's electricity grid. There has been a slight uptick as air travel comes back post-COVID, but have currently exceeded both our 2025 and 2030 interim reduction milestones.
Campus Carbon Emissions: 2008–2022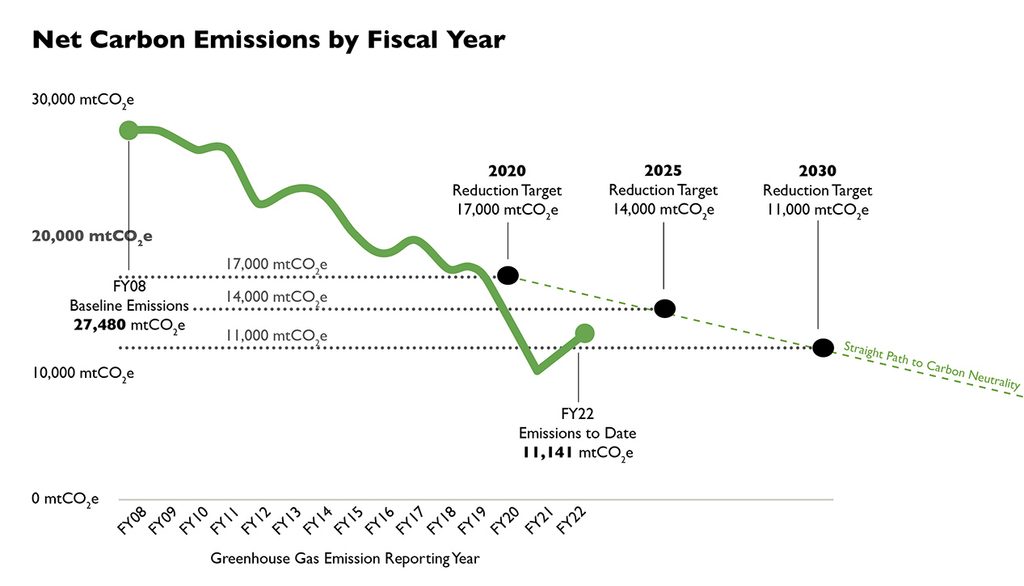 Bore Fields
Bell Field: 95 horizontal bores, 510 feet long, completed in Summer/Fall 2017
Mini Bald Spot: 77 vertical bores, 520 feet deep, completed in Summer/Fall 2017
Bald Spot: 134 vertical bores, 520 feet deep, completed in Summer/Fall 2018
Carleton is proud to have a diverse and resilient energy system newly constructed for the 21st century through the Utility Master Plan. The new geothermal and heat pump system will account for 70% of the College's heating and cooling needs year-round.
Before the completion of the Geothermal project in 2021, the last time Carleton College made a major shift in its campus utilities was over 100 years ago with construction of the central plant in 1910. Before that, each individual building was heated by a coal furnace or fireplaces.
Wind Turbines
Carleton installed its first, 1.65-MW wind turbine in 2004 – and was the first higher-ed institution in the country to do so! The electricity that it produces is sold back to our energy provider Xcel Energy, rather than connecting it directly to our campus grid, but this indirect energy production is equivalent to approximately one-third of Carleton's total energy usage.
Carleton built its second wind turbine in 2011, thanks to a generous grant in 2008 from environmentally-minded alumni Richard and Laurie Kracum (both '76).