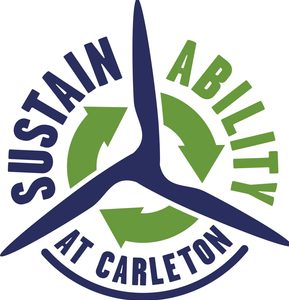 Carleton College recognizes that it exists as part of interconnected communities that are impacted by personal and institutional choices. We are dedicated to investigating and promoting awareness of the current and future impacts of our actions in order to foster responsibility for these human and natural communities. Carleton strives to be a model of stewardship for the environment by incorporating ideals of sustainability into the operations of the college and the daily life of individuals.

Carleton Environmental Statement of Principles
Approved by the Environmental Advisory Committee, 12 April 2001
Endorsed by the Board of Trustees, Building and Grounds Committee, 18 May 2001
Contacting Us through COVID
The pandemic is causing many disruptions across campus, but we are here for you!
The Office Supply Swap Shop is open from 8 am to 4 pm, Monday-Friday. Please use hand sanitizer prior to touching items.
Alex Miller, the Sustainability Program Coordinator, is working in the office Mondays and Wednesdays from 8 am to 5 pm.
Martha Larson, the Manager of Campus Energy & Sustainability, is working in the office Tuesdays, Thursdays, and Fridays from 8 am to 5 pm.
The best way to reach Sustainability Office staff is via email.
General inquiries can be emailed to our entire team of staff and students at sustainability@carleton.edu.