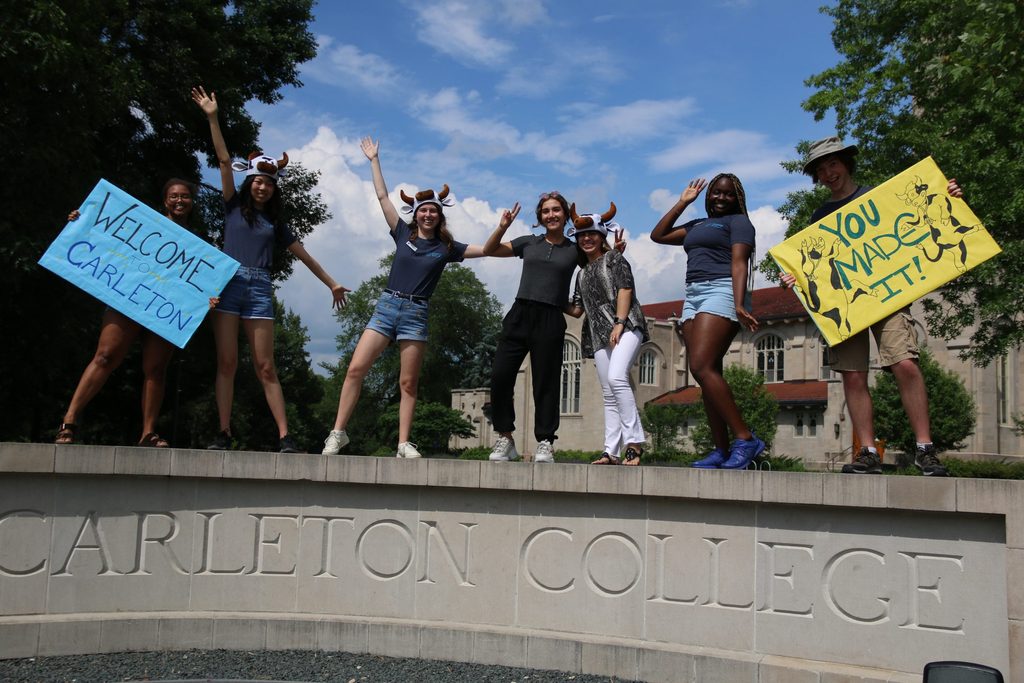 Welcome, Summer Carls!
We are so excited to welcome you to our virtual community this summer. Please explore this page for information to help you prepare and succeed in SLAI.
As always, feel free to contact our office at summer@carleton.edu or 866-767-2275 with questions!
Before the Institute:
Tuition Payment
You can submit tuition payments two ways:
1 . Pay Tuition Online
Complete the online payment form to pay tuition online via credit card. We cannot accept credit card payments over the phone.
2 . Pay Tuition via Check
You can send a check to our office for tuition payment. Please include the following information with your payment:
Student's name
Student's colleague ID (found at top of application dashboard)
Mail your check to:
Carleton Summer Liberal Arts Institute
1 North College St.
Northfield, MN 55057
Acceptance Documents
All students attending SLAI and their guardians must read the "SLAI Accepted Student Forms 2020" document below, which includes:
Release and Waiver
Code of Conduct
Expectations, Rules, and Regulations
All students must read this document as part of their completion of the pre-arrival Adobe Sign documents.
Policies on Payment and Academics
Attendance Policy
The Summer Liberal Arts Institute (SLAI) is an immersive program that requires attendance of all connected online class sessions and completion of out-of-class assignments in order to be eligible for credit. Attendance will be taken for online class and SLAC sessions. Only in cases of emergency and with the express approval of the program Faculty Director and Assistant Director of SLAI will a student be permitted to take time away from the program.
If you have questions regarding the attendance expectations, please call 866-767-2275 or email summer@carleton.edu.
---
Academic Credit
Summer Carls can earn Carleton course credits for successfully meeting faculty expectations and completing course requirements. Visit each program's page for amount of credit awarded.
In addition to receiving written feedback about course performance from faculty, students will receive one of the following three possible grade designations: satisfactory (S), credit (Cr), or no credit (NC). Formal academic transcripts are available upon request for Summer Carl alumni and will reflect the name of the course and grade earned.
---
Cancellation Policy
Our cancellation policy applies to all students that have applied or been accepted to our Institute and its programs.
Written withdrawals received by the Summer Liberal Arts Institute office:
on or before April 16, 2021 will receive a refund of all fees paid over and above the $75 Application Fee.
between April 17 and May 14, 2021 will receive a refund of 50% of all fees paid over and above the $75 Application Fee.
on or after May 15, 2021 will not receive a refund.
All cancellations and refund requests must be submitted in writing to summer@carleton.edu. Please allow up to 10 business days for your refund to be processed. Refunds are typically issued in the same form of payment as the original payment.
No refunds or discounts will be given for early departures prior to the end of the program. Any participant who is dismissed from the program due to disciplinary issues or who voluntarily withdraws from their program for any reason, will not receive a refund.
This written cancellation policy is always binding and no verbal communication from SLAI staff can override this policy.
During the Institute:
Online Learning Requirements
Personal computer & Wifi
Because SLAI is online for 2021, each student will need to have access to a computer in a private space with a wifi connection during connected online learning. Students will also have assignments to complete individually, where they will need a computer with a wifi connection.
Our office is committed to the success of our students. Please contact our office at summer@carleton.edu or 866-767-2275 if you feel you need assistance meeting one of these requirements for SLAI this summer.
Additional Supplies and Software
We will provide any additional materials required for your specific program, such as certain books or art supplies. Additionally, we will provide access to required software associated with our programs.
Health & Disability Information
If you have a health emergency that affects your participation in SLAI at any time, please contact our office at summer@carleton.edu or 866-767-2275.
If you need urgent mental health service, licensed mental health counselors are on-call 24/7/365. For urgent phone counseling, access the on-call counselor by calling 855-705-2479. This service can be used for problem-solving immediate concerns such as:
Concerns for self (suicidal ideation, self-harm, academic or social worries, strategies for managing stress, anxiety, or low mood)
Concerns for others (worried for another student's mental health, wondering if your concerns for a student require urgent attention)
---
Reasonable Accommodations for Students with Disabilities
Carleton College is committed to providing equitable access to learning opportunities for all students. The Disability Services office (Henry House) is the campus office that collaborates with students who have disabilities to provide and/or arrange reasonable accommodations.
If you have or think you may have a disability (including, but not limited to, mental health, attentional, learning, autism spectrum disorders, chronic health, traumatic brain injury and concussions, sensory, physical, or speech), please contact Chris Dallager, Director of Disability Services, by calling 507-222-5250 or sending an email to cdallager@carleton.edu to arrange a confidential discussion regarding equitable access and reasonable accommodations.
Community Concern Form
The Community Concern Form is a resource for Carleton students, staff, and faculty throughout the year, but may also serve as an important resource for pre-college students on campus during the summer. Whether it be something you experienced or observed, please report it. There is no concern that is too minor to report, and reporting through this form may be done anonymously.
By submitting a Community Concern, you are demonstrating that you care about the people in our Carleton Summer Community and you expect that they will treat each other with respect. Thank you for your care. We will likewise take care to respect your privacy and offer you the support and resources you deserve.
---
When should I submit a Community Concern?
Whenever you believe that concerning behavior is affecting you or other members of our community. There is no concern that is too minor — by communicating with our community about what kind of behavior we expect from each other, we strengthen our community standards.
When the college is informed of what is occurring on campus, we can:
intervene if we perceive troubling patterns of behavior
connect community members with support and resources
identify what topics should be included in community education and prevention efforts
For more information about the Community Concern Form follow-up process and the offices involved in processing Community Concerns, please visit the Dean of Students web page.