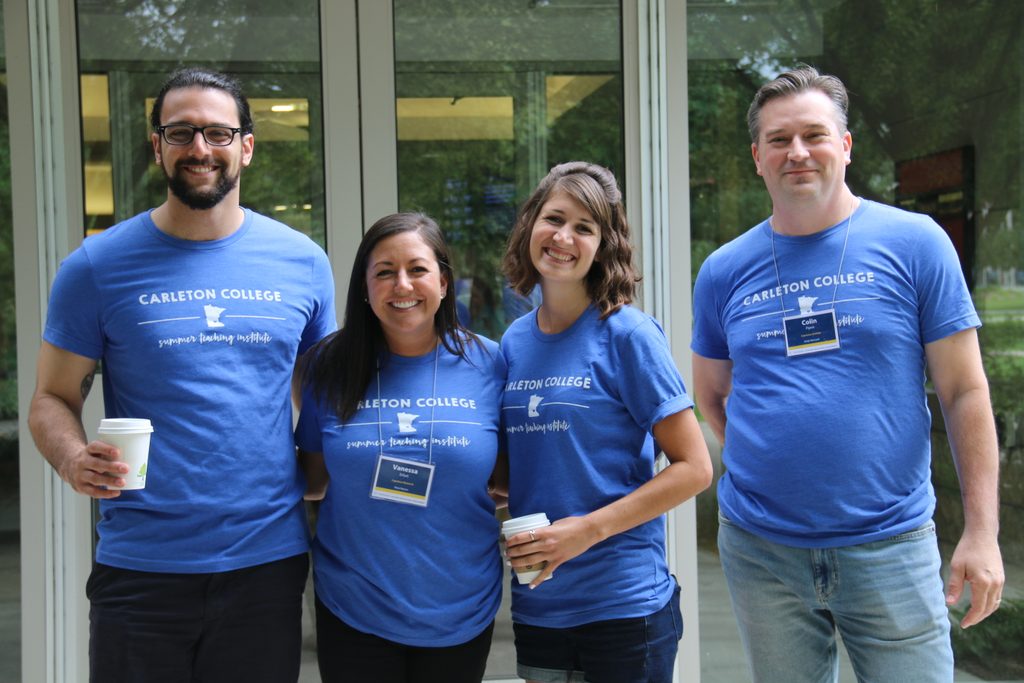 Workshop Attendance
Full attendance of the workshop equals 30 hours and each participant's attendance will be recorded. At the conclusion of the week, total hours of workshop attendance will be verified and will be included on Certificates of Participation that will be processed and emailed to each participant. Depending on the specific guidelines of your district, you may be able to use this certificate as documentation for Continuing Education Units.
---
College Board® Materials
All APSI participants will receive a binder of the College Board (CB) workshop-specific materials at the start of the institute. The CB requires that each participant is provided these materials and the cost of the materials is included in your workshop tuition. You must register for the Institute by the registration deadline in order to receive your materials at the start of the Institute to account for ordering time.
---
Transportation & Parking
Driving
Participants who are driving to campus are welcome to park in any campus parking lot or on the street. Some street parking does have restrictions, so obey all parking signs, as they will be enforced throughout the workshop.
Flying
For those who are flying in to attend the AP® Summer Institute, Carleton's campus is located approximately 40 miles south of the Minneapolis/St Paul International Airport (MSP) in Northfield, MN. It is possible to get an Uber or Lyft from the airport to campus, but reliable service is not available from Northfield back to the airport. Advanced shuttle transportation reservations can be made to and from the airport through First Choice Shuttle service or by filling out the form provided by our office to reserve a spot on the shuttle provided by Carleton APSI.
---
On-Campus Housing
Housing is provided starting at 3:00pm the day before the institute begins, and the first meal will be served that evening. The last meal will be lunch, served on the last day of the workshop.
Each residential participant will have a reserved space in our air-conditioned residence halls and will be provided with a linen pack for an extra-long twin bed that contains two flat bed sheets, one pillow, one pillowcase, one blanket, one bath towel, and one washcloth. If you have any personal comforts from home, it is recommended you bring them. All residence halls have guest wireless internet access. During your stay, you will also have access to the Recreation Center and all available facilities.
---
On-Campus Dining
Meals will be served in the Carleton dining hall. APSI tuition includes lunch for all participants. Residential participants will also be provided breakfast and dinner.
---
Covid-19 Vaccination Requirement
In accordance with Carleton College's policy, all participants in the 2023 APSI must provide proof of vaccination against Covid-19. Visit Carleton's Covid-19 Response website for more information.
2023 Institute Schedule
Monday, June 26

3:00 pm-6:00 pm Optional check in for residential participants

Tuesday, June 27

7:30 am Check in for commuter and residential participants
8:30 am Opening meeting
9:00 am-5:00pm Workshops

Wednesday, June 28

8:30 am-5:00 pm Workshops

Thursday, June 29

8:30 am-5:00 pm Workshops

Friday, June 30

8:30 am-4:00 pm Workshops
4:00 pm Check out for all participants

Saturday, July 1

9:00 am Optional check out for residential participants
After the Institute
Within two weeks of workshop completion

Certificates emailed to participants

Early August

Grades available for those earning graduate credit