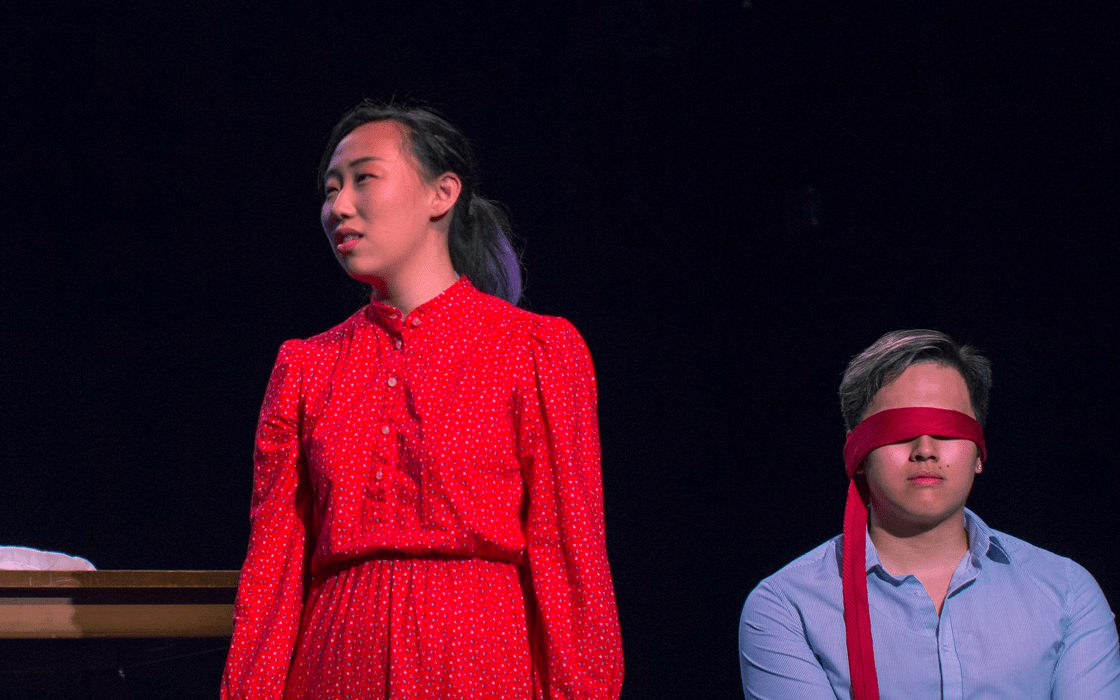 "FOB" by David Henry Hwang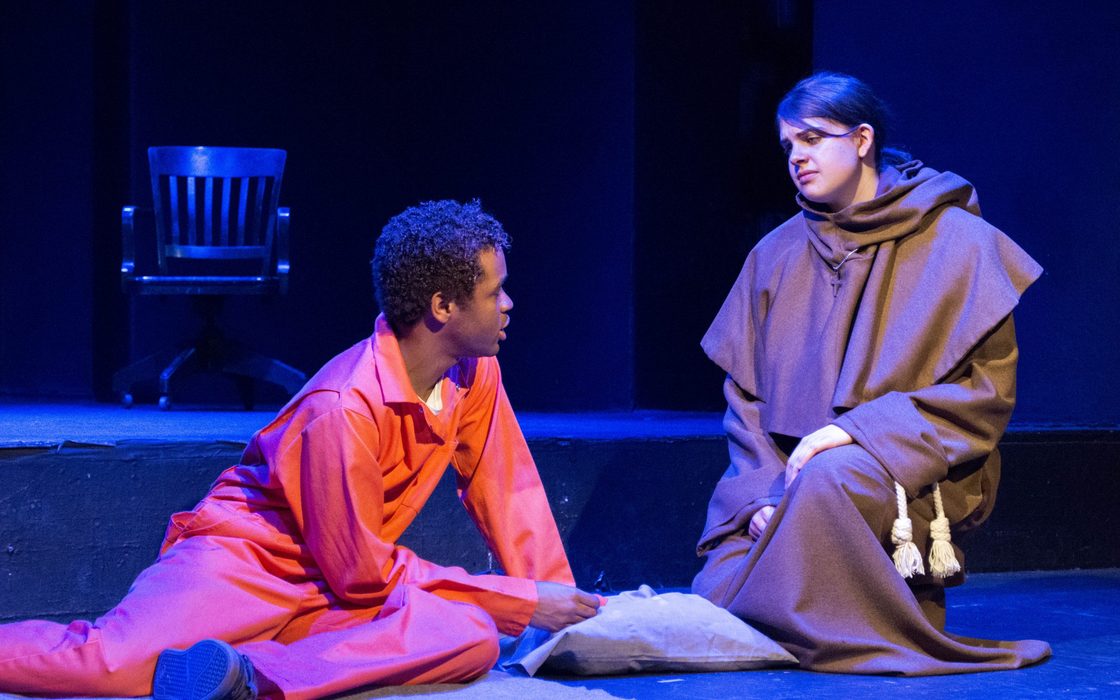 "Measure for Measure" by William Shakespeare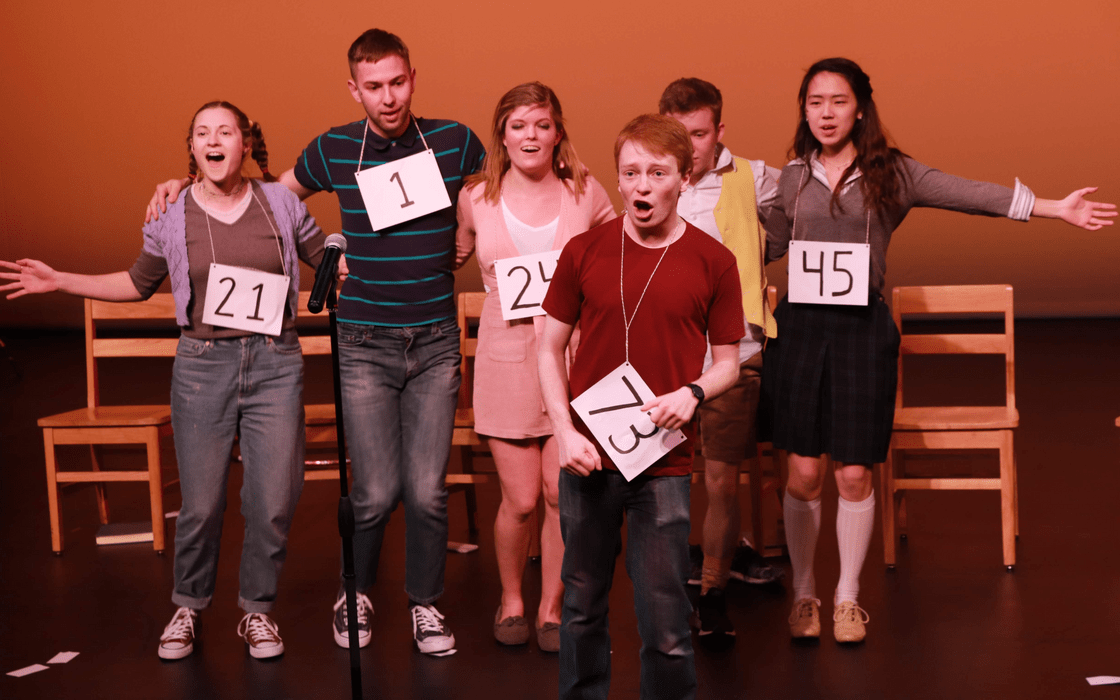 "The 25th Annual Putnam County Spelling Bee" by Rachel Sheinkin and William Finn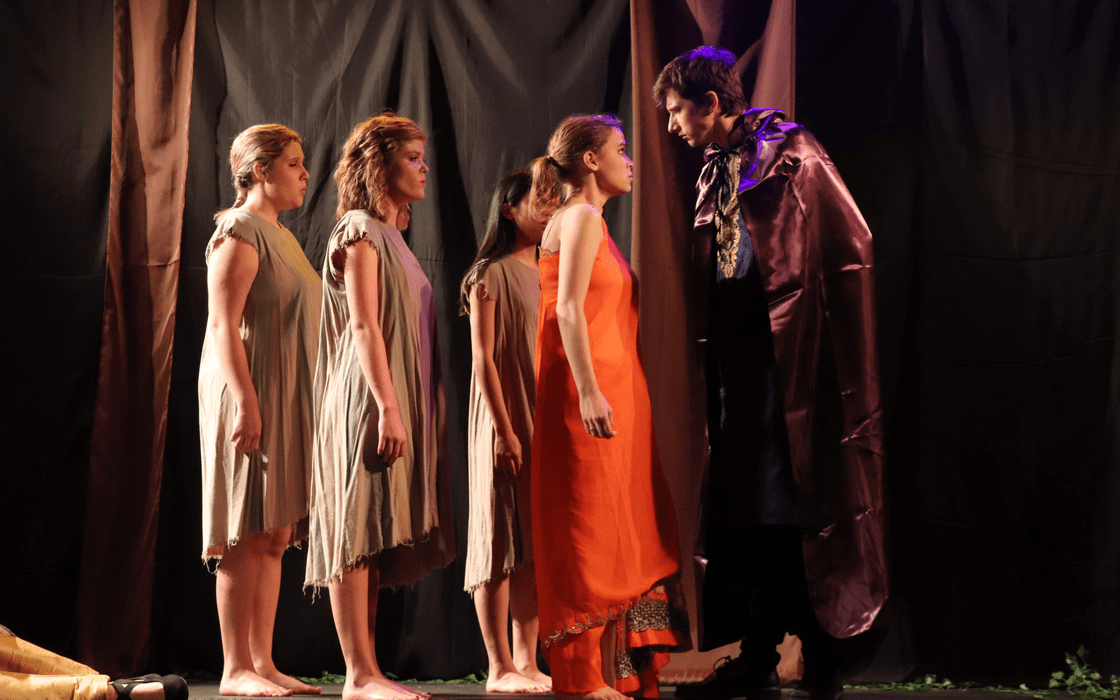 "Sāvitri" by Gustav Holst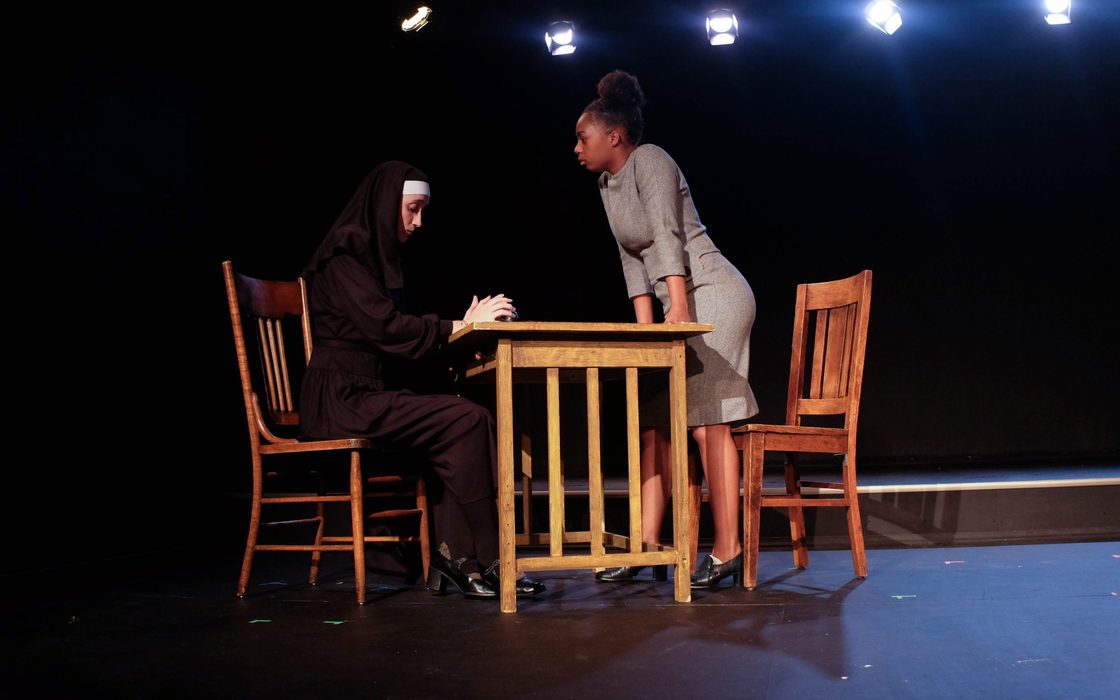 "Doubt: A Parable" by John Patrick Shanley
Message In Solidarity with BSA
To the ETB Community:
The ETBoard is emailing today to express our solidarity with Black Student Alliance (BSA) in their response to George Floyd's murder, the protests in Minneapolis and beyond, and to President Poskanzer's vapid email to the Carleton community.
While ETB strives to be a place where all students can participate in theater in some capacity, we acknowledge that our Board, the playwrights whose plays we produce, and the casts portraying these plays are predominantly white. This problem is not isolated to ETB, unfortunately. Actor's Equity Union recently released a report detailing the discriminatory and yet unsurprising pattern of hiring in Broadway, national touring, and Off-Broadway productions:
"Women of color who do find work almost always draw lower average contractual salaries. For example, Off-Broadway, women of color reported earning 16 percent less than the average in the principal in a musical contracts … African-American members reported salaries 10 percent lower than the average in principal in a play roles, for example."

Read the full Actor's Equity article
The Artist's Anti-Racism Collective has done work to debunk the excuses that predominantly-white theaters use to wriggle out of responsibility for their exclusion of Black playwrights, directors and featured actors from their productions.
Nina Simone said "the artist's duty, as far as I'm concerned, is to reflect the times." We want to outline our duty here:
Stand in solidarity with BSA, Afro-Carribean Association (ACA), Men of Color (MOC), Women of Color Plus (WOC+), Students with Interracial Legacies (SWIRL), and all our BIPOC (Black and/or Indigenous People of Color) peers.

Support BIPOC on campus via the BSA 4-U Fund (venmo @bsa-2020).
Reach out to your professors and deans if you are not Black to urge them to check in on their Black students and make accommodations with finals coming up. Use this email template.

Donate, donate, donate. There are many amazing organizations that are using donations to provide supplies and support to organizers on the ground, as well as rebuilding the communities that have been affected by white supremacist violence.
For the non-Black members of our community: actively work on being anti-racist. Ally is a verb, and requires consistent work to address white privilege and the systematic, systemic effects of white supremacy on all of us.

Have tough conversations with non-Black friends, peers, family members. Talk to the kids you babysit/nanny about race. Use your privilege. Get uncomfortable.
Ask who's not in the room when you're making theatre. Why is that the case? How can you change that? What plays do your theater (and other) classes focus on? What topics and people are represented?
Read books about race and white supremacy and discuss them with non-Black friends, peers, and family. Here's a list of books to get you started.
Reach out to officials via phone and email to let them know that all officers involved in George Floyd's murder must be arrested and charged, and that they need to commit to defunding police and protecting communities of color. Here's a document with scripts and contacts. Here's a Twitter thread from Black Lives Matter that has tons of resources for petitions, protest safety, etc.

Uplift BIPOC voices not only when events like this happen, but always. Share BIPOC artists and read/perform them. Support their work, both financially and by sharing it on social media. The following are by no means exhaustive lists—just good places to start,

Some Black playwrights to follow are Suzan-Lori Parks, Lynn Nottage, Jeremy O. Harris, Danai Gurira and Anna Deavere Smith (also, Suzan-Lori Parks is holding Zoom classes this week).
Some works by Black playwrights to read are The White Card by Claudia Rankine, Sweat and Intimate Apparel by Lynn Nottage, Father Comes Home From the Wars and The America Play by Suzan Lori Parks, and The Convert by Danai Gurira. See this New York Times article for more.
Some BIPOC led/focused theatre companies to follow are Mixed Blood, 10,000 Things, In the Heart of the Beast Puppet and Mask Theatre, National Black Theatre, The Public, Black Ensemble Theatre, Penumbra Theater, and Pangea World Theater
Some great BIPOC filmmakers to watch include Barry Jenkins, Jordan Peele, Spike Lee, Ava DuVernay, Ryan Coogler, and John Singleton. View this list of films by Black filmmakers and Essential Queer Black Films.
Some great BIPOC authors to read are Roxanne Gay, Ta-Nehisi Coates, Zadie Smith, bell hooks, Chimimanda Ngozi Adiche, and Tressie McMillan Cottom.
Some great BIPOC artists and content creators to follow are Sassy Latte, Bianca Xunise, Bisa Butler, Melarie Odelusi, Nadirah McGill, Jackie Aina, The Unapologetically Brown Series, The1Janitor, and Kaye Rishad.
Some great BIPOC activist educators to follow are Rachel Cargle, No White Saviors, Layla F. Saad, Liz Kleinrock, Andréa Ranae, Sonya Renee Taylor, Dr. Beverly Daniel Tatum, and Seeding Sovereignty.
We at ETB are committed to work to be actively anti-racist in our actions as citizens but also as artists, by fighting for representation, inclusion, and the uplifting and showcasing of BIPOC voices in artistic endeavors and beyond. We are here to support and listen to the needs of the Black students in both our ETB community and the larger Carleton community. We urge non-Black members of our community to join us in using your privilege to make a difference and actively work to be anti-racist every day.
In solidarity,
Colleen, Ben, Sophia, Trey, Will, Caroline, Rie, Katherine, and Jez
ETBoard 2019–2020
How Many Shows Are Put Up Each Term?
ETB generally produces two to four full-length plays per term. In the spring, ETB produces the 24-Hour Show, a series of short plays written, produced, and performed within a 24-hour period. ETB serves as the umbrella organization for many other student performing arts groups with regards to performance space.
Groups under the ETB's umbrella include:
Student Musical Theater: SMT selects and organizes student produced musical productions every year.
Lenny Dee Players: Carleton's sketch comedy troupe! This group provides students with an outlet to write, perform, and enjoy the high art of sketch comedy. Lenny Dee performs at least once a term, in addition to the Freshman Comedy Show & Accepted Students Weekend. Each show is completely student written, acted, and directed. The group holds auditions at the beginning of every Fall term.
Cujokra: The improv comedy troupe at Carleton! Cujokra has about two shows per term, and are available for performance at other events. Auditions are held at the beginning of the year each Fall term.
Queens of Comedy: The stand-up comedy troupe on Carleton's campus! Queens has two to three shows a term and occasionally hosts open mic nights at the Cave. Official auditions occur at the beginning of every Fall term, but you can also use the open mic nights as a platform to audition (when confirmed with the group's directors).