Family Educational Rights and Privacy Act (FERPA)
Questions to Get You Started with Assessment
What do you expect your students to know and/or be able to do by experiencing your programs or services?
What do the curricula and the co-curricula "add up to"?
What do you do in your programs/services to promote the kinds of learning and development that Carleton seeks?
What students benefit from what your office offers?
How can you help students make connections between classroom learning and experiences outside the classroom?
What do you want or need to show?*
Why do you need to show it?*
Who is the source of your data?*
How will you use the data?*
Who will need to see the results?*
Steps for Creating Assessment
Identify the outcome/s or goal/s
Why is this assessment being conducted?
Determine an assessment method
Gather data and information
Analyze, review, discuss the findings/data
Share results
Make necessary changes
---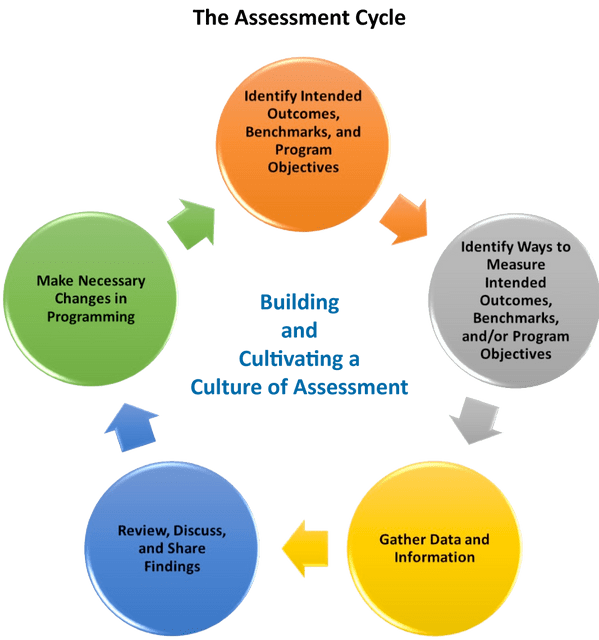 Assessment Cycle Questions
Key cycle questions
What are we trying to do and why are we doing it?
What do we expect the students to know or to do as a result of our program/service?
How well are we doing it and how do we know?
How do we use the information to improve?
Does it work?
Helpful Reminders
Go ahead and write every program outcome down, but don't try to assess every program outcome every year
You may want to start by documenting what you are already doing and connect it to budget needs and key performance indicators
Move to implementing the entire assessment cycle one outcome at a time making everything for that systematic. In other words, we want to begin to form "habits" of assessment.
Remind each other of the importance and benefits of continual assessment.
Share assessment examples with others and celebrate assessment victories
Advertise your assessment learnings and decisions made
Incorporate students in all facets of assessment planning and implementation when ready
Articulate Division-wide assessment expectations
Acknowledge and addresses barriers to assessment
---
Share your upcoming assessments with the division
Please log in to use this form. Thank you.
---