Patient Portal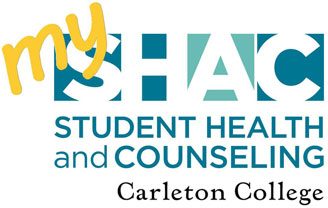 Visit mySHAC to securely access all of the following using your Carleton Username and Password:
Online Medical appointment scheduling – reserve medical appointments online, 24/7, for greater convenience
Secure Student/Provider messaging – communicate with SHAC staff in a secure, confidential manner via our e-messaging system
Pre-Visit Medical & Intake Counseling Forms – save time by filling out info before appointments
Immunization Manager – upload your vaccinations online
Automated Appointment Reminders – receive e-mail reminders of your upcoming appointments in SHAC
About the Secure Messaging System:
Since email is not a secure medium, SHAC uses a protected e-messaging system for students to communicate confidentially with medical and counseling staff at SHAC. To access this system, visit the "mySHAC" online patient portal and log in using your Carleton Username and Password.
When you receive a secure message from SHAC staff, a notification directing you to the web portal will appear in your e-mail account. You will be notified via an email with the subject line "mySHAC Patient Portal: New Message."
To ensure that your email provider accepts these messages, make sure you enter the originating email address (<CarletonSHAC@medicat.com>) into your address book or contacts list.
Please make a habit of reading ALL Secure Messages as they may contain important and time-sensitive information regarding your health care.
---
Video Tutorials: How to use mySHAC
Please watch the following tutorial videos for more information about the mySHAC patient portal.
What is mySHAC and how do I get there?
Secure Messaging, Phone Counseling & After-Hours Info
Entering Your Immunizations (new students)
Uploading your Immunization Record
How To Complete the Tuberculosis (TB) Risk Assessment (new students)
Additional TB Clinical Documentation (for "at-risk" new students only)