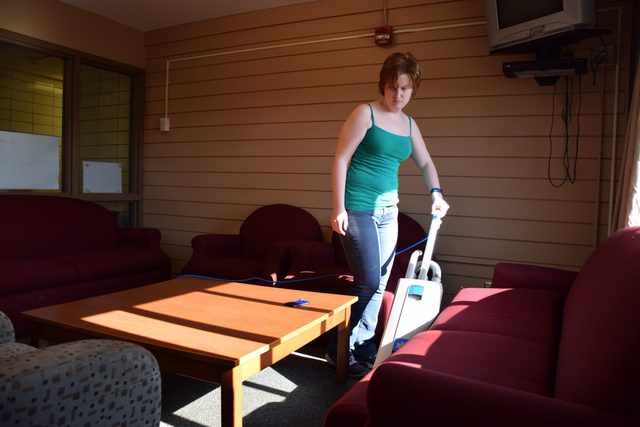 Office: Custodial Services
Position: Custodial Assistant
Major: Mathematics
What do you do in this position?
I always take out the trash in Musser first, then either sweep the stairs or vacuum the hallways, depending on which is more pressing. If there is time after that, I vacuum and dust mop the first floor.
How did you get your position?
I was assigned to be a custodial assistant my sophomore year, and have loved working with the custodians ever since.
What new skills have you acquired?
I've learned how to work diligently at tasks I might not enjoy. I already knew how to physically do most of the tasks, so this work experience mostly taught me patience — both with the tasks and with the idea that the next day all of the work I did will need to be done again.
How will your student employment experience help you in your future?
It seems like a lot of people at Carleton feel pressure to get a "great" job right off the bat after graduation, and while that may happen, it could also take a while. It really sunk in here that there is dignity in all work. This will help me when work after Carleton gets frustrating or tedious. The patience I learned here will also be of great help for any kind of job.
What type of person do you feel is best suited for this position?
Someone who is willing to learn well, work hard, and show up to all of their shifts. The custodians do understand if you have to miss once in a while, but they rely on you to come in and help.
What do you like best about your student employment position?
The best part of this work is the people you will meet. The custodians at Carleton are amazing people, and they are always willing to help. They make coming in to work fun and something to look forward to, rather than an obligation.