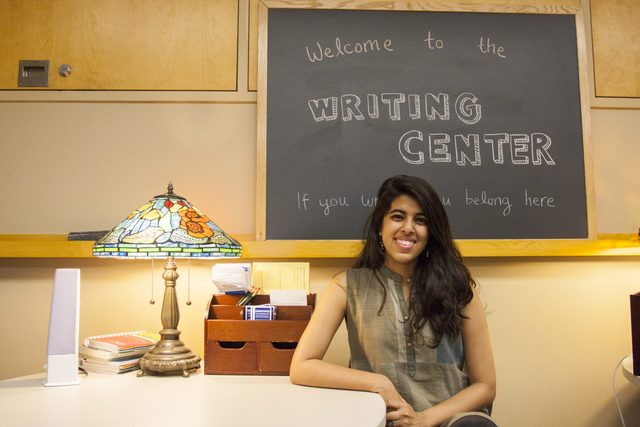 Office: Writing Center
Student: Employment Position: Writing Consultant
Major: Economics
What do you do in this position?
I work with writers who come into the Writing Center for individual conferences on their essays, lab reports, application materials and other pieces of writing. I also act as a Writing Assistant for writing heavy courses. Writers come in at various stages of the application process – brainstorming, development, rough drafts or revisions – and my job is to collaborate with the writer to address their concerns about their writing.
How did you get your position?
I saw that applications were open for next year's Writing Consultant position on screens in the library. Later that week, a professor encouraged me to apply when I went to his office hours about an essay. I picked up an application from the writing center and decided to apply!
What new skills have you acquired?
Oh, so many! Writing Consultants are required to attend professional development meetings throughout the term designed to teach us skills useful for the job. In these we learn about writing in different disciplines and for different audiences. My favorite was our Writing for the Web session! We also discuss Writing Center best practices and how questions of race and ethnicity enter our work as Writing Consultants.
How will your student employment experience help you in your future?
Working at the Writing Center is, in many ways, customer service. It is our job to be kind, friendly and put people at ease. People put a lot of themselves in their writing, and it can be difficult to share our writing with others. It is our responsibility to create a safe and open space in the Writing Center, and help people feel comfortable and respected.
My job as a Writing Consultant has made me aware of the importance of building relationships and putting people at ease — this approachability will be invaluable in my career and life in general. My work as a Writing Consultant has also improved my own writing a ton! I now write with more purpose and clarity. I have better learned how to write in different disciplines and for non-academic purposes — our training in application materials and personal statements will be especially important as I enter senior year and tackle a mountain of job and graduate school applications.
What type of person do you feel is best suited for this position?
Apart from being responsible and dependable, approachability and respectfulness are vital characteristics of a Writing Consultant.
What do you like best about your student employment position?
I love reading many different kinds of writing and being able to witness the great ideas, creativity and hard work of my peers.