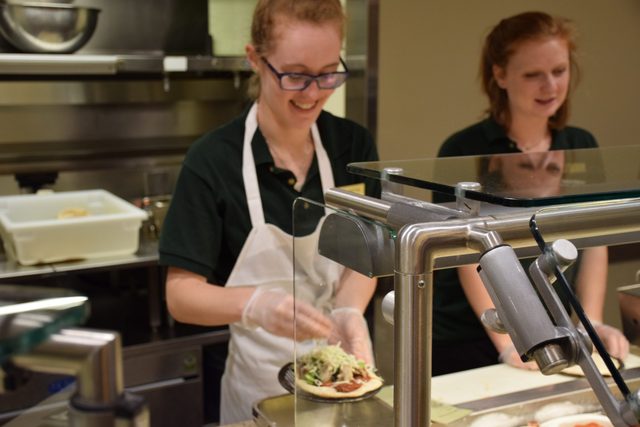 Office: Dining Services
Position: Student Manager
Major: Computer Science and English
What do you do in this position?
I manage group of 3-6 student workers during a meal. The workers serve the food, and I help restock plates, silverware, fruit, drinks, etc…
How did you get your position?
I was assigned the position of dining hall worker coming in as a freshman, and I liked the job so much that during spring term of my freshman year I applied to be a dining hall manager and got the position.
What new skills have you acquired?
The dining hall is all about balancing and prioritizing a dozen different tasks at once. There's always work to do, but some work is more important than other work; for example, cleaning up broken glass is more important than refilling the orange juice. Working in the dining hall has taught me how to think and act quickly and how to view my environment from a broad perspective – i.e. what needs to get done now and what needs to get done within the next half an hour. You also need to be able to communicate effectively with workers and chefs. There's a great sense of community within the dining hall staff, but we've developed that community through mutual respect and communication. If you end up working in the dining hall, look forward to getting to know and respect an interesting and welcoming group of chefs and workers, but be willing to do your part as a team member so that they respect you as much as you respect them.
How will your student employment experience help you in your future?
As a dining hall worker and manager, I've gotten to work closely with a relatively small group of people for two years now. I've become accustomed to working as a team, which means constantly looking out for my fellow workers and helping them out when I can in addition to doing my own job. Additionally, as a dining hall manager I've gained leadership skills which will be immensely helpful in any job I have in the future. Since I'm completely in charge of my workers for up to 4 hours at a time, I've learned how to delegate, motivate, and make quick and sometimes difficult decisions. Even as a student worker, though, you can gain these skills. For workers who are excited about the job and want to be involved in the dining hall beyond simply serving food, there are opportunities on every shift to step up and take charge of situations.
What type of person do you feel is best suited for this position?
Anyone can work in the dining hall! From what I've experienced, the most successful dining hall workers have a positive attitude and a good work ethic. I won't lie; dinner shifts can be longer than you want them to be sometimes, but staying positive makes the time go by fast and helps you and everyone else have fun.
What do you like best about your student employment position?
For me, working in the dining hall is a much-needed break from classes and homework that allows me to socialize while still staying busy. In high school I was really shy, and when I came to Carleton I wanted to be more outgoing. The dining hall was a great social setting in which I could get to know people by talking to them while I served without the stress of being expected to go out of my way to meet and talk to people. I have made lasting friendships not only with the people I work with but also with people I have met just from serving them food 3 times a week. The dining hall really did help me become comfortable interacting with all kinds of people in the Carleton community, and I still enjoy running into friends, who I otherwise wouldn't see very often, on a regular basis because I work in the dining hall.