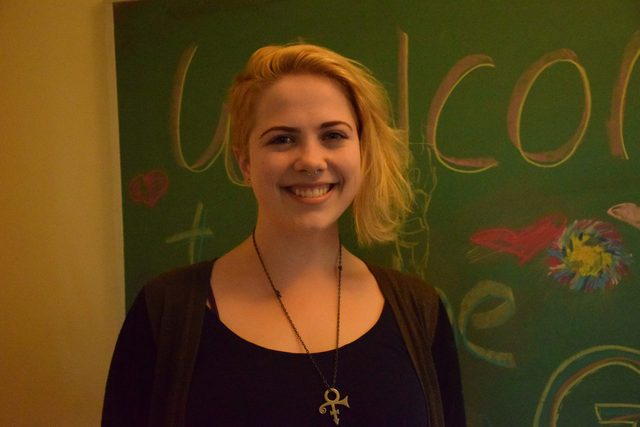 Office: Gender and Sexuality Center
Position:GSCA
Major: Computer Science
What do you do in this position?
The GSCA position consists of several responsibilities. We work together to plan and facilitate a variety of events/programming around gender & sexuality topics (past events of mine include programming for Transgender Awareness Month, a Real Talk discussion on how identity relates to mental health at Carleton, and GSC Tea Time for Spring term). Additionally, we each have 6-7 "office hours" each week, where we are available to students who stop by the GSC with questions/concerns. As GSCAs, we are peer leaders, so a lot of our work revolves around conversation with other students who are interested in gender and sexuality discussions. Finally, we do basic things such as postering for events, organizing around the GSC, helping other GSCAs set up for their events, etc.
How did you get your position?
To become a GSCA, I had to go through an interview process. I was interviewed by I think…6 current GSC staff (including Laura & Tegra), which was pretty daunting. Mostly it was your basic interview, asking me why I wanted the job, what I would bring to it, etc., but there was also a section where they gave me a random topic and I had to come up with a spontaneous facilitation about it and present it to the whole group. That was pretty terrifying, and I have no idea how I got the job after that, because mine was not good. (Lucky for this year's candidates, they were given a pre-made facilitation exercise prior to the interview, which seems a lot less stressful!)
What new skills have you acquired?
We spend a lot of time during training learning how to have productive conversations with people whose views are completely in contradiction with your own, which is a wonderful skill to have. I also have acquired a lot more confidence/comfort in speaking in front of groups of people that I may have never met before (for instance, in front of the entire first year class at NSW, yikes!) Prior to this, I didn't have a great base of knowledge around event planning, and I now feel a lot more secure in my ability to do that, too.
How will your student employment experience help you in your future?
The ability to stay calm and step back during conversations where my views (or even my identity/personhood) feel attacked is a skill that I've learned as a GSCA, that I foresee needing for the rest of my life, in both the professional, and personal realms. Being a GSCA has also helped me become more comfortable working as a part of a team—I feel confident both in my ability to take things on by myself, and also to support & accept support from others. Finally, working in an office that reaches all corners of our campus means learning to work with a diverse range of people, which gives me the ability to learn how to get along with any sort of person, no matter how different our working styles or values may be.
What type of person do you feel is best suited for this position?
Definitely a GSCA needs to be someone who is comfortable interacting with their peers—75% of our job is essentially just talking to people! A GSCA also has to feel confident in their own knowledge and values, but not be afraid to admit that there are things they don't know, or to question and reevaluate their beliefs. Someone who refuses to listen to other points of view definitely would not fit in here. It's also really important for a GSCA to be someone that can take on a leadership position, but knows the importance of doing their fair share of the grunt work, too. Overall, a GSCA needs to have a strong ability to get along with others, both inside and outside of our staff.
What do you like best about your student employment position?
Easily the best part of being a GSCA is getting the opportunity to work with such a great team of people. With a team of fewer than 15 staff members, you end up spending a LOT of time with each and every person. That could be a nightmare with the wrong crowd of people, so I feel lucky to have the coworkers I do. Our weekly staff meetings feel a lot more like a casual discussion than a formal meeting, because we're all so comfortable sharing our views and opinions with each other. Oh! And Laura (the GSC director) is a dope cook, and she is very very generous with the amount of food she makes for us. You honestly haven't lived until you've gone to an end of term GSCA staff dinner at Laura's house, it's great.