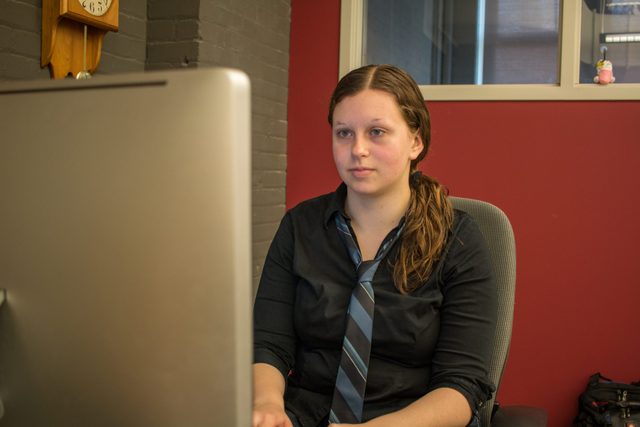 Office: Academic Technologies
Position: Academic Technology Student Assistant
Major: Computer Science
What do you do in this position?
I answer questions from faculty and staff on the technology they use, including Moodle and Edublogs. I also work on various programming projects, such as coding more helpful Moodle blocks.
How did you get your position?
I applied to be an academic technology student assistant on the Carleton job postings. I trained in the basics of all of the technology so that I can provide general consultation help, but I chose to specialize in Moodle and programming in particular.
What new skills have you acquired?
I have learned how to pick up the basics of a new technology quickly and understand which aspects will be most important for students or professors. I regularly practice effectively communicating technical concepts by answering questions from faculty and by giving my supervisors updates on my projects. I have also learned how to best communicate through a variety of media, including phone, email, and screencast.
How will your student employment experience help you in your future?
In the future, I will be more prepared to manage my own projects and communicate to a wide variety of audiences. This job has taught me to both collaborate with others and be responsible for my own work.
What type of person do you feel is best suited for this position?
To be successful in academic technology, you do not need any previous knowledge about technology, but you do need to be able to learn quickly. Communication is perhaps the most important skill for this job, since it requires explaining complicated concepts in a simplified manner.
What do you like best about your student employment position?
The work is very rewarding, especially when you successfully answer a professor's questions or see the finished work of a large project. I like that I can focus on the aspects that I find most rewarding and specialize in those areas.