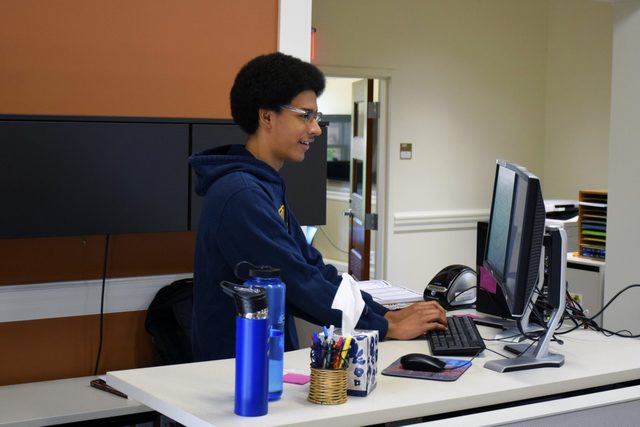 Office: ITS Helpdesk, Admissions, Registrar's Office
Positions: Office Assistant-Admissions & Registrar's Offices, Tech. Support, Helpdesk
Major: Psychology
What do you do in these positions?
Technology Support Assistant – I help resolve technology service requests reported by students, staff and faculty on campus.
Admissions Office Assistant – I document information for Alumni Admissions Representatives so they are informed about college fairs. I also conduct campus tours when the office needs me to. That's more of a spontaneous part of my job.
Registrar's Office Assistant – I mainly process electronic and paper transcripts for people who need them. Otherwise, I complete things assigned to me throughout the week.
How did you get your positions?
Technology Support Assistant – For this position, I put on my work preference form that I love technology and I love working with people. I also put that I'm a fast typer, so maybe that helped me get the job.
Admissions Office Assistant – I spoke with some people in the Admissions Office, indicating that I was looking for a summer job. Then I did an interview for the position and it ended up working out.
Registrar's Office Assistant – Someone in the Admissions Office mentioned that the Registrar's Office was looking for an employee. I just walked into the office, indicated that I was seeking employment, and I did an interview.
What new skills have you acquired?
Technology Support Assistant – My problem-solving abilities are much better now, especially after job training and working with clients over time.
Admissions Office Assistant – I'm more detail-oriented by taking things slower, and I now have some experience with creating presentations for an institution like Carleton.
Registrar's Office Assistant – I now know what it's like to be task-oriented, and I have more office experience, which is representative of what I'll be doing once I graduate: probably working in an office.
How will your student employment experience help you in your future?
Technology Support Assistant – I'll be more marketable with the telephone experience that I now have, and I'll be able to think critically about problems given to me, which means approaching an issue from every angle possible.
Admissions Office Assistant – I'll have more confidence when it comes to delivering under deadlines and using my creative abilities for different projects. Confidence and creativity are both very important in the workforce today.
Registrar's Office Assistant – I'll be more comfortable in an office environment, and I'll know more about what to expect in a similar setting.
What type of person do you feel is best suited for this position?
Technology Support Assistant – This job is for those who enjoy talking on the phone with others and helping them through their problems. Working at the help desk also requires a high level of patience, because sometimes the person you're helping may be upset or frustrated because of their problem.
Admissions Office Assistant – If you pay attention to detail pretty well, then this position will suit you. There's a lot of data entry throughout a typical week, so it's important that you're able to focus on what you're doing and watch for any mistakes as they arise.
Registrar's Office Assistant – If you're okay with working without a set schedule, this job's for you. You could find yourself running errands for your co-workers or printing out important information for some students. It all depends on what's happening that day.
What do you like best about your student employment positions?
Information Technology Assistant – I enjoy feeling like I helped someone through their day, whether it be by answering a question for them, or telling them that their computer is broken and they have to bring it to the ITS Helpdesk. I appreciate getting telephone experience from the job as well, which is awesome!
Admissions Office Assistant – I love giving tours! It makes me feel awesome when I know that I'm helping someone make an informed college decision, and I love representing Carleton.
Registrars Office Assistant – I actually enjoy processing transcripts for different students, which involves printing out papers, folding them, and putting them in an envelope for shipping. There's a certain rhythm that comes with handling transcripts, and I'm able to get wrapped into what I'm doing pretty quickly.