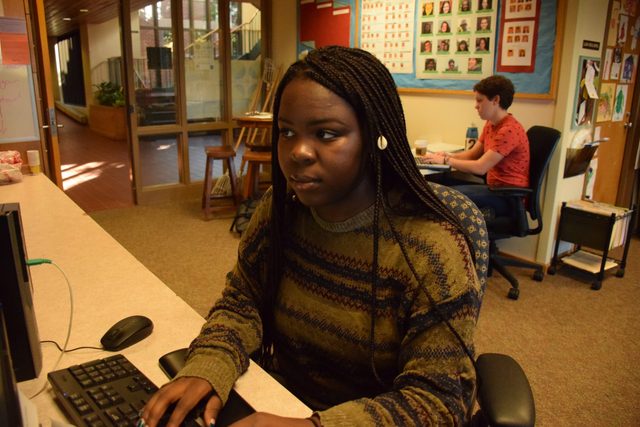 Office: CCCE
Position: Northfield Reads and Counts Tutor
Major: Undecided
What do you do in this position?
With Northfield Reads and Counts, I travel to the Northfield public schools to tutor students. This year I worked at Bridgewater Elementary school, Greenvale Elementary School, and Sibley Elementary school. At each school, I work alongside a teacher or educational specialist to tutor the children in either reading or math.
How did you get your position?
I learned about unique off campus work study opportunities from one of my NSW group leaders, and asked the Student Employment Office about jobs available, since I was not previously signed up for work-study. On the work study preference form, I noted that I was interested in off campus work.
What new skills have you acquired?
With this position being my first official work experience, I have learned a lot. Through my role facilitating and supervising activities, communication with younger people as well as leadership are skills that I have developed.
How will your student employment experience help you in your future?
This experience has taught me leadership skills necessary for my future career in international diplomacy. Having a group of people that look up to me as a positive role model has taught me how to deal with power and use it positively. Being a NRC tutor has also shaped me into a flexible worker that can connect with people of various ages.
What type of person do you feel is best suited for this position?
This position is best suited for a person that enjoys working with younger students and also has patience and great communication skills.
What do you like best about your student employment position?
Being a NRC tutor is a job that I thoroughly enjoy. I have the opportunity to connect with young gifted,talented, and funny scholars that always brighten my day. I also get the chance to play an active role in the Northfield community.
UPDATE For 2016-17

This year, I work as an assistant staff at the Northfield Union of Youth in town. This all youth-run center, also known as The Key. It's a safe space designed to "provide POWER and VOICE to area youth and create a caring and enriching community". My job is to build relationships with youth ages 12-20, be a supportive person in their lives, and encourage them in projects,programs, and events they create.