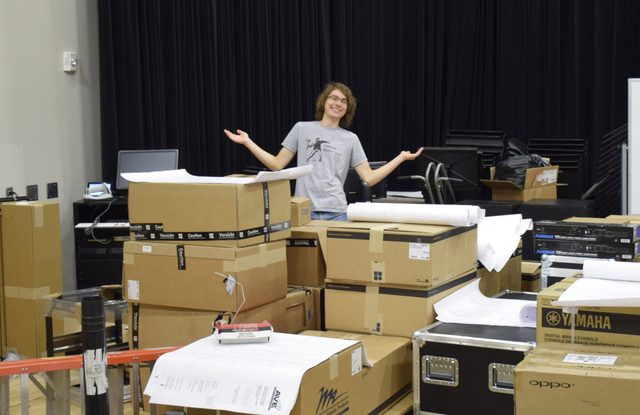 Office: PEPS/Academic Technology Media
Position: PEPS Tech
Major: Political Science/Computer Science
What do you do in this position?
I set up and videotape events on campus, assist faculty and staff with classroom technology, help maintain and check out the PEPS pool of media tools, and edit or produce media for campus clients. Every day presents something new.
How did you get your position?
I was hired to work at PEPS as a first year student, and I've continued to work here ever since!
What new skills have you acquired?
Working at PEPS throws you into using all kinds of different audio/visual tech, from audio mixers to live video production switchers to light kits and filming equipment, so I've gained skills in the use of the tech that Carleton uses as well as practice in figuring out how things work in general. Plus, most work in the PEPS media production office heavily involves using software from the Adobe suite, notably Premiere, Photoshop, and Illustrator, so practicing these on a weekly basis has helped me build editing experience.
How will your student employment experience help you in your future?
The variety of the challenges experienced in PEPS work certainly helps with broadening out a resume. Working here demonstrates skill in customer interaction and service just as much as technical expertise, all while providing valuable experience with working in teams and operating as a professional. Also, more in the short term, you get a decent idea about how the teaching stations work so you can set up media easier for classes, and you sometimes get access to interesting events as you cover them.
What type of person do you feel is best suited for this position?
A big part of working at PEPS is interaction, whether between coworkers or clients, so the ability to communicate effectively and professionally is definitely important. From there, its important to have an interest in media technology, whether that is filming, producing, or setting up equipment, as that's the core of day-to-day work.
What do you like best about your student employment position?
Every day is someone's big event, and I like helping these events go as smoothly as possible. That, and the variety of PEPS work keeps things interesting, since we often rotate the focus of work shifts throughout the week, and it's pretty rare that two shifts have the same challenges to work on.