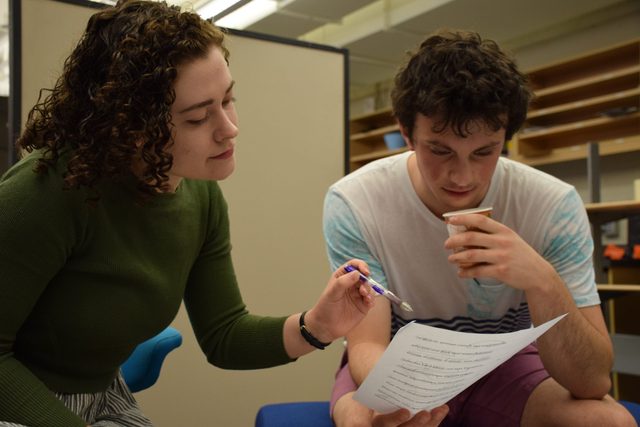 Office: Classics
Positions: Latin TA & Classics Research Assistant
Major: Classics
What do you do in these positions?
As a Latin TA, I come to class most days and help out the professor in whatever way they need, like going through a translation with half the class. I'll occasionally grade quizzes, and before a test I usually hold a review session.
Another classics student and I have also been working on writing and illustrating stories for the intro Greek classes. We use the vocab and grammar introduced in the Greek textbook to create the adventures of two ancient Greek girls, Dorcas and Euterpe.
How did you get your positions?
The classics department knew that I was interested in teaching in the future and asked me if I would like to TA.
What new skills have you acquired?
I've learned how to explain grammatical concepts, grade translations, and look at Latin from the point of view of someone new to the language. Besides giving me skills that I can use to teach in the future, reviewing introductory grammar has greatly improved my own Latin.
How will your student employment experience help you in your future?
I would love to teach Latin in the future, so being able to observe, participate in, and occasionally lead classes has taught me skills that I hope to apply one day in my own classroom.
What type of person do you feel is best suited for this position?
I think anyone who is super passionate about a subject and excited about introducing it with others would make a wonderful TA.
What do you like best about your student employment positions?
Getting to share my love of Latin!