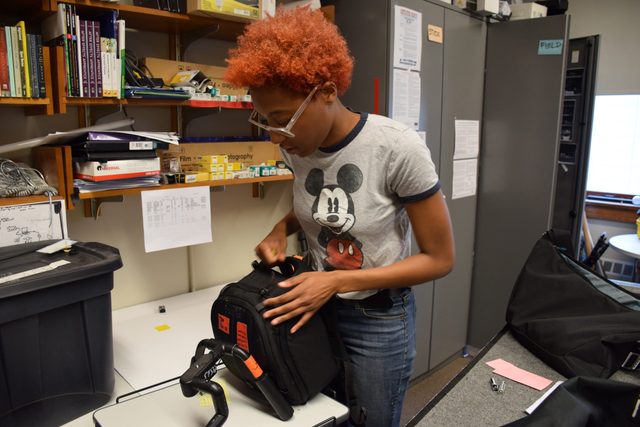 Office: CAMS Production Office
Position: Technical Assistant
Major: Cinema and Media Studies
What do you do in this position?
In this position I have a variety of tasks; it varies drastically from day to day. I spend a lot of time preparing equipment orders and making reservations for orders. My job is very project based, so it can change radically based on what is happening in the office. Some notable projects include taking pictures of the costume shop for a Weitz display, capturing audio for a digital foundations class, and brainstorming ways to execute an outdoor projector installation. Down time at the office usually involves experimenting with cameras, lights, audio, and other equipment.
How did you get your position?
Paul [Bernhardt, the Technical Director] approached me with a position after I showed interest in working in the recording studio and the CAMS studio downstairs. I was a sophomore CAMS major and interested to increase my knowledge of the technical side of film.
What new skills have you acquired?
I have a better understanding of camera settings, lights and audio equipment. From this position I've also gained a better working knowledge of Photoshop as well as Premiere.
How will your student employment experience help you in your future?
As of now I don't know exactly what the future holds, but I know that I want to work in some aspect of video production. My job in the production office gives me the skills to know how to deal with equipment that would be used on set.
What type of person do you feel is best suited for this position?
I think that my position is best suited for a person who loves project based work, problem solving, and a fast paced worker environment. Someone who likes to work with oversight on individual projects would enjoy working at the Production Office. Anyone who has an interest in photography, cinematography, audio equipment, or editing would also enjoy working at the Production Office.
What do you like best about your student employment position?
One of my favorite parts of my job at the Production Office is when I'm able to take photographs for the office.