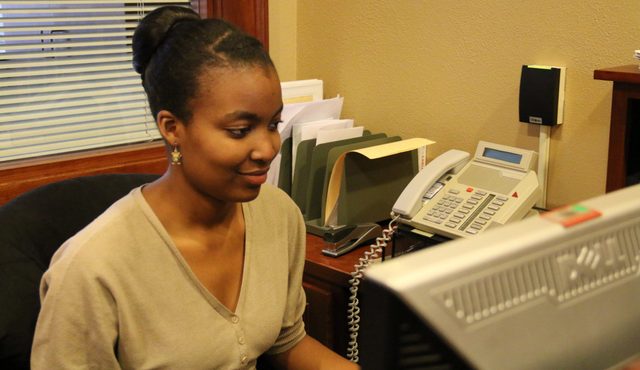 Office: Office of the President
Positions: Office Assistant & College Council Secretary
Majors: Political Science and International Relations
What do you do in this position?
I record meeting minutes for College Council meetings and when meetings are not going on, I work at the front desk of the President's office answering phone calls and working on office projects assigned to me by my supervisor, Debra and sometimes Elise as well.
How did you get your positions?
I specified my work experience in an office environment and applied for an office assistant job through the Work Preference form sent to me with my acceptance letter.
What new skills have you acquired?
I have acquired better communication and writing skills through both positions.
How will your student employment experience help you in your future?
Working at the President's office will help me be a better communicator, be good at networking when I need to but most importantly, it will help me navigate professionalism in the workplace.
What type of person do you feel is best suited for these positions?
I think that the office assistant job suits anybody that does not mind sitting in an office or at a desk for hours at a time and taking phone calls but also get to run errands for the supervisors. It requires responsibility, patience, dedication and consistency in terms of any office projects but even more so, for the College Council secretary position. Both of these positions require confidentiality and openness to learning new ways of doing or approaching tasks and communicating with other adults, especially your superiors. Thus a certain humility is needed to succeed at being a President's Office assistant and College Council secretary.
What do you like best about your student employment positions?
I love my supervisors so much! They are both super supportive, insightful, caring and beautiful inside and out. They actually listen to my concerns and try to be the best help they can be. The President is also super nice and is often concerned with how I am doing. He gives me advice from time to time, they all do.