Oct
4
First Year Fall Day - Class of 2027!
Wed, October 4, 2023 • 3:00pm - 6:00pm (3h) • Great Hall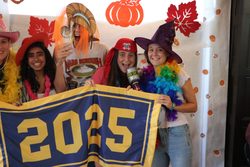 Hello, Class of 2027!  We're part way through fall term and now that the dust has settled we're excited to disperse the traditional class shirts.  You all voted on your shirt color and now it's time to gather as a class, consume some fall treats, and enjoy another milestone Carleton tradition together.