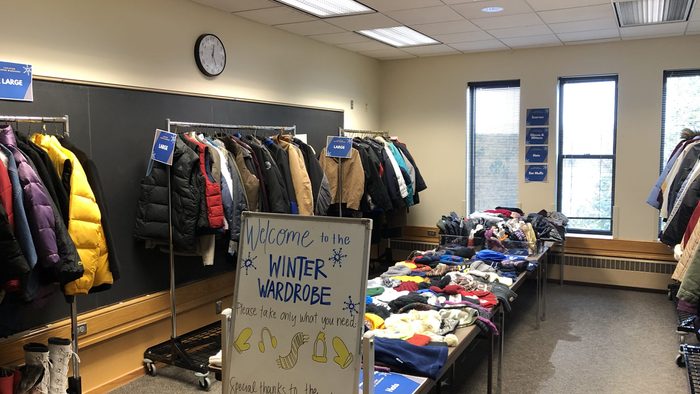 The Division of Student Life is excited to once again offer the Carleton Winter Wardrobe. The Wardrobe provides Carleton students with gently used winter clothing and accessories free of charge. Minnesota winters can be extreme and we recognize that not all students are adequately prepared to be outside during the long winter months. The Wardrobe will focus on Carleton students with the greatest financial need, but is open to the entire student body.
Donations & Wardrobe Drive
For those wishing to donate items in person, donations are currently being accepted in the Student Activities Office in the lower level of the Sayles-Hill Campus Center, M-F between the hours of 8:30 a.m. – 5:00 p.m., or by appointment.
For those mailing items, please send to:
Carleton College
Student Activities Office, Attn: Winter Wardrobe
1 North College Street
Northfield, MN 55057
Carleton students are in need of the following:
Coats & jackets
Scarves
Gloves & mittens
Winter boots
Hats & earmuffs
Amazon Wish List
For those wishing to purchase online, an Amazon Wishlist is available. Donors can select what they would like to purchase for the Wardrobe and it will be mailed directly to our location.
Dates of Operation & Location
The Winter Wardrobe will be temporarily located in Sayles 252. It will open at 11:00 a.m., Wednesday, October 25 and close at 3:30 p.m., Friday, October 27, 2023.