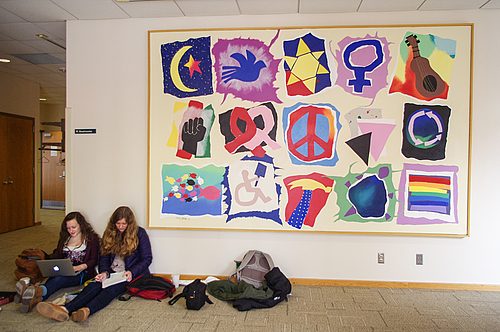 Overview
The Sayles-Hill Campus Center offers art display space, open to all students, staff, faculty, and alumni of all experience levels. Art exhibits are distinct from promotional event displays. Displays should showcase original works of art, such as photography, paintings, works on paper, etc. Artists are welcome to market their art for sale while on display.
Program Goals
Support the expression of diverse perspectives and creativity of Carleton students, staff, faculty, and alumni
Provide an open forum for the display, discussion, and appreciation of art
Make the Sayles-Hill Campus Center even more welcoming and beautiful through art
Exhibit Locations
All locations are in upper Sayles-Hill on the walls outside of Hill Lounge and in meeting rooms 250-253. There are 14 display locations.
How Art is Selected
Applications are accepted on a rolling basis. All Carleton students, faculty, staff, and alumni of all experience levels are welcome to submit their work for consideration. Due to the volume of proposals received, occasionally not all submissions are offered exhibition space. Exhibit proposals may be submitted online using the form at the bottom of this page.
How to Submit Art
Complete the form at the bottom of this page
Submit up to 10 digital images of the art. Images should be emailed to sao@carleton.edu with artwork dimensions, approximate weight, and medium
General Information
Basic hanging installation hardware and equipment is provided. Art is to be hung using hardware provided (i.e., no holes in walls, tape, additional tracks, etc.).
Frames and framing supplies are provided whenever possible, but artists are encouraged to provide their own frame with D-rings and/or hanging cable.
Staff will assist artists in hanging art. No art should be installed without a staff member present.
No drilling, nailing, or gluing to the floors, ceilings or molding is permitted. Although it sounds like fun, we cannot paint, mud, plaster, or use adhesives/markers on the walls, floor or ceiling.
Art cannot attach to the track lighting.
Exhibitions during the academic year typically last one term, however actual exhibit length is subject to change.
Art cannot weigh more than 150 pounds per track.
The College reserves the right to refuse any submitted artwork.
The College manages the installation of all exhibits and reserves the right to change layouts for risk management or aesthetic reasons.
Artist is responsible for expenses and logistics of transporting artwork to-and-from the exhibit space, including insurance during transportation (if applicable) and all packing materials. Artists will be advised of the drop-off location and hours. All artwork must be removed by the artist within 24 hours of the exhibition closing.
The Student Activities Office and Carleton College accept no liability for the safety of the art exhibits while in transport, storage, during installation or on display.
Any programmatic or financial sponsorships, grants, funds, etc. must be approved for inclusion in the Sayles-Hill Art Exhibits prior to the start of the exhibition and are subject to all Carleton College policies and procedures for sponsorships.
Publicity
The Student Activities Office coordinates the design of electronic exhibition announcements with collaborative input from all artists exhibiting.
The Student Activities Office reserves the right to edit artist statements.
The Student Activities Office may submit press releases to local media and art organizations.
The Student Activities Office will promote art displays through various electronic newsletters, but the artist is responsible for all costs associated with his/her own mailing list (if applicable).
The Student Activities Office coordinates the typing, printing, and mounting of exhibition labels and wall text.
Any other publicity materials provided/produced by the artist must be approved by the Student Activities Office prior to production.
Insurance
Carleton College does not provide insurance coverage for damage or theft on artwork exhibited as part of the Sayles-Hill Art Display program. Those exhibiting in this space are doing so at their own risk. Art will be displayed in an area that has 24-hour access and no monitoring. Anti-theft clips are available to make it more difficult to steal, but they do not make displayed art completely secure.
Frequently Asked Questions
How do I submit my original art for consideration?
Two simple steps. The first is to fill out the form below. The second step is to send photos of your work to: sao@carleton.edu
Where will my art be displayed?
There are several walls outside Sayles-Hill Lounge and multiple meeting rooms where art may be displayed. All locations include track lighting and sliding cable hangers for creatively displaying art.
What type of art may be displayed?
Typically we accept art with the ability to be framed, but other mediums will be considered whenever possible. Although we aim to represent different types of art, we cannot accept art that may be considered inappropriate for display to the general public. Please remember that Sayles-Hill is open to the public and the audience may include young children.
How long will my art be displayed?
Art is typically displayed one term (10 weeks), but may vary depending upon the number of artists requesting space. There is also a chance to display longer during summer and winter breaks.
What is provided?
All hanging hardware for the wall is provided. When feasible, we will assist with purchasing framing and matting material, which must be returned at the conclusion of the designated display period. Artist must prepare their work prior to installation. Wall labels will be provided, including the title of the work, artist's name and artist's statement. We also assist with publicity.
Can I sell my art?
Yes! If you wish to sell your art, please let us know prior to your installation so we can make the necessary arrangements.
Is my art safe?
Art will be displayed in an area that has 24-hour access and no monitoring. There is a risk of theft and we do not provide insurance on art. You will be displaying at your own risk. We do have anti-theft clips available that make it more difficult for someone to steal your artwork, but they do not make the art completely secure.
---
---
You must be signed in to view this form.