Date Knight is a long-standing tradition at Carleton. Sign-up your friends, roommates, and classmates to meet someone new and attend "dates", led by various student organizations.
Date Knight 2022
Registration & Deadlines
Registration for Date Knight will open on Thursday, October 27th and will close on Wednesday, November 2nd at 11:59 p.m. CT
How It Works
Check with your friend and make sure they're okay being set up on an anonymous date.
VERY IMPORTANT! Contact the date's friend and confirm via email/verbally.
After confirmation from the date's friend, fill out the official request form below
After requesting via the SAO form, the date's friend will receive an email asking them to confirm. They must respond with a yes or no to that email by 8th Thursday 11/3 at 12:00 p.m CT.
Have participants pick up the name tags in their mailboxes on 8th Saturday 11/5 at 12:00 p.m. CT.
Show up to Sayles, Great Space on 8th Saturday 11/5 at 7:00 p.m. with the name tag.
Find your date! Each match has name tags that correspond, example: "Peanut Butter" looking for "Jelly" and "Jelly" looking for "Peanut Butter."
Attend the activities!
If you have questions, email sao@carleton.edu or drop by the Student Activities Office (Lower Sayles).
Schedule of Events for Saturday, November 5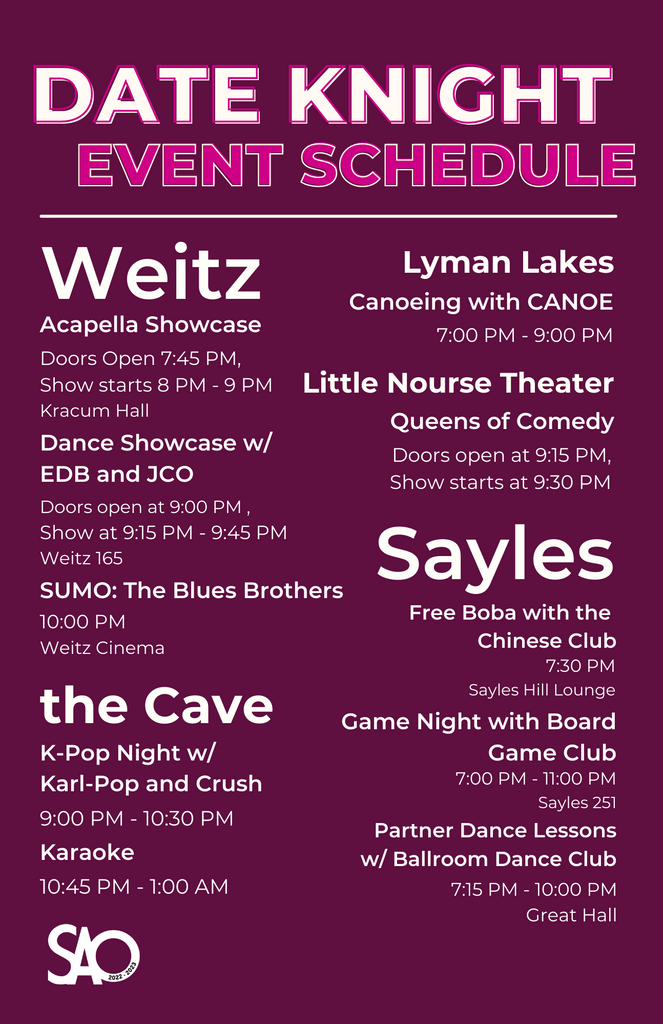 ---