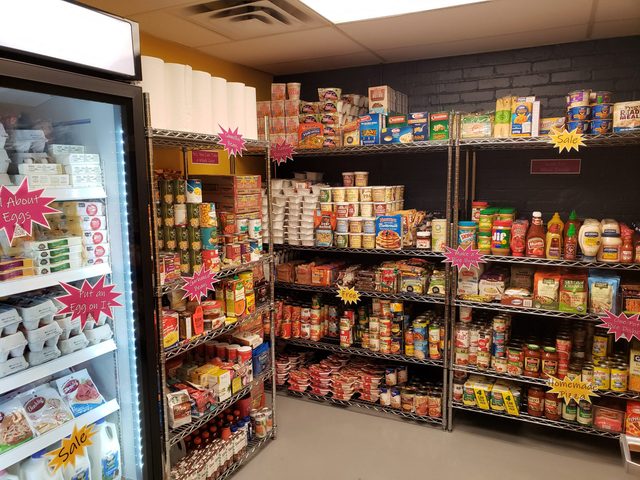 Overview
The Carleton Cupboard is located in the lower level of the Sayles-Hill Campus Center, room 020 (near KRLX). Its purpose is to provide food to students during academic breaks when the campus dining halls are closed. In addition to helping alleviate hunger within the student community, the program aims to reduce the impact food insecurity has on the academic success of Carleton students. The Cupboard will not be open when classes are in session or when the Dining Halls are operational and serving 3+ meals per day.
The Carleton Cupboard is stocked with various items, including canned vegetables, pasta, cereal, fruit, tortillas, milk, eggs, cheese, and bread. Staff will monitor what students use and solicit feedback to make adjustments to inventory as needed. Students wanting to utilize the facility should complete an access request form (see below), which is only seen by professional staff members in the Student Activities Office. Once complete, students will be provided access via their OneCard within 2 business days.
All items are free of charge and reusable shopping bags are provided. Students can utilize the Carleton Cupboard confidentially, as the facility is designed for only one person at a time. A motion-activated red light illuminates above the door in the outer hallway when the Cupboard is occupied, indicating to other students to come back later.
Cooking Kits
This winter term, the Cupboard is piloting a new program which provides students with a "cooking kit", that includes pots/pans and basic kitchen supplies. Supplies are limited and students may request a kit on the access request form. The longevity of this program is dependent upon students keeping the items clean and stored in their room when not in use. All kits are due back (clean) to SAO no later than December 30. Those who request a kit will receive additional information about the check-out process.
Dates & Hours of Operation
Winter Break: November 22 – December 31, 2022 (10:00 a.m. – 8:00 p.m.)
Spring Break: March 16 – March 25, 2023 (10:00 a.m. – 8:00 p.m.)
Donations & Food Drives
The Carleton Cupboard coordinates several food drives throughout the year. Additionally, food donations are accepted M-F between 8:00 a.m. and 5:00 p.m. in the Student Activities Office (room 051), in the lower level of the Sayles-Hill Campus Center. For those interested in purchasing food for students, an online, an Amazon Wishlist is available. Donors can select what they would like to purchase and it will be mailed directly to our location.For those wishing to ship donated items, please use the following mailing address:
Carleton College, Student Activities Office
1 North College Street
Northfield, MN 55057
Financial Donations
Make a gift online by credit card, mobile payment, or bank transfer, and select "other" designation then indicate Carleton Cupboard in the text box. To mail a check, use the following mailing address:
Carleton College, ATTN Gift Accounting
1 North College Street
Northfield, MN 55057
Mailed checks should include a note that the gift should go to the Carleton Cupboard. For questions or to speak to someone in the development office, contact Shannon Schulz to get in touch with a development officer.
CUFBA
In April 2018, the Carleton Cupboard joined the College and University Food Bank Alliance (CUFBA). CUFBA is a professional organization consisting of campus-based programs focused on alleviating food insecurity, hunger, and poverty among college and university students in the United States.
Feedback & Recommendations
The Carleton Cupboard is a new program and the Student Activities Office (SAO) is interested in getting feedback from the Carleton Community. You can submit feedback about the program.
Access Request
Note: The Cupboard is only for students currently experiencing food insecurity, where a financial hardship poses a burden for purchasing food. Please do not use the Cupboard if you are able to purchase your own food, as it will limit our ability to assist students in need. By completing the form below, you are indicating there is a financial need impacting your ability to purchase your own food.
In order to use the Carleton Cupboard, current students should complete the access request form at the bottom of this page. An email verification will be sent once the access request has been processed; please allow at least two business days.
---
Waiver of Liability, Assumption of Risk & Indemnity Agreement
WAIVER: In consideration of being permitted to participate in The Carleton Cupboard hereinafter called "The Activity", I agree, for myself, my heirs, administrators, personal representatives, and/or assigns, that I do hereby release, hold harmless, and discharge Carleton College, its officers, trustees, employees, agents and others acting on its behalf (hereinafter collectively referred to as "ASSOCIATES"), of and from all claims, demands, causes of action and legal liability, whether the same be known or unknown, anticipated or unanticipated, due to Carleton College's and/or its ASSOCIATES' ordinary negligence; and I do further agree that, except in the event of Carleton College's and/or its ASSOCIATES' gross negligence and willful and wanton misconduct, I shall not bring any claims, demands, legal actions and causes of action, against Carleton College and/or its ASSOCIATES as stated above in this clause, for any economic and/or non-economic losses due to bodily injury, death, and/or property damage sustained by me and/or my minor children and/or legal wards, if any, arising from, but not limited to, participation in The Activity.
ASSUMPTION OF RISK: Participation in The Carleton Cupboard carries with it certain inherent risks that cannot be eliminated regardless of the care taken to avoid injuries or sickness. The specific risks vary from one activity to another, but the risks range from: (1) minor injuries such as scratches, bruises, and sprains; (2) sickness due to the consumption of donated food items. Food donated to the Carleton Cupboard is not inspected, nor can we guarantee the items were stored appropriately. Additionally, access to the Carleton Cupboard may involve exposure to allergens in the environment including various food items and nuts.
INDEMNIFICATION & HOLD HARMLESS: I also agree to INDEMNIFY AND HOLD Carleton College and its employees HARMLESS from any and all claims, actions, suits, procedures, costs (including but not limited to any medical treatment secured on my behalf), expenses, damages and liabilities, including attorney's fees brought as a result of my involvement in The Activity and to reimburse them for any such expense incurred. By my electronic signature, I acknowledge the receipt of free food and supplies from the Carleton Cupboard. I understand this is a gift and not a reoccurring obligation by Carleton College, the Carleton Cupboard, or its trustees. I further understand and agree that by accepting this donated food I freely and voluntarily, with full knowledge, hold harmless and in no way liable or responsible for the quality, condition or packaging of food, Carleton College, its officers, agents, employees, students, donors, volunteers, food suppliers, and trustees.
SEVERABILITY: I expressly agree that the foregoing waiver and assumption of risks agreement is intended to be as broad and inclusive as is permitted by the law of the State of Minnesota and that if any of its provisions are held to be invalid, the balance shall, notwithstanding, continue in full legal force and effect.
You must be signed-in to access this form.
---