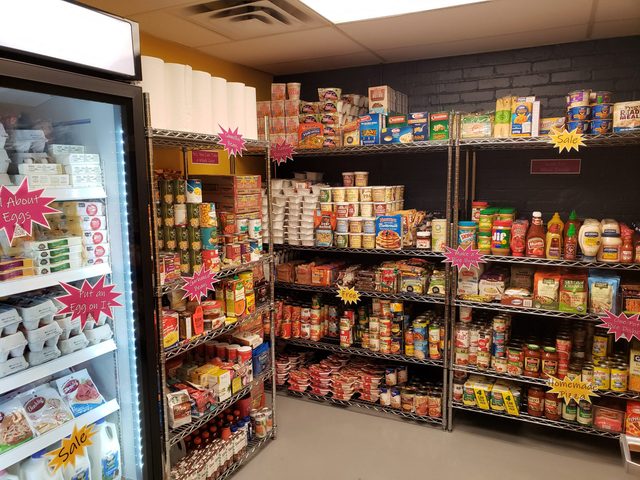 The Cupboard is for students currently experiencing food insecurity, where a financial hardship poses a burden for purchasing food. Please do not use the Cupboard if you are able to purchase your own food, as it will limit our ability to assist students in need. By requesting to use the Cupboard, you indicate there is a significant financial need impacting your ability to purchase your own food.
Overview
The Carleton Cupboard is located in the lower level of the Sayles-Hill Campus Center, room 020 (near KRLX). Its purpose is to provide food to students impacted by food insecurity and unable to purchase their own food during academic breaks. In addition to helping alleviate hunger within the student community, the program aims to reduce the impact food insecurity has on the academic success of Carleton students. The Cupboard will not be open when classes are in session and when the Dining Halls are operational.
The Carleton Cupboard is stocked with various items, including canned vegetables, pasta, cereal, fruit, tortillas, milk, eggs, cheese, and bread. Staff will monitor what students use and solicit feedback to make adjustments to inventory as needed. Students who would like to utilize the Cupboard should email Cathy Osterman (@costerman) to request an appointment. For spring break Cupboard access, appointments will be accepted beginning Monday, March 13, 2023. At this meeting, students will complete the required paperwork and receive additional resources to help address food insecurity. Additionally, students will also receive a reusable canvas shopping bag and a cooking kit at this time (if needed).
All items are free of charge. After the brief registration process, students can utilize the Carleton Cupboard confidentially, as the facility is designed for only one person at a time. A motion-activated red light illuminates above the door in the outer hallway when the Cupboard is occupied, indicating to other students to come back later.
Cooking Kits
The Cupboard now offers a "cooking kit", that includes pots/pans and basic kitchen supplies. Supplies are limited. The longevity of this program is dependent upon students keeping the items clean and stored in their room when not in use. All kits are due back to SAO the day after the Cupboard closes. There is no charge for checking out a kit, however a $45 replacement fee will be applied to the student's account if not returned by the deadline. Those who request a kit will receive additional information about the check-out process and return deadline.
Dates & Hours of Operation
Spring Break: March 16 – March 25, 2023
Hours: Monday-Friday: 10:00 a.m. – 5:00 p.m. Closed Saturday and Sunday.
Donations & Food Drives
The Carleton Cupboard coordinates several food drives throughout the year. Additionally, food donations are accepted M-F between 8:00 a.m. and 5:00 p.m. in the Student Activities Office (room 051), in the lower level of the Sayles-Hill Campus Center. For those interested in purchasing food for students, an online, there is an Amazon Wishlist (currently unavailable). Donors can select what they would like to purchase and it will be mailed directly to our location. For those wishing to ship donated items, please use the following mailing address:
Carleton College, Student Activities Office
1 North College Street
Northfield, MN 55057
Financial Donations
Make a gift online by credit card, mobile payment, or bank transfer, and select "other" designation then indicate Carleton Cupboard in the text box. To mail a check, use the following mailing address:
Carleton College, ATTN Gift Accounting
1 North College Street
Northfield, MN 55057
Mailed checks should include a note that the gift should go to the Carleton Cupboard. For questions or to speak to someone in the development office, contact Shannon Schulz to get in touch with a development officer.
CUFBA
In April 2018, the Carleton Cupboard joined the College and University Food Bank Alliance (CUFBA). CUFBA is a professional organization consisting of campus-based programs focused on alleviating food insecurity, hunger, and poverty among college and university students in the United States.
Feedback & Recommendations
The Carleton Cupboard is a fairly new program and continuously evolving. The Student Activities Office (SAO) is interested in feedback from the Carleton Community. You can submit feedback about the program.
---