Are you looking to bring "FUN" to your life?
This year's staff retreat titled "Rediscovering Our Fun and Creativity" will hopefully bring connection, creativity, and fun to you through an entertaining and informative session.
Speakers include: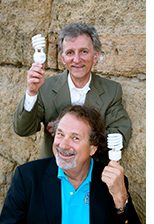 Mike Veeck & Fran Zeuli co-founded the Employee Engagement firm Fun Is Good because they love helping organizations build and sustain a positive, fun and creative culture for their employees and customers alike! 
They will show us that when we find our joy and passion, and don't take ourselves too seriously, great things happen – professionally and personally.
Through their fun stories of successes and failures, Mike and Fran will remind us how to stay curious, embrace failure and rediscover our curiosity.