Sphere of Influence
"Saving the World: One Sheet of Paper at a Time"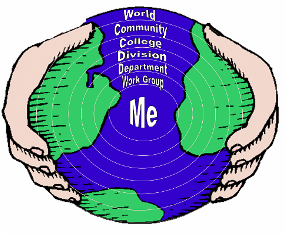 ---
You are cordially invited to participate in the
2nd Annual SAC & The Forum Retreat
Thursday, December 7th, 2006
8:00 a.m. to 1:00 p.m.
Language & Dining Center (LDC) – Main Dining Hall

* Continental Breakfast * Keynote Speaker *Lively Brainstorming * Lunch *
Our retreat event this year is entitled "Sphere of Influence – Saving the World: One Sheet of Paper at a Time" and will involve brainstorming ways that we can reduce the amount of printing and copying at Carleton as an individual, department and as a campus. Special guest, Tracy Knofla from High Impact Training, will be giving tips on being creative, behavioral changes, and brainstorming, and several Carleton staff will lead us in our group brainstorming goal.
Do you know how many boxes of paper the students used on campus last year? (About 300)
Can you imagine how many boxes of paper the entire College used?
Want to hear great suggestions for how your office could reduce their paper usage?
Come to the Retreat to find out these and much, much more!
Attendees will also be given an environmentally-friendly gift for participating in this retreat!

---
8:00 – 8:15
Continental Breakfast & Networking Time
8:15 – 8:35
Introduction
8:35 – 9:00
9:00 – 10:15
State of Paper on Campus
Keynote Speaker
10:15 – 10:30
Break
10:30 – 11:30
Brainstorm Breakout Session
11:30 – 12:30
Lunch
12:30 – 12:45
Brainstorm Wrap-up
12:45 – 1:00
Retreat Wrap-up