​One of three women's ultimate teams at Carleton, Syzygy competes at the highest level, Division I. A syzygy is the alignment of three heavenly bodies (planets, moons, stars, etc).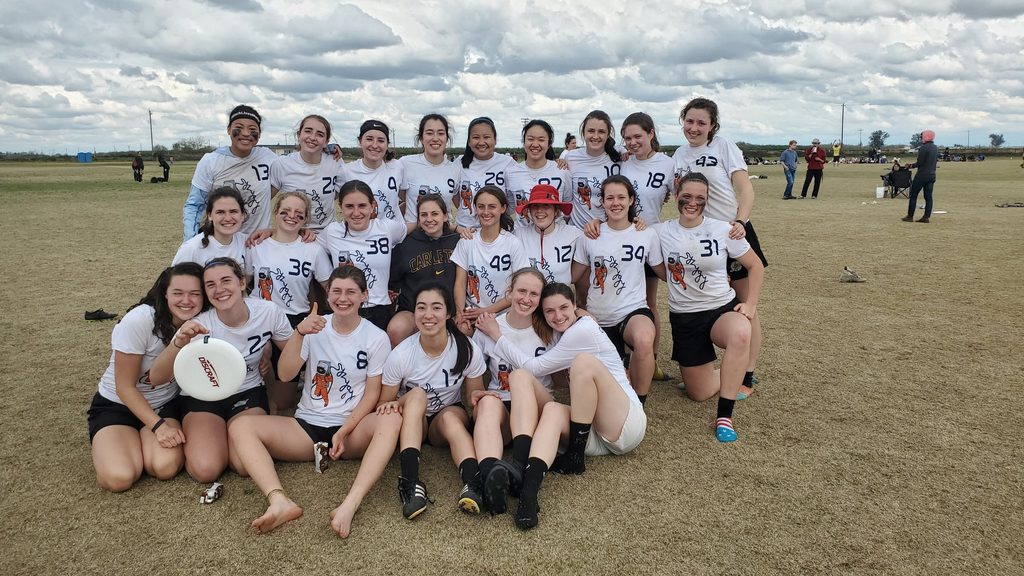 Club Officers 2021-2022
President: Kate Lanier
President: Carly Campana
President: Allegra Johnson McKee
Treasurer: Lily Hurtubise
Treasurer: Gigi Paulig
Safety Officer: Allie Fridkin
Safety Officer: Ada Wright
Coach: Courtney Keisow
Coach: Logan Weiss
Interested in Syzygy? Contact Kate, Carly, or Allegra for more information!
2022 Practice Schedule
2021 Fall Competition Schedule
Exit 69, Sept. 25-26th
Northwoods Sectionals (Woodbury, MN), Oct. 16-17th
North Central Regionals (Ames, IA), Nov. 13-14th
Nationals (Norco, CA), Dec. 17-20th
2022 Competition Schedule
Queen City Tune Up, North Carolina Feb. 12-13th
Stanford Invite, California March 5-6th
Northwest Challenge, Seattle WA March 26-27th
2021-2022 Roster
View the team roster!
Club History
In 1982 the team was created, but for the first year we were known as the Marines. It started out as a womens IM team, but to be a legal team they needed a "few good men" for gender distribution. In 1983 they formed a team for intercollegiate play and the two men who had played with them at home came along to help assist in coaching. The first tournament they played was Sectionals at Carbondale Illinois. The college gave them $50 to rent a van and they drove through the night to play three games the following day. Read a more detailed history on the Syzygy website.