Club Officers 2022-2023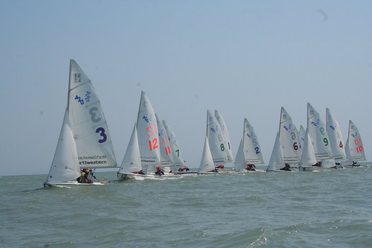 About the Sailing Club
The Carleton Sailing Club sails and races small sailboats on nearby lake Byllesby. We have racing team which practices and competes regularly as well as many opportunities for the novice to learn the basics. Our sailing team competes in intercollegiate regattas in Minneapolis, Iowa City, Chicago and Madison, and practices twice a week. Most regattas are fleet races, but there are also a few team races. We mostly sail FJs and 420s, but we also have a few other fun boats.
If you're interested in either racing or just learning to sail during the spring or fall contact us and get involved!
Carleton College Sailing Club Policy
Competence Ratings:
Novice – little or no knowledge of sailing and/or club procedures
Crew – Knows the parts of the boat and is able to rig an FJ and 420
Helmsman in Training – Able to sail between two marks, tack and jibe, and right a capsized boat
Qualified Helmsman – Demonstrates the ability to sail in winds 10 knots (12 mph) or higher
Safety Rules:
No member shall be under the influence of alcohol or illegal drugs when taking out a boat
No member shall take out a boat in severe/dangerous conditions:

National Weather Service small craft advisory (over 20 knots or 23 mph)
Thunder has been heard within the past hour
Water temperature is lower than 45°F
Unusual flooding or currents due to heavy rain or a spring thaw
Between sundown and dawn without proper boat lighting
In winds of over 15 knots (17 mph) or water temperatures under 55°F, there must be at least two boats on the water within hailing distance

No member shall take out an incompletely rigged or damaged boat
No member shall take out a boat without at least one Qualified Helmsman on the water (sailing or in the motor boat)
Club Equipment
A First Aid kit will be made available and maintained during all practices
Lost or damaged equipment will be reported to the Quartermaster or an officer
Members shall store equipment properly and secure all locks before leaving the boyscout area
Personal Equipment:
All members shall wear appropriate foul weather gear (wetsuit, drysuit, and waterproof clothing) according to water temperature and weather conditions
All members shall wear Coast Guard approved Personal Flotation Devices, which are provided by the club, if they have not passed a swim test (50 meters followed by 2 minutes treading water), or when the water temperature is below 55°F
Close-toe waterproof footwear is recommended when launching and sailing
Trips:
Emergency contact information, itinerary, and final roster shall be submitted to Aaron Chaput (Head of Club Sports) at least 24 hours before departure
Carleton College Club Sports Waiver Form must be completed by all members

Club History
Chris Reitz founded the sailing club in spring of 2001 with trips to the Cities to sail boats at the Lake Calhoun Sailing School. Since then the Sailing Club has taken 60 students sailing for their first time, and provided sailing opportunities to well over 100 students. In summer of 2002 an alumni donated a Finn sailboat which gave the club its first boat. The next year University of Minnesota loaned five FJs to the Carleton and the club began to sail regularly on Lake Byllesby.