Visit the Cycling site!
Club Officers 2021-2022
Co-President: Dylan Willick
Co-President: Evan Lieberman
Treasurer: Dylan Willick
Safety Officer: Dylan Willick
Interested in Cycling? Contact Dylan Willick or Evan Lieberman for more information!
Roster 2021-2022
Erik Carlson
Dylan Willick
Mark Cranston
Kevin Noel
Scott Griffith
Kea Umstaad
Susan Ford
Steve Alsdorf
Shane Zerr
Jon McBride
Will McGrath
Vishant Shah
About the Cycling Club
The Carleton Cycling Club is an organization designed to promote bicycle road racing at the College. We field a competitive racing team, but also welcome cyclists of all abilities and experience. We actively participate in races throughout the Upper Midwest that are sponsored by local teams. We encourage members of the club to apply for a United States Cycling Federation (USCF) license so as to be able to participate in many local races.
Although past years have seen the team compete on the collegiate level as well as in USCF events, the team has more recently concentrated racing activities to Minnesota and Wisconsin USCF events.
Our season begins during the last third of winter term, when we train indoors at Laird Stadium on rollers and resistance trainers. The racing season begins the last week of the term, and continues through a spring term. The team will compete at races almost every weekend throughout spring term; several involve a longer road trip, but most races are within an hour's drive of Carleton.
Practices during winter term take place four times a week; with the onset of clear roads and warmer temperatures, the team begins training outside. During spring term, the team practices every weekday, with racing on the weekends. During the week, practices range in intensity from easy days of relaxed riding to one long ride of four hours.
2021-2022 Practice Schedule
Mondays 3:30pm
Wednesdays 3:30pm
Fridays 3:30pm
Practices will be held throughout Northfield.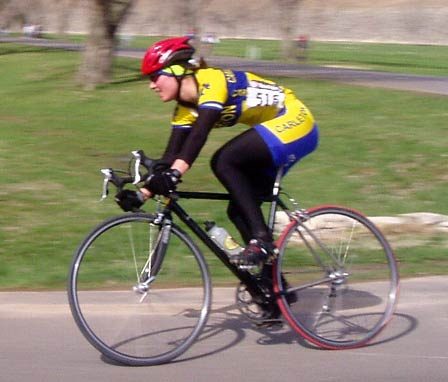 2020-2021 Race Schedule
Ride Safety Plan
People who attend rides will be kept track of by captains in order to ensure their safe return to campus. Group rides will be conducted so as to maintain a single group, except in cases where multiple captains are present and it is possible to split a ride into separate groups based on speed, each led by a captain. In the case of an emergency in which a rider requires urgent medical attention, 911 will be called (captains will always have their phones with them on rides). For less serious cases of injury, captains should have the contact information of several people on campus with vehicles who could come pick up a rider who is not able to ride back to campus.
History of the Club
The Carleton Cycling Team was the first co-ed intercollegiate competitive team at Carleton.
Carleton College cycling has existed in more or less formal incarnations since the early 1980s, and has a proud tradition; the team won the NCC and qualified for nationals in 1991. That season, then freshman Josh Meltzer won the conference road race, and a woman on the team finished 19th in the criterium at nationals, beating current mountain bike superstar Juli Furtado in the process.
CCC was founded as a club dedicated to all facets of cycling – touring, road riding, mountain biking, etc. The club organized the "Ironperson Triathlon" in the spring and the "Halloween Biathlon" in the fall (which we did invent.) Carleton Cycling ran regular "Bike Repair Day" clinics in front of Sayles. These clinics allowed anyone to bring their bike in to be looked over and, if necessary, repaired for the cost of parts. It led tours around the nearby state park when the fall colors were out. And, of course, it supported the road racing team.
Among the founders of CCC were Mike Record, Chris Payne, Chris Zegal, Tom Bell, Neal Baker, Jonah Murdock, and Matt Stone. Most of the founders had met in training for the Triathlon. Chris Zegal was the first president of the club. Chris Payne became the director of the North Central Collegiate Cycling Conference, the regional body of the National Collegiate Cycling Association. The NCCA sanctioned all of the club's races and sponsored the national championships.
Carleton attended the national collegiate cycling championships as the NCCCC representative in 1990 and 1991. (In 1990, St. Johns also represented NCCCC.) Kim Griffith was the student who took 19th in the 1990 championship criterium (held at Stanford U.), beating Juli Furtado. Also on the 1990 nationals team were Mike Record, Neal Baker, Chris Zegal, and Kevin Sebert. In 1991, the nationals were held at Eastern Washington University in Cheney, WA. Members of that team included Chris Zegal, Chris Payne, Tom Bell, Kevin Sebert, and Krista Van Vorst.
The team's primary opponents in the NCCCC were St. John's and Gustavus. Both hosted at least one race each year. There was also a race down at Iowa State every year. The ISU race was the first the team ever entered, in 1989.
St. Johns hosted the conference championship (individual time trial, road race, and criterium) in 1990; Carleton hosted in 1991 (with a team time trial replacing the individual.) Carleton hosted at least two other conference events from 1989-1991.
Apple Computers was the major sponsor of the cycling team, giving about $5,000 in 1990. Domino's Pizza in Northfield also helped with race sponsorship, as did a local hair stylist.
The CSA was quite generous to the club providing it with money for race trips (including the cross-country flights to Palo Alto and Cheney), tools and miscellaneous parts, and some racing gear (including 5 disk wheels.) Much of their generosity was due to the popularity of the club – it regularly had a membership of over 100 students. The other factor was our "community service" with the bike repair days.
Some other race team members: Mark Cranston, Kevin Noel, Scott Griffith, Kea Umstaad, Susan Ford, Steve Alsdorf, and Jon McBride.
More recently, 1996 graduate Peter Everett had a successful season with the Saturn/Penn Cycles sponsered Flat City Cycling Club in Minnesota finishing in the top 10 in three races this past summer.