Visit the Competitive Dance Team website for more information!
2020-2021 Club Officers
Co-President: Rebecca Hicke
Co-President: Ella Boyer
Treasurer: Ash Mei
Safety Officer: Kate Ableson
Instructor: Andrea Mirenda
Interested in Competitive Dance? Contact Rebecca Hicke for more information!
2020-2021 Practice Schedule
Wednesdays 7-8:30pm
Fridays 3:30-5pm
Sundays 4:30-6pm
Practices are held in Cowling Studio.
2020-2021 Competition Schedule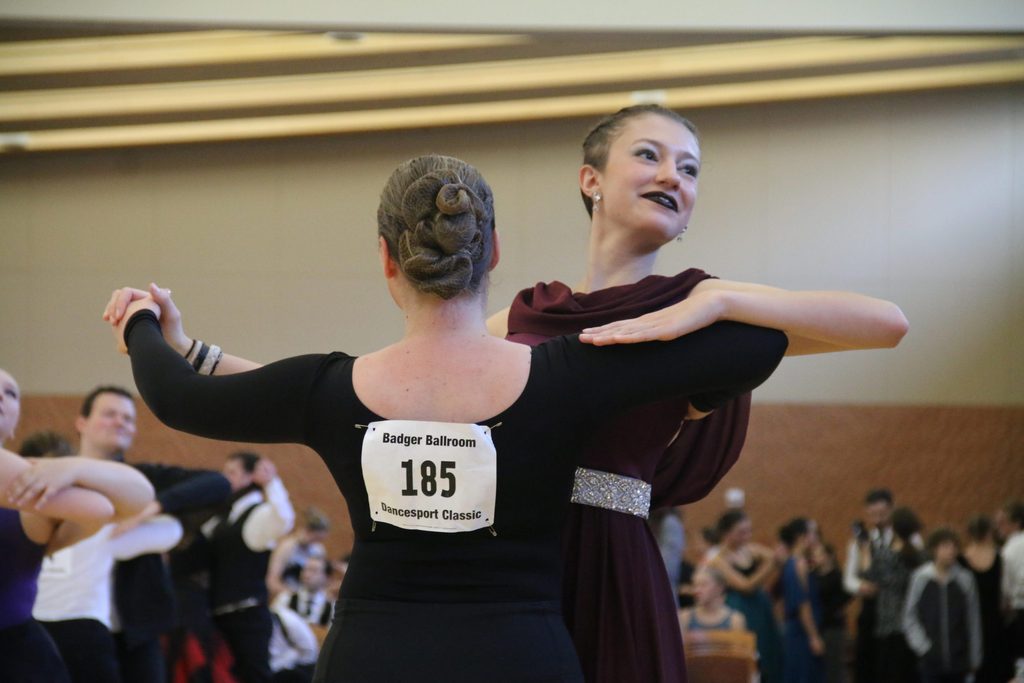 Results from Last Competition:
There were teams from Bemidji State, Iowa State, Luther, North Dakota State, Northwestern, U of M Duluth, U of M Twin Cities, University of Northern Iowa, University of Chicago, and University of Iowa.
Newcomer Latin Samba:

Shannon Branigin & Nicolae Sapoval (from UChicago) — 4th place

Newcomer Latin Rumba:

Rumya Ravi & Nicole Connell — 6th place

Bronze Latin Samba:

Lianne Siegel & Soren Smallwood — 1st place
Gabe Bury & Hannah Marty — 3rd place
Ethan Somes & Tegan Wilson — 5th place
Valentine Purell & Lillie Snortland — 6th place

Bronze Latin Cha Cha:

Lianne & Soren — 4th place
Gabe & Hannah — 6th place

Bronze Latin Rumba:

Lianne & Soren — 5th place
Gabe & Hannah — 6th place

Advanced Bronze Latin Samba/Cha Cha/Rumba:

Lianne & Soren — 2nd place
Brian DiGiorgio & Annie Zanger — 4th place

Bronze Smooth Waltz:
Bronze Smooth Tango:
Bronze Smooth Foxtrot:
Advanced Bronze Smooth Waltz/Tango/Foxtrot:
Mixed Proficiency Smooth Waltz:

Gabe & Nicole — 3rd place

Mixed Proficiency Smooth Tango:

Gabe & Nicole — 3rd place

Mixed Proficiency Smooth Foxtrot:

Gabe & Nicole — 3rd place

Newcomer Rhythm Cha Cha:

Tegan & Shannon — 4th place

Newcomer Rhythm Rumba:

Tegan & Shannon — 1st place

Advanced Bronze Rhythm Cha Cha/Rumba/Swing:

Lianne & Annie — 5th place

Mixed Proficiency Rhythm Cha Cha:

Lianne & Nicole — 7th place

Mixed Proficiency Rhythm Rumba:

Lianne & Nicole — 4th place

Mixed Proficiency Rhythm Swing:

Lianne & Nicole — 2nd place

Newcomer Standard Foxtrot:

Lillie & Nicole — 3rd place

Bronze Standard Foxtrot:

Gabe & Ashley Carlson — 5th place
Valentine & Hannah — 6th place

Mixed Proficiency Standard Waltz:

Brian & Shannon — 7th place

Strictly Argentine Tango:

Gabe & Valentine — 8th place

Strictly Lindy Hop:

Gabe & Hannah — 4th place
Calvin Phan & Lianne — 5th place